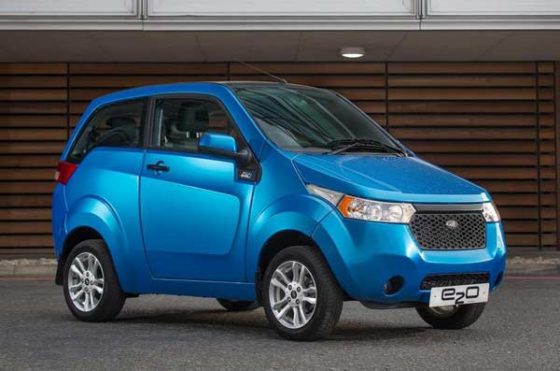 Mahindra Electric, formerly known as Mahindra Reva, on Friday launched its new electric CitySmart car, the 'e2oPlus' at a starting price of Rs. 5.46 lakh.
The price is for the P4 variant ex-showroom Delhi, post state subsidy and FAME incentive. The car will cost a lot more in other cities that don't enjoy any such incentives.
At the core of the e2oPlus is a collection of connected features that have been developed to make the car both easier and more enjoyable to drive and maintain. Whether it is planning a route, checking the health of the car, or remotely cooling the car, the e2oPlus seamlessly integrates technologies to offer functionality and is aptly designed for easy urban commuting.
The host of features include remote diagnostics through telematics, connectivity through smart phone app, new and advanced infotainment system, regenerative braking, Hill Hold control for easy driving in hilly terrains, REVive for reserve charge and automated messages amongst others.
On a full charge, the Mahindra e2oPlus can travel for upto 140 km and can achieve a top speed of 85 kmph.
Speaking at the launch of the e2oPlus, Pawan Goenka, Executive Director, M&M Ltd. said, "As the pioneers in integrated and electric mobility solutions in India, it has always been our endeavour to make electric vehicles more accessible across segments. The launch of the e2oPlus is a defining moment in the electric mobility journey of Mahindra as it marks our foray into the mass market electric city car segment. The e2oPlus aptly represents our 'Rise' philosophy in action, as our development team delivered a city car that is poised to nurture a sustainable ecosystem and redefine the Future of Mobility".
Pravin Shah, President & Chief Executive (Automotive), M&M Ltd & Director, Mahindra Electric mentioned, "The e2oPlus is a near perfect amalgam of the dramatic advancements in automotive technology, electronics and information technology, combined with minimal running costs. As a listening organisation, the e2oPlus has been evolved keeping in mind the feedback from our potential customers. I am confident that with its technologically advanced features, home charging facility, easy manoeuvrability and affordable ownership, the e2oPlus will soon be accepted as a mainstream car. There has never been a better time to embrace electric vehicles as it not only serves the purpose of a smart city car, but also fulfils the need to contribute positively to the environment."
Charging the e2oPlus is as simple as charging a mobile phone, the company claims. The model is available in 4 trim levels (P2, P4, P6, P8) and four colours namely Coral Blue, Sparkling Wine, Arctic Silver, Solid White.
Mahindra e2o Plus Electric Car Launched In India