PM Modi pitches for Rs 1 lakh crore investment; eyes millions of jobs
Mumbai: At the Maritime India Summit 2016, Prime Minister Narendra Modi said, "This is the right time to come to India, and the best time to come via sea route." Making an aggressive pitch, PM Modi told global investors, "Don't miss this great journey and destination; I will hold your hand to ensure your berthing is safe & satisfactory."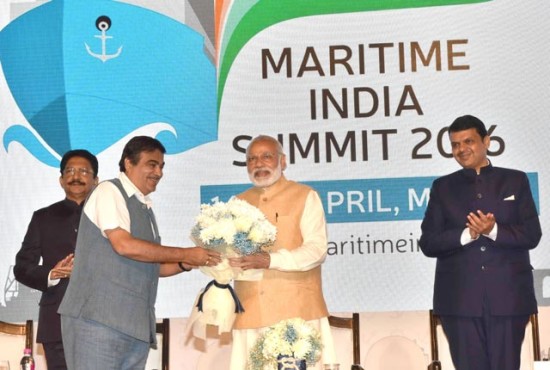 Expanding on the scope of investment and job creation, PM Modi said, "We want to mobilise an investment of Rs 1 lakh crore to enable port-led growth. We want to modernise our ports and integrate them with SEZs; 10 million jobs will be created under Sagarmala in next 10 years."
"We have laid emphasis on building a futuristic infrastructure. Sagarmala project focuses on port-led development; we want to modernise our ports. Our vast coastline of 7,500 km offers a huge investment opportunity. India's huge maritime potential lies in its strategic position on the global map. I invite global business community to participate in India's port-led development," Modi said.
We take a look at some interesting things that PM Modi said at the Maritime India Summit 2016:
> We have announced many reforms to encourage investment in maritime sector. We have embarked on the development of national waterways.
> Port efficiency parameters have shown major improvement. Traffic in ports has shown improvement despite global slowdown. To broaden livelihood, we are planning to deploy modern & sophisticated shipping vessels
> We are focusing on last mile connectivity to ports. During the last one year, major ports have awarded over 56 major projects. New ports are also being developed by coastal states of India
> The PPP model of development has been quite successful in bringing development in the sector
> India has had a glorious maritime history; we are on the path of shaping an even better maritime future. There is tremendous potential for investment in maritime sector. We are engaging with our neighbours to promote maritime security.
> Maritime transport can be the most extensive mode of transport. Maritime transport is also the most eco-friendly mode of transport
> Recently Moody's has praised the government's Make In India initiative. We have taken up skill development activities; FDI inflows have gone up 44% since this government took over. 2015 saw the highest ever FDI inflows ever. We have risen in the World Bank's ease of doing business ranking; want to position India as a manufacturing hub.
Source: Financial Express
Maritime India Summit 2016