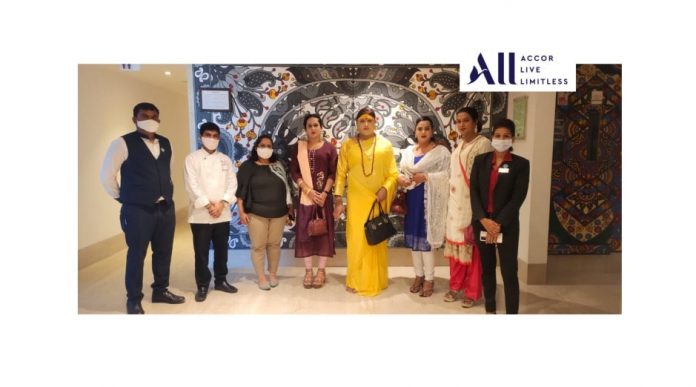 April 5th 2021, Hyderabad: Mercure Hyderabad KCP celebrated the International Transgender Day to raise awareness about the discrimination faced by transgender community. The event started with a warm welcome with a welcome drinkby the staff, followed by lunch and conversations. The struggles and fundamental right ofdignity and live freely in the society same respect is all what the community wants. Ensuring this creates awareness in the society that we live-in was the motive.
The team at, Mercure Hyderabad KCP had lunch with them at Cayenne and post lunch a session to understand their struggle was conducted, in order to identify the scope how and where to help them and find equal opportunities for them. The session enlightened the thoughts and learning's about the diverse beliefs, values, opinions, tradition and culture.
Speaking on the occasion, Soumitra Pahari, General Manager, Mercure Hyderabad KCP said "We at Mercure Hyderabad KCP are committed to doing everything within our scope for the betterment of our society. We are delighted to celebrate the International Transgender Day at our hotel. This was to celebrate the transgender community and a small step towards gaining equality, rights and respecting day-to-day life. We all had a wonderful time together and hope this initiative will bring about a change the mind-set of the society, by eliminating the discrimination and misconceptions about the transgender community."
About Mercure Hyderabad KCP –
Mercure is a rare midscale brand that combines the strength of an international network with genuine and local hospitality experiences. The brand's unwavering commitment to quality ensures a consistent and reliable standard of service at every Mercure around the world, while the design of each hotel reflects the distinct character and culture of its location. Going beyond the ordinary for business and leisure travellers, Mercure team members are known for their passion, enthusiasm and warmth, sharing their knowledge of the local scene, providing insider tips and entertaining guests with tales of history and local folklore. Mercure hotels are conveniently located in city centres, by the sea or in the mountains, with more than 810 hotels in 60+ countries.
Mercure is part of Accor, a world-leading augmented hospitality group offering unique experiences in 5000 hotels and residences across 110 countries.
Mercure Hyderabad KCP celebrates International Transgender Day