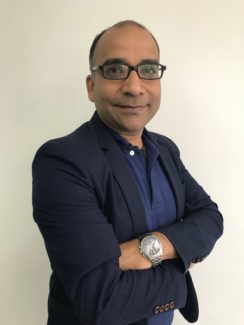 Moglix announced the appointment of Sandeep Goel as the Senior Vice President – Technology. Being part of the senior leadership team, Sandeep will be responsible for bringing in a technology first thinking to the overall commerce business, with technology playing a critical role in Moglix's journey of transforming the manufacturing sector of India.
Sandeep comes with over 20 years of leadership experience in setting up, managing, acquiring and integrating businesses. A graduate from the prestigious Indian Institute of Science, Sandeep worked with Intelligroup as a Senior Director where he played a pivotal role in creating Global eBusiness practice; his focus areas included enterprise application integration and analytics. After Intelligroup, he spearheaded Acuvate as the CEO for over 8 years and was instrumental in building a 200 people organization focussing on business productivity by leveraging AI, collaboration and analytics. Sandeep's role prior to joining Moglix was with Invasystems where he was instrumental in driving the growth through a combination of organic and inorganic strategies.
On joining Moglix, Sandeep Goel said, "I'm looking forward to my journey with Moglix; the new age thinking here excites me. The impact of technology in today's disruptive landscape is incredibly important for B2B commerce space of India. Having worked with start-ups before, I feel that Moglix has a phenomenal growth trajectory and we are in an excellent position to capitalise on the opportunities available by focusing on providing innovative solutions. Moglix team is very talented and our immediate focus will be to bring in the right structure and scalable processes to enhance customer and supplier experience"
Rahul Garg, Founder & CEO, Moglix said, "Sandeep's vision and expertise are second to none and we are thrilled to have him on board. Attracting someone of Sandeep's calibre into the business is a great endorsement of our mission and ambition. He brings with him incredibly strong knowledge and experience which will be vital as we continue with our ambitious plan to grow and develop."
Moglix was recently recognised as the fastest growing company in APAC (ex-China) by Deloitte's Technology Fast 500 Asia Pacific Program. With a robust team comprising of over 450+ people, the company currently operates across 10+ centres in India and caters to both institutional customers (B2B) and individual customers (B2C).
For more information, visit www.moglix.com  / www.business.moglix.com