Make your own personalized feed encapsulating all on latest movies and your favorite stars
Get tailored content from your preferred cinema industry – Hindi, Tamil and Telugu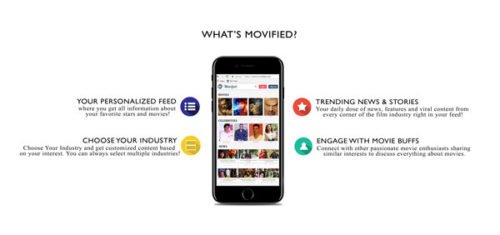 Movified brings in some real good news for movie lovers. For people who always wanted to extend their movie experience beyond the four walls of theaters. Movified is the place to be. It is a personalized, socially designed platform for fans of India cinema to hang out at, discuss movies, get information on latest films, upcoming releases  and meet other cinephiles. Through their personalized feed, fans can stay updated on all the latest in the world of movies. The platform also opens a new channel for production houses and movie banners to market their movies to the right audience.
Movified aims to bring movie fans together on one platform, from across different states, countries and borders. Currently, in phase 1 of the launch, this platform caters to India's three biggest film industries – Hindi (Bollywood), Tamil (Kollywood) and Telugu (Tollywood).
To get started, all you need to do is 'Sign up' and 'Follow' your favorite movies and stars to get your own 'Personalized Feed' with all latest – news, photos, videos, features etc., on movies and stars. You can also create your own 'Watchlist' and Movified updates you when the movie releases in your nearby cinemas as well as online. It also gives you a chance to 'Review and Rate' the movie, which in turn can be shared on other social media channels. You can also connect with movie enthusiasts across the globe to discuss about movies and celebs.
Movified is growing rapidly and connecting movie lovers across the globe. Today, the platform has over a million users browsing on Movified every month and a reach of over 10 million across social media platforms. In its next phase, Movified will be coming up with more features that are designed to increase the social engagement amongst movie fans and movies.
For more information, please contact us on contact@movified.com.
Movified Launches a Social Engagement Platform