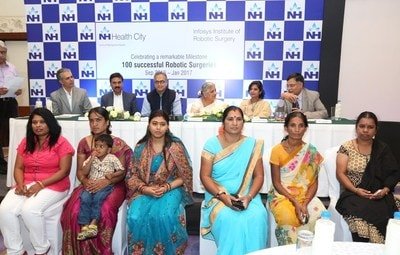 BENGALURU, January 25, 2017 /PRNewswire/ —
The Institute of Robotic Surgery with da Vinci Robotic Surgical System was recently launched in partnership with Infosys Foundation at Narayana Health City and the team of doctors from different specializations has successfully achieved a remarkable feat of completing more than 100 robotic surgeries in just a span of five months.
With the da Vinci Surgical System, surgeons operate through just a few small incisions. The system features magnified 3D high-definition vision system and tiny wristed instruments that bend and rotate far greater than the human hand. As a result surgeons operate with enhanced vision, precision and control.
"We want more number of patients to have the advantage of the most advanced surgical and medical care available at our hospital. We believe that it's a matter of time before most of the procedures on the human body will be done using robotic technology. The da Vinci Surgical System has helped us to provide the best possible surgical outcomes and the completion of more than 100 successful surgeries is a proof of our commitment to provide the latest and the best quality of care," said Dr. Devi Shetty, Chairman – Narayana Health.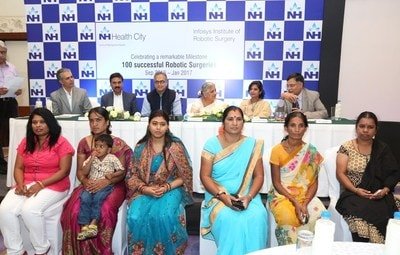 Sudha Murty, Chairperson – Infosys Foundation said, "Within six months of launching the Institute of Robotic Surgery, Narayana Health and Infosys Foundation have accomplished the milestone of completing 100 robotic surgeries and training of 10 doctors. This is a testament to the world-class standards set by the two organizations, and speaks highly of its commitment to providing world-class healthcare to the masses by leveraging the power of technology. We are proud of our partnership with Narayana Health.
Infosys Foundation donated the 'da Vinci Surgical Robotic System' to develop Infosys Institute of Robotic Surgery and train surgeons for the future. Intuitive Surgical trains surgeons through Technology Training Pathway, which makes sure doctors learn every element of robotics surgery. Dr. Lavanya Kiran, Consultant Obstetrics & Gynecology at Narayana Health City has the distinction of being the first surgeon in India with the least learning curve in robotics for having performed 9 procedures in 17 days as declared by Intuitive Surgical – the official partner of da Vinci for training in robotic surgeries. "My new toy – the da Vinci Robotic Surgical system gives me accuracy and great precision in operating with its 10 times magnification and 360 degree endowrist movement, which helps reach the unreachable places more easily and helps in better resection. It makes me happy and content to give my patient the best result with least complication and minimal stay in the hospital," said Dr. Lavanya.
"We have done hysterectomies where the fibroid size have been almost 20 to 24 weeks and there was no conversion; we managed to do the entire procedure robotically in very less time of just a little more than 2 hours, which usually takes longer in the conventional way. It's a great tool for endometriosis that takes a long time and has a risk of bowel injury and so on," explained Dr. Lavanya.
Currently in-house doctors are being trained and some of them have gone for a certification course as well. However, as the learning curve improves, these doctors with the help of Intuitive Surgical team will train doctors from outside NH as well.
All the movements and surgical procedures are guided and performed by the surgeons and not by a robot. The robotic arms that hold the instruments and guide the cameras are all under the direction of a highly trained specialist. The robotic surgical unit is a tool that allows surgeons to give better quality of care with lesser trauma to patients.
Dr. Ashwini Kumar Kudari, Senior Consultant Gastrointestinal Surgeon at Narayana Health City indicated that various procedures from benign conditions to malignant conditions – right from the oesophagus to the rectum have been done using the robotic technique. Cancer of the oesophagus, cancer of the pancreas, surgeries for colon cancer, bariatric surgeries for obesity and weight loss as well as Hernia have been covered. All varieties of gastrointestinal problems can be treated using Robotic Surgery. "However, the most challenging case that we have done is the 'Whipple's Procedure' considered as the most complex operation in the upper abdomen," recalled Dr. Ashwini and his team of junior surgeons. "It's been voted as the toughest of all surgeries. This was the case of cancer of pancreas, which was located in between a lot of vital structures, veins and blood vessels; the tumour will be located very close of these and poses a challenge for any surgeon. We have been able to do that successfully and the patient also recovered very well," informed Dr. Ashwini Kudari.
One of the important aspects about Robotic Surgery is that post-surgical infection is completely minimized. This surgery went on for 10 hours. The reconstruction part becomes very easy because of Robotic Surgery. Talking about the advantages of doing a Robotic Surgery, Dr. Ashwini said, "This is the only surgery where the surgeon is sitting and operating. The fatigue factor will not be there while performing a surgery using the robotic system, especially when surgeries are long."
Recently a three-year old child underwent a Robotic Surgery for Pyeloplasty. "The challenge of performing a robotic surgery on a small child is the scale," said Dr. Sanjay Rao, HoD & Consultant Pediatric Surgeon, Narayana Health City. "Compared to the large robotic system, the child is very tiny and operating on such patients becomes difficult. Across the world, the indications for robotic surgery among children are very limited. The classic indication is this particular operation as it is very difficult to do it through a keyhole surgery," he said."With advancements in technology more instrumentation will be available to operate on smaller children," he added.
Speaking about procedures done in Urology, Dr. Prashanth Kulkarni, Consultant Urologist at Narayana Health City said, "Until recently we did laparoscopic procedures for cancer and reconstructive surgeries. Now with robotic Surgeries, the precision has increased with better patient outcomes showing good results. The operation time has also reduced and post operative care is much easier." Patients can get back to their regular routine much faster. Robotic Surgery in Urology procedures is mainly used for Prostate Cancer; other procedures being partial Nephrectomy, treatment to clear blocks in the urinary tube and Reconstructive Surgery, informed Dr. Prashanth. Narayana Health City is one of the few hospitals in the country that uses robotic surgery extensively for complex reconstructive procedures.
The surgeons from Narayana Health City trained in Robotic Surgery acknowledged Dr. Devi Shetty's perseverance and vision for their accomplishments.
Patients benefit by less blood loss, reduced hospital stay and less time in the ICU and faster recovery time. Since the launch, regular workshops were held to provide hands-on training to surgeons from different specialities such as Urology, Gastroenterology, Oncology, Pediatric Surgery, Gynecology and so on.
Narayana Health: 100 Successful Robotic Surgeries in 5 Months