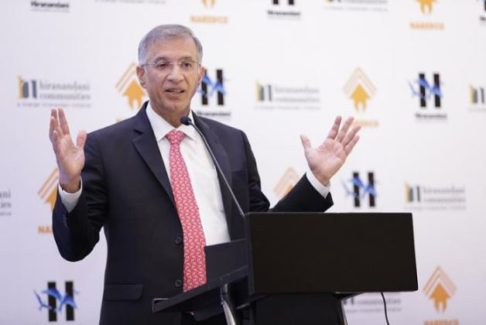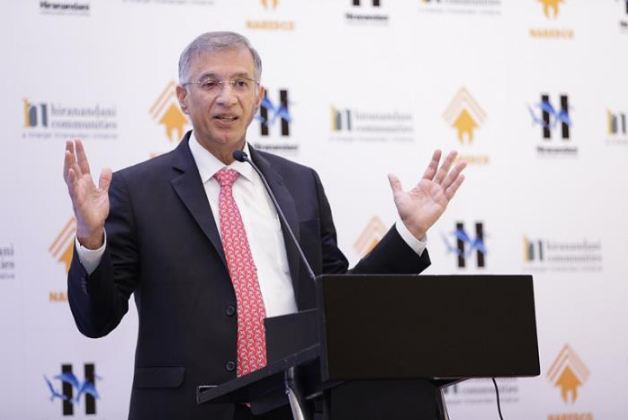 Dubai, United Arab Emirates & Mumbai, Maharashtra, India/Businesswire India//– Telling afresh the growth story of Indian real estate, while not just communicating the message of the new regulatory regime post implementation of the Real Estate (Regulation and Development) Act, 2016 but also bringing home the advantage of fall in value of rupee vis-à-vis the US Dollar as also the United Arab Emirate Dirham (AED), among other currencies, Dr. Niranjan Hiranandani, National President, National Real Estate Development Council (NAREDCO), which works under the aegis of Ministry of Housing and Urban Affairs, Government of India, reached out to the Indian diaspora in the Gulf Cooperation Council (GCC) Countries.
On 29 September 2018, Dr. Niranjan Hiranandani, who is also co-founder and MD, Hiranandani Group, addressed a media meet in Dubai, United Arab Emirates (UAE), where he re-told the story of India as a nation where infrastructure growth is on the Indian Government's priority list; where post RERA and GST, buying a home is a safer and more secure experience and for the Non Resident Indian (NRI), the global currency fluctuation made buying 'a home, back home' an even more sweeter deal. "Investment by NRIs in Indian property has doubled, from $5 billion in 2014 to $10.2 billion in 2018," he pointed out.
The message shared by Dr. Niranjan Hiranandani was that rise in Indian real estate deals through 2018 was driven by policy changes and enhanced transparency, and media across not just the UAE but also some of the GCC countries have responded positively, with coverage enabling Dr. Niranjan Hiranandani to reach out to the huge Indian diaspora across the GCC countries. Pointing out that new housing launches across top seven cities in India increased 27 percent y-o-y in January-March 2018, Dr. Niranjan Hiranandani added in his interaction with the GCC media that while the Indian real estate market is expected to touch $180 billion by 2020, Housing is expected to contribute around 11 percent to India's GDP by 2020.    .
CityScape, arguably the largest Global real estate expo in the UAE, launched on 02 October in Dubai, where visitors were given a complimentary copy of Gulf Property Magazine, whose contents included a special feature where Dr. Niranjan Hiranandani shares his thoughts on Indian real estate, its attractiveness to NRIs, and the added sweetener of currency value movements in the global markets.
"We are seeing a scenario which is a lot like what was seen in 2012," said Dr. Niranjan Hiranandani. "The percentage of NRI buyers in Indian real estate in the Metro Cities ranges from 8 to 12 percent. In 2012, when the Indian rupee's value went down, NRI buyers took advantage of the situation, ending up with almost 25 percent of total sales in 2012. In 2018, we have RERA providing transparency as regards the transaction and accountability on part of the real estate developer. Digitization and push towards online permissions translate into an advantageous situation for home buyers, especially the NRIs. We expect not just a repeat of 2012, but also increase in numbers of NRIs opting to buy Indian real estate while taking advantage of the currency value fluctuation," he added.
"The Indian Government has launched various initiatives, including '101 Smart Cities' as also 'Housing for All by 2022', which have led to positive results. Similarly, the focus on affordable housing as a segment which has been given infrastructure status as also other benefits including taxation benefits and subvention schemes has resulted in this segment getting a boost. It all leads to a positive situation, which is apt for expatriate Indians to invest in," he added.
Growth in the Indian real estate market is being driven by the fast rate at which urbanization is happening. A recent survey mentioned India's urban population as expected to reach 800 million in the next 30 to 35 years, becoming equal in size to India's rural population. "Given this, it has become imperative for the Indian Housing Industry to accentuate and rise to the occasion and match the demand," said Dr. Hiranandani.
"NAREDCO has been working in sync with the Indian Government on various aspects which would provide the much-needed impetus and fillip for enhancing growth in real estate," he added. "As overseas investor sentiment turns 'sunnier', the NRI will be able to buy property by paying fewer dollars now. Hopefully, in the new regulatory regime, this trend will continue – not just in 2018, but also in the future," concluded Dr. Niranjan Hiranandani.
Dr. Niranjan Hiranandani is Founder and MD, Hiranandani Group, his recent initiative is Hiranandani Communities. He is the President, National Real Estate Development Council (NAREDCO), which works under the aegis of Ministry of Housing and Urban Affairs, Government of India.
NAREDCO Reaches out to Indian Diaspora