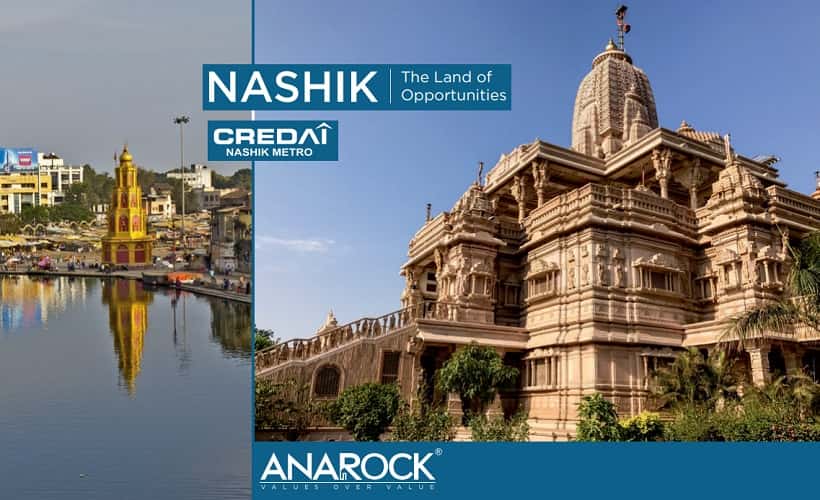 ~Piramal Capital & Housing Finance Announces the Launch of its Housing Finance Business in Nashik~
25+ start-ups and 6,000 angel investors sharp-focusing on the city
726 MahaRERA registered projects in Nashik city out of 904 new and ongoing projects in Nashik
Rs. 2,200 Crore as an estimated cost to turn Nashik into a Smart City 
Nashik, 31st August 2018/Team Estrade//– CREDAI Nashik Metro & ANAROCK Property Consultants released a research report on Nashik: Land of Opportunities at the Capital Connect event held today in collaboration with Piramal Capital & Housing Finance. The report findings states that Nashik is emerging as a favoured investment destination.
The report – unveiled by Sunil Kotwal, President – CREDAI Nashik, Khushru Jijina, Managing Director, Piramal Capital & Housing Finance and Anuj Puri, Chairman, ANAROCK Property Consultants at Capital Connect – focused on Nashik's immense potential as an exciting new destination for domestic and global businesses. In addition, Mr. Jijina formally announced the launch of the housing finance business of Piramal Capital & Housing Finance in Nashik.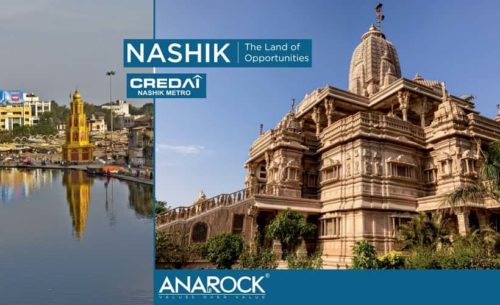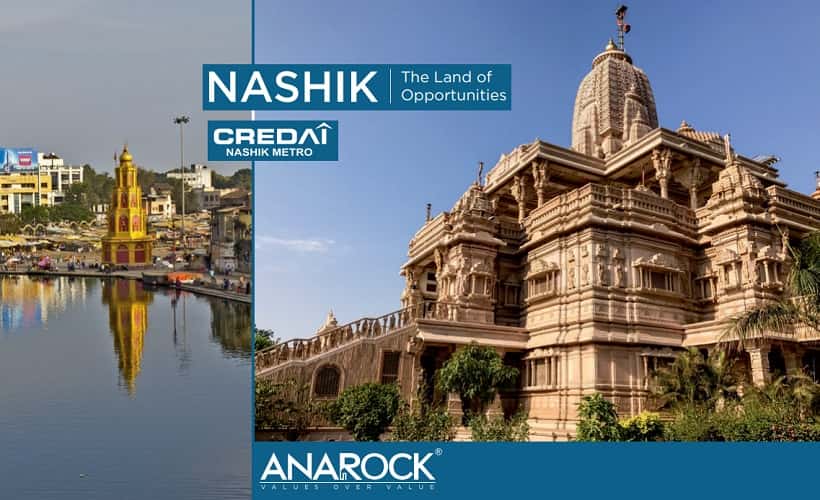 Khushru Jijina, Managing Director – Piramal Capital & Housing Finance Ltd. Said, "Nashik exhibits tremendous potential as a promising new investment destination in North Maharashtra. We are delighted to announce the launch of our housing finance offering in Nashik – which marks our strategic foray into selective non-metro markets. Our launch is aligned with our established strategy of expanding our presence in centres where there is a growing demand for home loans and construction finance."
Sunil Kotwal, President, CREDAI Nashik said, "Nashik is a city of many potentials and has great opportunities. This fact has once again been emphasised by the report on Nashik released by ANAROCK today. The present times are also very favourable to make Nashik shine and make it a city to of glory. CREDAI Nashik Metro has been consistently making efforts to make Nashik a liveable city with a vibrant economy. Today's programme 'Capital Connect' is a step in this direction and I thank ANAROCK for its report and Piramal Capital & Housing Finance Ltd for taking a keen interest in Nashik and standing strongly to support real estate finance. CREDAI Nashik Metro is committed to work for its fraternity and the city and has plans to hold such programmes through the next two years to give direction and chart the growth map of Nashik. We plan to do this by taking all the various sectors in Nashik together."
"Nashik's attractiveness as a residential end-user and investment destination is not hard to gauge," said Anuj Puri, Chairman – ANAROCK Property Consultants. "In the recent Ease of Living index, the city ranked higher than many prominent tier II cities such as Nagpur, Kochi, Jaipur and even metropolitan cities such as Ahmedabad and Hyderabad. Nashik has also been one of the forerunners of RERA integration and adoption, with as many as 726 housing projects in Nashik city alone registered under MahaRERA."
The report takes a close look at Nashik's transformation from a pilgrimage destination to a vibrant city in the light of new infrastructure development, and confirms that the city has surpassed several others on a number of critical vectors which directly influence real estate viability:
It has overtaken Ahmedabad, Bhubaneshwar, Coimbatore, Hyderabad, Nagpur and even Thane and Navi Mumbai in terms of mixed land-use, compactness and waste water management
Nashik has lower pollution levels than Ahmedabad, Bhubaneshwar, Coimbatore, Greater Mumbai, Hyderabad and Navi Mumbai
In terms of inclusive development, the city has significant access to affordable housing when compared to cities like Coimbatore, Nagpur and Kochi
Nashik is becoming a major IT-ITeS start-up hub, with over 25+ start-ups and 6,000 angel investors sharp-focusing on the city
Overall, the residential property prices in Nashik rose by ~13% from 2016-2017, and all market indicators are towards sustained growth. With a fully-operational RERA ensuring that the city sees systematic residential development going forward, a plethora of advantages in terms of Government initiatives and infrastructure projects, and well-conceived plans to becoming an outstanding Smart City, Nashik's real estate market is indeed poised for a quantum jump.
Apart from Piramal Capital & Housing Finance team and knowledge partners ANAROCK Property Consultants, the high-powered event saw attendance and participation by Nashik's leading developers.
Click here to download the report Nashik: Land of Opportunities
About Piramal Capital & Housing Finance Limited: 
Piramal Capital & Housing Finance Limited (PCHFL), wholly owned subsidiary of Piramal Enterprises Limited (the flagship company of Piramal Group), is registered as a housing finance company with National Housing Bank (NHB) and engaged in various financial services businesses. It provides both wholesale and retail funding opportunities across sectors. In real estate, the platform provides housing finance and other financing solutions across the entire capital stack ranging from early stage private equity, structured debt, senior secured debt, construction finance and flexi lease rental discounting.  The wholesale business in non-real estate sector includes separate verticals- Corporate Finance (CFG) and Emerging Corporate Lending (ECL). CFG provides customized funding solutions to companies across sectors such as infrastructure, renewable energy, roads, industrials, auto components etc. while ECL focuses on lending towards Small and Medium Enterprises (SMEs).
PCHFL through its group companies provides customized strategies for institutional and retail investors such as Mumbai Redevelopment Fund and Apartment Fund (through Piramal Fund Management) and strategic partnerships with leading global pension funds such as CPPIB, APG and Ivanhoe Cambridge.
About ANAROCK Property Consultants Pvt. Ltd.: 
The ANAROCK Group is India's leading specialized real estate services company with diversified interests across the real estate value chain. Anuj Puri, the Group's chairman, is a highly-respected industry veteran and India's most prominent thought leader in the real estate domain. He has over 27 years' expertise in leveraging Indian and global real estate opportunities.
ANAROCK Group's key strategic business units are Residential Broking & Advisory, Retail Transactions & Advisory, Capital Markets, Hospitality, Investment Management, and Research & Consulting. ANAROCK's growing business teams account for 1500 of the real estate industry's most qualified and experienced professionals. With operations across all major Indian markets and dedicated services in Dubai, ANAROCK also has global business coverage via over 80,000 hand-picked channel partners. Every facet of ANAROCK's rapidly-expanding business portfolio is governed by the Firm's core assurance to its clients and partners – Values over Value.
About CREDAI Nashik Metro
CREDAI Nashik Metro, established in 1988, is the real estate business organization in the city. It is the voice of real estate industry. It speaks for 303 members. CREDAI Nashik articulates the views and concerns of the real estate industry of Nashik. It provides a platform for networking and consensus building.  A non-government, non-profit organization.
Nashik – Land of Opportunities