Technology is fast changing all aspects of business and our lives. More so, in the way we learn and consume information. One such company is growing leaps and bounds by partnering with Universities in India and abroad, to create value in the education and learning space. Team Estrade had an opportunity to speak to Shantanu Rooj, Founder & CEO, SchoolGuru on how the company has reached leadership position in the technology led academic services space. Following are the excerpts of this interview,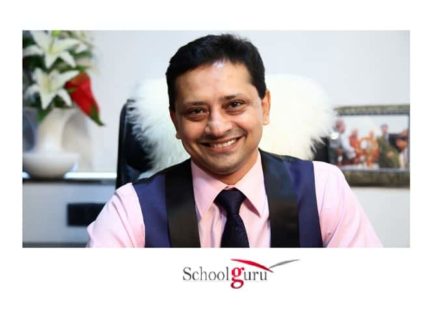 ---
"A 'partnership' approach rather
than a 'vendor' approach"
---
---
About Shantanu Rooj: Shantanu Rooj is one of the founding member and CEO of SchoolGuru Eduserve Pvt. Ltd. He is a CBSE All India Topper and a Gold Medalist from Indian Institute of Technology, BHU followed by a Masters in Management Studies from Jamnalal Bajaj Institute of Management and Executive Management Program in Global Business Management from IIM,Kolkata. Shantanu has earlier held key positions in HCL-Hewlett Packard Ltd. But the entrepreneurial itch was too hard to resist and he founded SchoolGuru. He is a passionate education entrepreneur, investor and speaker and also serves on the Board of SchoolGuru Eduserve.
About Schoolguru: SchoolGuru is India's premiere technology-led specialized academic services organization. It partners with Indian Universities to help them provide premium Online and Virtual courses for their students. The seamlessly managed technology platform provides all the components that a University may need to run their ICT services for their students ranging from the hosting platform, the underlying ERP, admission and fee management, the content, the streaming services, student engagement and communication, student servicing and the expertise to manage the platform.
SchoolGuru was founded in 2012 with the vision of revolutionizing the way Open and Distance Learning (ODL) is delivered to higher education students in India. Starting with a team of five members, SchoolGuru has grown into a team of 125+ employees, spread across 11 locations. Today, SchoolGuru is known as the indisputable leader in the Online Education Management space in India. The services of SchoolGuru are used by Universities in servicing not only their ODL students but also to complement the learning of their classroom students.
---
Tell us about SchoolGuru Eduserve Pvt. Ltd. and how you decided to start this company? What were the major challenges?
Schoolguru stands for Education that is Engaging, Purposeful and Employable!
We help Universities run Online Programs on our platform. The managed technology platform comprises of various services like Enrolment Services, Academic (Learning) services, Student Support Services and Assessment Services. A few years back, while we founded Schoolguru, we bet on the fact that distance education in India will transition to the Online format for program delivery as the latter is more interactive, engaging and scalable. We realised that Indian Universities, who are at the forefront of this revolution, will need assistance in various departments to be able to build and manage such a service. Based on this assumption, we built our Lurningo platform that is, today, being used by 20 large Universities in the country covering about 95000 students.
While we went about building the platform, we also decided to take a 'partnership' approach rather than a 'vendor' approach. We built our business model to shoulder the responsibilities with the Universities and built a comprehensive platform that would put no 'Capex load' on the Universities, thereby reducing their Risk of Capital. We decided to take single point responsibility of the platform (without making our partner universities run from pillar to post co-ordinating between various vendors) and get paid only on Outcome (we get paid if and only if we are being able to deliver the services and the outcomes that we commit).
Coming from a technology background, building the services and the platform was never the biggest challenge. However, we faced stiff resistance from Universities who refused to wake up to the reality and accept the imminent change. The transition was a difficult decision and would require major organisation changes that did not suit the interests of various lobbies within Universities. A few Universities took the first steps and today, they are the leaders of Online education in the country! People need to be reminded that Dinosaurs did not die because the world changed, they vanished as they refused to change!
---
"Schoolguru works with universities to improve upon the learning outcomes of the
distance education programmes through technology intervention"
---
---
What are your products and services offerings? What is your geographical range?
The platform offers multiple services like enrolment services, academic (learning) services, student support services and assessment services that help the universities launch, run and manage their online programs. The platform comes replete with a huge repository of content that is available for the universities to use within their courses. The library of content covers 150 programmes in 9 Indian languages across various streams of humanities, arts, science commerce, IT, law and management. The services are delivered on our mobile platform, Lurningo, that can be downloaded by the students from the Google play store. Lurningo is a unique platform that helps student access content, watch video tutorials, attend live sessions by university professors, seek assistance and support from the student support cell of the university, pay fees online directly to the university, access various forms of communication from the University and get placement assistance.
Since Schoolguru is engaged with Universities who teach the students in the distance education and online mode, employability and employment is a continuous challenge. Schoolguru, through its innovative employment linked skilling programme, provides several finishing skills to these set of students and prepares them for employment. Schoolguru, along with its parent company, TeamLease, has worked with close to 800 different corporate's for apprenticeship positions for these students and currently has 45,000 apprentices who are working in different corporate's as trainees. These apprentices are learning on the job, are earning stipend and are finally gaining work experience which ultimately help them become more employable.
Post their graduation, Schoolguru assists the students find their first job in the corporate sector and get them on the path of employment. Schoolguru, through its parent company TeamLease, has existing relationships, with about 4500 corporates across the country who work with Schoolguru for their manpower requirements. Schoolguru leverages this strength and helps students find jobs.
To summarise, Schoolguru works with universities to improve upon the learning outcomes of the distance education programmes through technology intervention, helps build skills for the students which make them better employable, help these students find appropriate apprenticeship positions in different corporates and finally helps them get jobs.
Currently, Schoolguru offers its services to Universities across the country. We are engaged with about 20 large public Universities spread across 13 states of the county. Last year, Schoolguru also signed up with a leading public University in Africa and helped them launch their Online programs.
Schoolguru is both a cause and a company!
---
What is the size of the market you are currently competing in, both in India and the world? How do you see the future growth of this market, along with your company's growth?
Higher education models across the world are transitioning from classroom only model to a blended form of learning which combines online, on-site, on-campus and on-the-job classrooms. Blended form of learning provides the flexibility and the personalisation that the students demand of their institutions today. Hence going forward most high educational institutions would need to run their online classrooms. Differentiation would be the key in a market that is getting fiercely competitive. And Universities and colleges will need to find their distinctive edge through a combination of technology, superior content, un-compromised student support services, and placement assistance.
India, currently has about 800 Universities and 40000 colleges that enrol close to 50 Mn students. With a push for improving the GER to 30% in the next 4 years, this number shall see aggressive growth in the coming times. Schoolguru, being a leader in the OPM (Online Program Management) space in the country, shall continue to innovate and improvise to maintain its leadership position.
---
"Schoolguru gets a successful fee per student.
The fee can be as low as rupees hundred per student at times"
---
---
Who is your target audience? What is your marketing strategy for each target group? For each product segment, in terms of demographics, regional variations, etc.
Schoolguru offers its services to universities and higher education institutions and helps them manage their online programs, upskill their students, aggregate on the job training opportunities and provide employment assistance. Since this is a closed group of users, Schoolguru reaches out to the institutions individually. Schoolguru also connects with universities through even participations, content marketing and through its digital outreach activities. Schoolguru also organises round table discussions to debate and brainstorm on various topics including but not limited to policy interventions, regulatory negotiations, technology strategies and industry connect initiatives.
---
What is a smallest ticket size product/item available from SchoolGuru? Which product segment is the highest revenue earner for your company?
For the services that Schoolguru offers to universities or its students, Schoolguru gets a successful fee per student. The fee can be as low as rupees hundred per student at times. Schoolguru has an outcome linked business model and hence gets paid the highest for those students who take up a degree program in a partner University, undergoes a ELSP training course, takes an apprenticeship program and finally gets placed!
---
Is the eco system in India ripe for companies like SchoolGuru? How do you see the market and the sentiment of Indian consumer evolving for your product?
Most education systems across the world are either transitioning, evolving or maturing. Indian Higher education system is going through a massive change owing to changes in regulations, market demand, and peer pressure. The government is clear about weeding out non-performing institutes, cutting subsidies for institutions that refuse to improve and rewards institutions that demonstrate improvement in outcomes. Universities and colleges have started realising that they would need help in various departments and partnership with the industry maybe one of the key ingredients for success.
Hence organisations like Schoolguru who partner with universities for outcome, reduce the risk of their capital, helps them deliver better services to their students, can demonstrate and prove their competencies and are willing to stick the neck out and share not only the rewards but also the penalties, shall be preferred as their partners during their journey.
---
"Regulators and accreditors should be equally held
responsible for the success or the failure of the system"
---
---
What do you feel is the future of SchoolGuru Eduserve with technologies like Big Data, Complex machines and AI? How these are augmenting your market reach? How SchoolGuru is leveraging these?
Schoolguru bets a lot on artificial intelligence technologies including machine learning, data analytics, deep learning, big data and natural language processing. Schoolguru believes that these technologies shall play a significant role in times to come in personalisation of experiences, create intelligent assessments, provide continuous feedback, identify skill gaps and opportunity mapping for the students. Schoolguru uses some of these tools and techniques for analysing students behaviour and performances, provide personalised assessment through adaptive tests and improve their chances of success at job interviews through proper matching and prepare.
---
Do you feel that technology has made distance learning more affordable and customer centric? How do you envision the changes in technology in this sector?
Technology has surely brought down the cost of delivering high quality blended programs. Technology permits things to be done at scale with small marginal costs. Physical classrooms are great due to personalisation but customisation is the enemy of scale. Until recently, poorly designed online programs were low on impact and outcome. However, with the emergence of new technologies like AI, ML and NLP, Universities are discovering better ways of delivering distance education programs. Penetration of smartphones and high speed internet connections have come as a boon for online learning, blended learning and flipped classrooms. Assessments are changing from term-end tests to continuous feedback; metrices of measurement are shifting from inputs to outcome, teaching is shifting from passing on of acquired information to learning based on curiosity!
---
What is Employment Linked Skilling Program (ELSP)?
ELSP is a short term bridge program that is designed to train a student on essential finishing skills that are required to get into the corporate ladder. Several large corporates complain that they do not find the college graduates employable due to lack of skills and experience. Schoolguru, with the help of its parent company, TeamLease and several other large corporates built this 3 months online program that is available to the students on the Lurningo App. Post completion of the ELSP program, the students are offered on-the-job training opportunities (apprenticeships) in various corporates that help them get work experience while earning them a stipend. Finally, students who have completed their degree programs, have passed the ELSP tests and have completed their apprenticeships, get personalised placement assistance to get to their first Jobs!
---
What are your expectations from the Government? How did you work around the challenges due to poor infrastructure?
The entire higher education industry has been plaguing due to high regulatory cholesterol in the system that hampered growth and did not help improve quality. A University needs multiple approvals, ratings and permissions from different bodies like UGC, NAAC, NBA, NCTE, NIRF, AICTE and several others to run their programs. A single window clearance system with information sharing between the various regulating bodies at the background, seems to be a more logical solution to solve this conundrum. The regulators and accreditors should be equally held responsible for the success or the failure of the system. There must be a segregation of the role of the regulator, the policy maker, the funding agency, the accreditation agency and the service provider. This would clear the road map for faster adoption of technology in education – without which the industry is facing existential challenges!
Fortunately, India, today, has one of the finest digital infrastructures in the world; highest penetration of smartphones, cheapest data rates, word's largest digital biometric identity system, world's finest payments infrastructure and a smart movement of Digital India. India has the potential to leapfrog the cycles of evolution in education that countries in the developed world have gone through and can create the finest education infrastructure of the world!
---
Who is your competition? How do you perceive the threat from your competition?
There are several players in this space in India. Companies like TCS, Avagmah, HCL, and several other smaller regional players are struggling to get there foothold in this space. Several publishing companies like S Chand and Pearson are also interested in this particular space. Global OPM players like HotChalk, Learning House, Laureate and 2U are also eying Indian market. However, Schoolguru, owing to its continuous innovation, proven experience and a great team shall maintain its leadership in the domain.
---
"An average online MBA in the US costs about $ 30000
as compared to about $350 in India"
---
---
What is the biggest challenge faced currently by your industry of operation?
Apart from regulatory uncertainties, our industry faces the challenge of the trinity of cost, quality and scale. Indian higher education has one of the lowest fee per student, owing to high subsidies that are provided to the Universities (and colleges). An Indian University is expected to provide the same level of education as that of an American University while charging less than 2% of the fees (an average online MBA in the US costs about $ 30000 as compared to about $350 in India). Service providers are expected to create the necessary technology, content and service infrastructure at these cost levels. However, with scale being on our side and with our ability to continuously innovate, companies like Schoolguru have been able to build a very high quality of infrastructure and have demonstrated excellent outcomes even at this price!
---
"Schoolguru is on its path to create the largest
Online learning company of the country in the next 5 years"
---
---
Who are your investors? What would you advise to other start-ups before they start scouting for investors?
Schoolguru raised its first round of capital from three reputed HNI's based in Delhi, Bangalore and Florida! Last year, TeamLease Services, India's leading HR Services company invested in Schoolguru through a primary and secondary route to acquire about 40% of the company!
It is important for budding entrepreneurs to realise that capital raising must be done at the right time. It is essential that the company bootstraps till such time that it has created a credible business model, built some traction of business, acquired the first few customers and has built a rockstar team before any investor would agree to touch them. It is necessary that the promoter and the team understands the market size it addresses, the unique differentiating leverages that the company has built and the way they will be able to build scale. Finally, they would need guidance and help in making the right connections with the right funds – organisations like TIE and the several angel networks are willing to provide the guidance and mentorship that the start-ups seek.
---
What is your vision for your company, in terms of,

Near term future, over the rest of 2018
Long term, over the next 4 years or so.
Schoolguru is on its path to create the largest Online learning company of the country in the next 5 years! Schoolguru shall continue to work with the HEI's and the corporates to bridge the gaps that can lead a student from the campus to the corporates. Programs like ELSP and Apprenticeships are great building blocks. Partnering for outcomes is a great business model because it is built on the principle of mutual win. Schoolguru, I believe, has the right recipe to make it a huge success!
---
"Online MBA in US cost $ 30000 while in India $350" – Shantanu Rooj, SchoolGuru