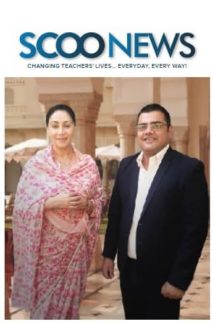 Jaipur, Rajasthan, India/News Voir//–
Princess Diya Kumari will host ScooNews Early ED Asia 2019, designed to focus on initiating Policy discussions with key stakeholders and betterment of the early childhood ecosystem
Jaipur is chosen as a venue to initiate discussions on the pertinent route-benefit analysis with regard to Early Childhood Education. The two day conference, the biggest in Asia, is to be held on Feb 12-13, 2019 was announced by member of the Jaipur Royalty Princess Diya Kumari. Joining her in making the announcement were Mr. Ravi Santlani, CEO, ScooNews ,Ms. Rama Datt, Trustee, Maharaja Sawai Man Singh Trust and Ms. Vanya Bhandari Lodha, VP, ScooNews.
This two-day Conference will be hosted under the patronage of The Royal Family of Jaipur in association with ScooNews and Early Childhood Association (E.C.A) at The City Palace, Jaipur.
About Early ED Asia 2019 – Asia's Largest Early Childhood Conference
With the motto Our Children, Our Future., Early ED Asia 2019 will be a platform to network, learn, and rejuvenate with experts from leading early childhood education platforms and organizations across Asia.
Speaking at the event Princess Diya Kumari commented, "In present times, early childhood education is complex. Each child has the right to get early childhood education through programs that make the learning effective and the transitions efficient. The event is expected to discuss this important and urgent issue."
Ravi Santlani, CEO, ScooNews remarked, "We feel honored to be associated with ECA, which has been doing stellar work to bring about the due corrections in the Early Childhood Education space. I thank Princess Diya Kumari to provide us thenecessary support to create a learning getaway for early childhood educators."
"Early Childhood Association is honored to have the patronage of Princess Diya Kumari. Through the two days we expect to launch a larger consensus on making early childhood education a right of every child and discussing best practices that can be adopted in early childhood education," said Dr. Swati Popat Vats, President, Early Childhood Association.
About Early ED Asia 2019
Conceptualized as a two-day conference, Early ED Asia 2019 aims at bringing together policy makers, school leaders and teachers to deliberate, discuss and bring about necessary changes in early childhood education in Asia. The event will focus on relevant research and development practices in care, neurosciences, education and policies for the betterment of Early Childhood Education.
About ScooNews
ScooNews is India's largest Media platform for the education sector comprising of print, online, online TV and events. ScooNews magazine has a monthly print run of 65,000 copies nationally with a targeted readership of 5,00,000.
Princess Diya Kumari Launches Early Childhood Conference