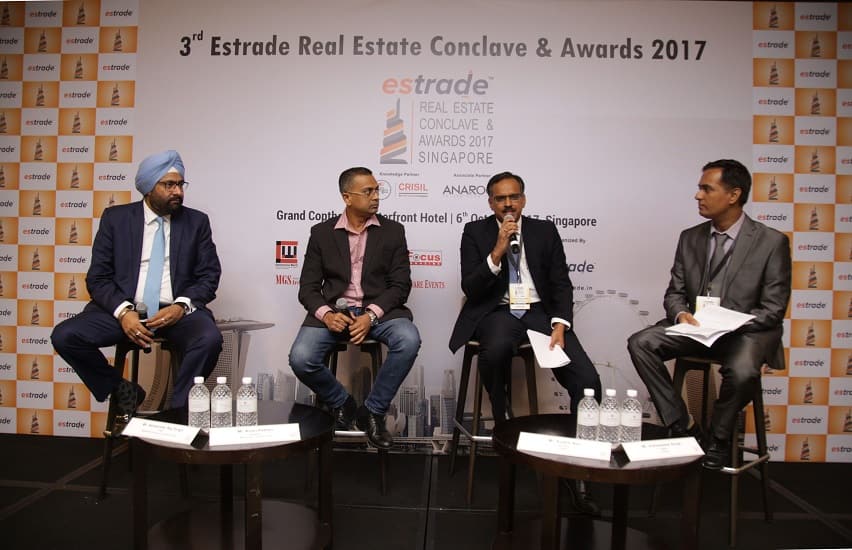 Promise of India's Real Estate sector highlighted at 3rd Estrade Real Estate Conclave & Awards, Singapore
"A lot of innovation and aggressive technology adoption will be key to the commercial success of affordable housing projects" – Ashwinder Raj Singh, CEO, ANAROCK Property Consultants Pvt. Ltd.
"With the recent slew of reforms aimed at bringing transparency, accountability and boost to affordable housing, both customers and lenders have more confidence in India's Real Estate Industry" – Sudhir Nair, Director, CRISIL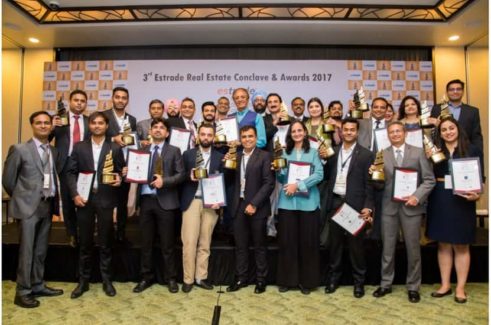 SINGAPORE, October 7, 2017: Singapore was witness to a gathering of senior leaders from the Indian real estate industry, who converged at the Grand Copthrone Waterfront, Singapore for the 3rd Estrade Real Estate Conclave & Awards held on Friday 6th October 2017. Renowned Indian architect, Prem Nath was conferred with the 2017 Estrade Lifetime Achievement award by Ashwinder Raj Singh, CEO, ANAROCK Property Consultants. Visit link for images – https://goo.gl/BaiYX5
Estrade Real Estate Conclave and Awards is an annual congregation of industry leaders organized in Singapore, under the aegis of Estrade Media Pte. The thought behind Estrade Real Estate Conclave & Awards is to reward the best in India's real estate sector by providing a platform for public recognition. The 2017 Estrade Real Estate Conclave & Awards saw an overwhelming response with over 200 nominations received. The judges had a grueling task of choosing 22 awardees, who were felicitated at the awards night held on Friday 6th October 2017 in Singapore.
The panel discussion on the promises of the Indian real estate sector was the highlight of the evening. Vishwasjeet Singh, Editor-in-chief, www.estrade.in moderated the power packed session, which included Ashwinder Raj Singh, CEO, ANAROCK Property Consultants, along with Sudhir Nair, Director, CRISIL and Estrade jury member, Arshi Pathan, Director, Moonpool Consultants Pte. Ltd. The discussions delved on the recent developments in the sector including, Real Estate Regulatory Authority (RERA), SMART cities project, Affordable housing – through the Government's "Housing for All by 2022" project and Funding in the Real Estate/Infrastructure Sector. India's economic growth and Real Estate industry's critical importance for the growth were also discussed.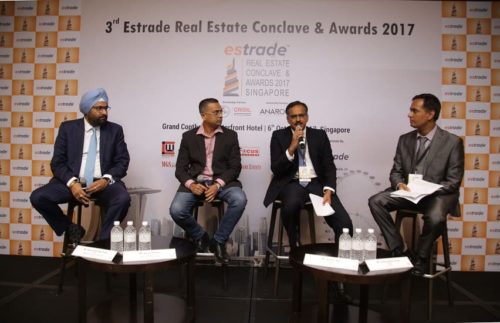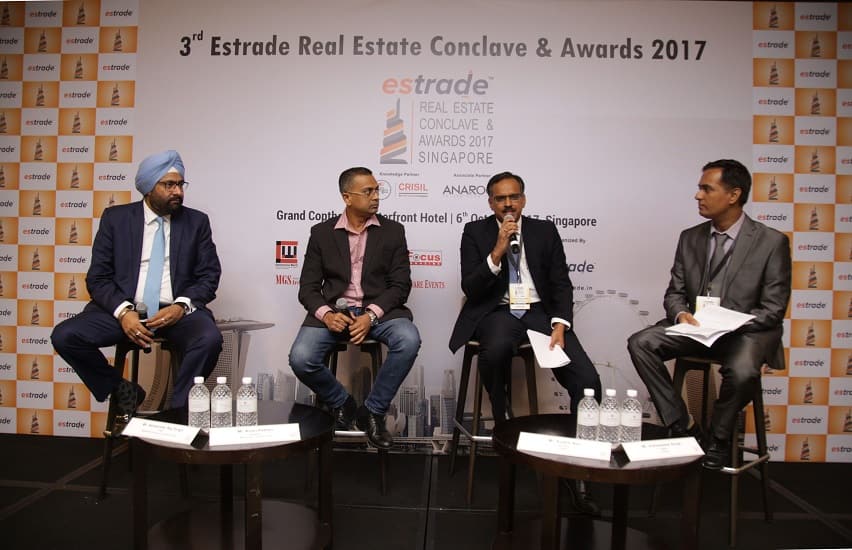 India is the fastest growing economy of the world, with a future focus on creating value and better standard of living for the country's citizens. Speaking at the awards night, Ashwinder Raj Singh, CEO-ANAROCK Property Consultants said, "Affordable Housing is a journey from a developing nation to a developed nation, that everybody should have a house! In India, affordable housing is not linked to the value of the home; it is linked to the size of the home. In order to make Affordable Housing successful in India, we have to learn from Affordable Housing projects implemented in countries such as Singapore, China and Hong Kong. "
With rapid urbanization, the present infrastructure in India's major cities is under pressure, especially when there is a large influx of rural populations to cities for better job opportunities. Commenting on the same, Sudhir Nair, Director – CRISIL, said, "Top ten cities of India, bears the entire load of urbanization. The only way to fix this is by job creation in tier 2 and tier 3 cities, which is where you can see the Government's drive to create employment in the rural areas. In this way we will have 20 to 25 large cities in the country that are able to absorb all these populations, by planning in advance, with the government participation and in a way take away the pressure that top metros of the country are currently suffering from. "
Making houses affordable to a large population is important for India's growth and improving the standard of living of all. With this in view, Vishwasjeet Singh, Editor-in-Chief, www.estrade.in said, "Our primary stakeholder, in the Real Estate industry is the end customer. We believe players who will focus on creating value for the end consumer, will be the front-runners to witness the next phase of growth in the real estate sector.  
City infrastructure must inculcate all the amenities, technology and ecological balance, as part of futuristic urban living. Observing this, Estrade Jury Member Arshi Pathan, Director, Moonpool Consulting Pte. Ltd. added, "We have to focus more on the SMART cities, the planning for this should start from the day we start digging. We have to incorporate the ever changing aspects of technology, building construction etc., into our policy to create green, ecofriendly urban living"
This awards night was attended by who's who of India's Real Estate industry professionals. Estrade Awards, Singapore, is a strong networking platform to recognize the contribution of Indian professionals that include the real estate developers, building utilities, architects and interior designers.
3rd Estrade Real Estate Conclave & Awards Singapore 2017 – Awardees List
Project Based Awards
Best Project in Non-Metro – Ofira, Avantis Group
Commercial Property of the Year – White House, Avantis Group
Luxury Villa Project of the Year – Sagrados Villa, Alchemy Group
Themed Project of the Year – Eden – Nature Living, Earth Group
Residential Property of the Year – Vivarea, K Raheja Corp
Most Admired Upcoming Luxury Project – Excalibur, Nahar Group
Boutique Apartment of the Year – Rainbow Kishore Glendale, Rainbow Properties
Project of the Year – Avenida, Tata Housing Development Company
Developer Based Awards
Best Luxury Housing Developer of the Year – South – Axis Concepts Capstone Pvt. Ltd., Bangalore
Best Business Practice – Creations, Chennai
Most Trusted Real Estate Brand – South – Jain Housing & Constructions Ltd., Chennai
Emerging Developer of the Year – Kaamdhenu Builders, Navi Mumbai
Best Luxury Housing Developer of the Year – Kundan Spaces, Pune
Developer of the Year – South – SJR Prime Corporation Pvt. Ltd., Bangalore
Architects Awards
Most Sustainable Architecture Design – Residential – Sudhakar Grande's Villa, EarthenHive Architects
Leisure Architecture – Wonders Park, Hiten Sethi & Associates
Architect of the Year- Residential – Amarante, Hiten Sethi & Associates
Public Institute Architecture – GRT Institute of Technology, Oscar & Ponni Architects
Architecture Multiple Residence – Satyam Springs, Pranav Desai – IAG Consultants
Residential High Rise Architecture – Emaar MGF Sky Terraces, Studio K.I.A
Interior Designers Awards
Interior Design Apartment – Kathuria Residence, IntriGue Designs
Interior Design Private Residence – Bishnoi Residence, Oscar & Ponni Architects
Office Interior – Zensar Technologies Limited, Worksphere Architects
Special Awards
Best Real Estate Platform of the Year – Housing.com
Lifetime Achievement – Ar. Prem Nath, PNA
About ESTRADE MEDIA Singapore
www.estrade.in is the digital media editorial brand of Estrade Media Pte. Ltd, Singapore Estrade is a Singapore based digital media company. The company has his India Office based out of Mumbai that currently has two editorial brands www.estrade.in, www.theonside.com. Estrade is a corporate news focused site, launched in 2014. Estrade helps to provide a platform of diverse opportunities to Businesses and Corporate Entities focused on carving a niche out for themselves. The world of business is always in a flux, more so in the emerging economies of Asia. Estrade recognizes the efforts and innovation of companies who are on a growth trajectory in the real estate industry..
Estrade as a media house is dedicated to recognize the efforts of individuals and teams working behind the scenes to make their corporate entities reach the pinnacle of success. It is our endeavor that these teams' success stories are shared in the public domain as case studies for the benefit of all.
More details on ESTRADE can be found at http://awards.estrade.in/
http://www.prnewswire.co.in/news-releases/promise-of-indias-real-estate-sector-highlighted-at-3rd-estrade-real-estate-conclave–awards-singapore-650049353.html
Estrade Real Estate Conclave in Singapore
Promise of India's Real Estate sector highlighted in Singapore