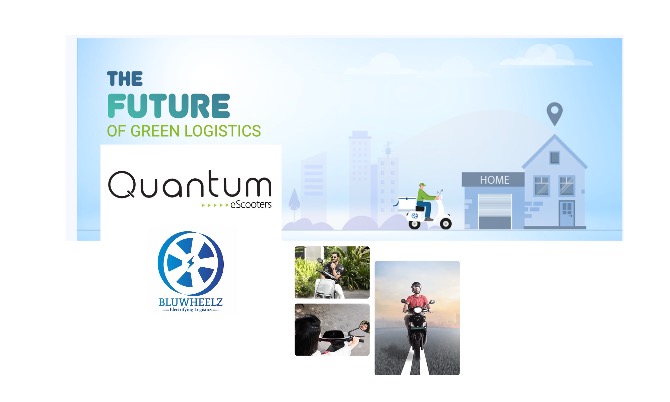 Quantum Energy and Bluwheelz join hands to deploy 5000 electric scooters
With its segment-best range of up to 135 km on a single charge, this B2B electric scooter delivers unmatched efficiency and reliability for commercial deliveries
New Delhi, 19 September 2023: Quantum Energy, a leading electric vehicle (EV) start-up specializing in the design, development, manufacturing, and sales of electric scooters, strategic collaboration with Bluwheelz, a trailblazing tech-enabled logistics company, to revolutionize the last-mile logistics landscape with an environmentally friendly approach. This partnership marks a significant step towards a greener and more efficient future in the logistics sector. Bluewheelz will be deploying the Quantum Bziness Pro e-scooter.
The Quantum Energy's Bziness Pro escooter sets a new standard in its category, providing an innovative and transformative means of transportation that is both speedy and environmentally friendly. With an impressive range of up to 135 km on a single charge, this e-scooter is equipped with a high-performance Lithium Iron Phosphate (LFP) battery, which comes with a warranty of 3 years or 90,000 km. Moreover, the Quantum Bziness Pro is packed with segment-leading features, including an inbuilt IOT tracker with an IP67 rated battery pack, Remote Lock-Unlock, Anti-Theft Alarm, USB Charger, Disc Brakes, LCD Display, and more.
Chetana Chukkapalli, Director of Quantum Energy Limited, said, "With this partnership, we would like to make last-mile connectivity greener. Quantum Energy's fleet is the smart choice for sustainable transportation. Through this important partnership with Bluwheelz, we aim to promote the adoption of electric vehicles for all kinds of deliveries."
Arun Sharma, the Executive Director of Bluwheelz, emphasized, "Bluwheelz is committed to delivering cutting-edge logistics solutions that prioritize both efficiency and environmental responsibility. Our collaboration with Quantum Energy perfectly resonates with our mission to pave the way for a more sustainable and eco-friendly future in the realm of last-mile logistics."
About Quantum Energy
Quantum Energy is an electric 2-wheeler manufacturing firm which is into the design, development and production of electric scooters. The company has a state-of-the-art R&D center and manufacturing facility in Hyderabad. Quantum Energy is backed by the Kusalava group, a firm that has been in the automotive business for the past 60 years with interests in auto-component manufacturing, automobile dealerships and auto-financing. With such a legacy, Quantum Energy's offering has a range of 2-wheelers in the consumer and cargo segment.
For more Info, please visit https://www.quantumenergy.in
Brand LinkedIn: https://www.linkedin.com/company/quantum-evindia/
Brand Twitter: https://twitter.com/Quantumev_India 
About Bluwheelz
Bluwheelz, a trailblazing tech-enabled logistics company, is driving innovation in first-mile, mid-mile, and last-mile logistics solutions. The company offers Fleet as a Service, specializing in an exclusive electric vehicle (EV) fleet, aimed at tackling cost and timeline challenges within the E-commerce, Quick Commerce, and Food Tech industries, all while making a positive environmental impact.
Bluwheelz offers a comprehensive monthly lease model that includes 2-wheelers, 3-wheelers, and 4-wheelers EVs, along with dedicated riders, charging infrastructure, parking facilities, and maintenance services. The company has already established a successful commercial presence in the Delhi National Capital Region (NCR), partnering with prominent industry players such as Big Basket, Delhivery, Porter, Zomato, and Compass. Additionally, they have initiated trials with Britannia, Coca-Cola, Unilever, Swiggy, Cremica , HT,  ITC and other leading brands.
Bluwheelz is poised to revolutionize the logistics landscape with its innovative approach and dedication to sustainability. By providing cutting-edge EV fleet solutions and forging partnerships with industry giants, Bluwheelz is set to lead the way in modern logistics.
For more information, please visit: https://bluwheelz.co.in/
Read More Articles on Estrade Technology
Read More Articles on Estrade Business
Quantum Energy and Bluwheelz join hands to deploy 5000 electric scooters