Quikr, India's No. 1 cross-category classifieds business, has acquired Salosa, an on demand in-home beauty services provider. This strategic acquisition is a part of Quikr's plan to invest Rs.250 crore in its home services vertical, QuikrServices. Salosa which has been a partner to QuikrServices will further strengthen its beauty services offerings with stylists that have undergone a rigorous process of quality & background checks along with required training.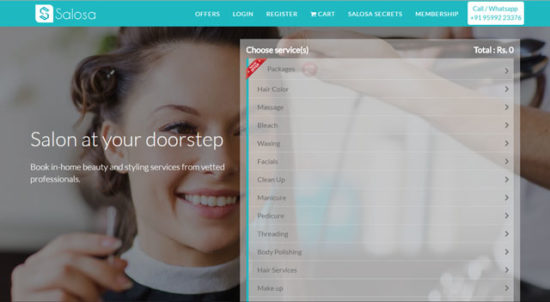 In line with Quikr's verticalization strategy, this investment will enable the company go deeper and faster in key categories under QuikrServices. Founded by Ex- P&G professionals, Piyush Dhanuka and Anurag Nair, Salosa was launched in September 2015, serving customers in Gurgaon and parts of Delhi. Salosa began first as a marketplace for freelance beauticians and stylists before shifting to a full stack model with an in-house team.
Talking about this acquisition, PD Sundar, Head of QuikrServices, said, "Beauty services market is close to $5 billion in India and is growing which is evident from the increasing number of requests we see from Tier-I and Tier-II cities on our platform. On-demand beauty services is an important sub-category and Salosa will help bring very real benefits to our consumers who get easier access to reliable beauty experts."
"Quikr is amongst the top consumer internet leaders in India today along with being a major player in the services space. We share a similar vision with Quikr and look forward to combining our experience in the beauty domain with Quikr's scale and strategy to become the best beauty services brand across the country," said Anurag Nair, Co-Founder, Salosa.
QuikrServices has been aggressively going deeper in the home services space to provide consumers a richer experience with reliable professionals. Due to the strength of the Quikr brand, the platform has been witnessing a consistent increase in average spend from its consumers over the last 6 months and is seeing a repeat rate of over 60%. QuikrServices has 250,000 service providers offering over 80 types of services for consumers and is being used by 1,00,000 customers every day.
Quikr Acquires Beauty Services Start-up and its Partner Salosa