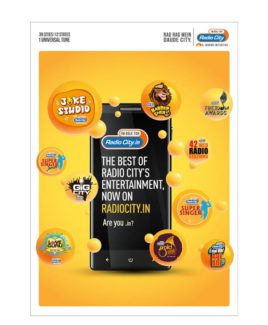 Radio City, announced a strategic expansion of its digital presence with the launch of www.radiocity.in. As part of its digital strategy, listeners will be able to enjoy select terrestrial shows, along with exclusive digital content on Radio City's new web avatar. Radiocity.in will serve as the e-face of Radio City's 39 stations.
Radio City originals like Love Guru, the one-stop shop for all the answers on love, relationships and beyond; GIG City, India's first radio concert; Joke Studio, the ultimate comedy destination; Babber Sher, the longest-running sparkler on Indian radio; and Radio City Gold featuring the legends of Indian music, among others, will be available to online listeners.
This would supplement the 43 web stations available on www.radiocity.in across multiple genres such as Bollywood, International, Indie, Devotional, Regional and non-film music. In order to appeal to a wider audience, Radio City's online content will be spread across eight languages such as Hindi, Kannada, Telugu, Tamil, Marathi, Gujarati, English and Malayalam.
Rachna Kanwar, COO, Digital, Jagran New Media, says, "Radiocity.in will be an integral part of our mobile-first approach. It will allow our listeners to listen to their favourite terrestrial content, in addition to the 43 web-exclusive stations, right on their digital devices, wherever they want, whenever they want. Our new digital strategy will also see us adding more content, across languages to our existing digital bounty, in order to make the platform more relevant to listeners across different geographies. This will truly allow us to cover the 'kona kona' of the country."
"At Radio City, we have always believed in creating clutter-breaking content across platforms for our listeners globally. RadioCity.in solidifies our position as the forerunner in the digital space while helping us retain the numero uno spot across social media platforms. We are happy to provide our listeners with an all new digital experience, which is a perfect blend of entertaining music and engaging content," said Abraham Thomas, CEO, Radio City 91.1 FM.
A licensed music streaming website, www.radiocity.in, offers free music in multiple languages, along with 43 web radio stations streaming music across various genres. Radio stations added recently include artist radios like Lata Mangeshkar Radio, RD Burman Radio, Kishore Kumar Radio, Mohd Rafi Radio, Dr. Rajkumar Hits, KJ Yesudas Hits and Kamal Haasan Hits.
Source: Exchange4media
Radio City launches digital platform, radiocity.in