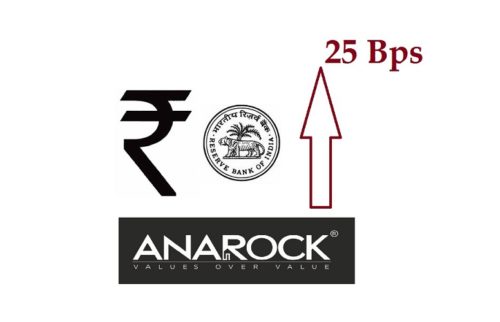 Mumbai, India, August 01, 2018/Team Estrade//– The Reserve Bank of India announced a 25 basis point increase in its repo rate today, during its Third Bi-monthly Monetary Policy Statement 2018-2019. This was announced under the LAF – Liquefied Adjustment Facility. Thereby, the reverse repo rate is adjusted to 6.25 per cent, and the marginal standing facility (MSF) rate and the Bank Rate to 6.75 per cent. The decision of the MPC is consistent with the neutral stance of monetary policy in agreement with the focus on consumer price index (CPI) inflation target of 4 per cent within a band of +/- 2 per cent.
The MPC sitied slowed growth in the EME (Emerging Market Economies) or BRICS, with the exception of Russia, where the country has shown momentum with an upwards trend in the employment, industrial production and export parameters. Increased trade wars and volatility in oil prices has brought in more uncertainty in forward looking commodity prices, this at the back of increased inflation in the same in advanced and emerging economies.
MPC also pointed out the growth in Industry on a y-o-y basis, measured by index of Industrial Production (IIP). This, due to a thrust from  infrastructure/construction sector, where the growth accelerated sharply, due to government's focus on national highways and rural
housing. However, the growth of consumer non-durables decelerated significantly.
Commenting n this policy announcement, Anuj Puri, Chairman – ANAROCK Property Consultants, said, "The 25 bps increase in the repo rate announced in today's third bi-monthly monetary policy was in line with our expectations. Amidst rising inflation, depreciating rupee and other global macroeconomic risks, this increase is fairly justified. While this may lead to a hike in home loan rates as well, the overall real estate sector now rests on a strong footing and buying decisions may not be altered by these marginal changes."
MPC has shown an overall positive outlook for future growth, siting healthy kharif season at the back of increased growth in the rural areas of India.
Adding further, Anuj Puri, Chairman – ANAROCK Property Consultants , said, "As per ANAROCK research, nearly 60,800 units were sold in Q2 2018 across the top 7 cities of India, which is a 24% rise over the previous quarter. Amidst a 50% quarterly rise in new launches in Q2 2018 too, unsold inventory reduced by 2% from 7.11 lakh units in Q1 2018 to 7.0 lakh units in Q2 2018. These numbers clearly indicate that the markets are now recovering from the shocks of structural changes and policy reforms. In fact, genuine home buyers have welcomed these actions which have imbibed the much needed financial discipline, accountability and transparency in the sector. With lucrative deals on the table, serious end-user demand is back on the market and marginal hikes in home loan rates are unlikely to deter buyers who have been sitting on the fence for some time now, waiting for the right time to seal the deal."
Summing up, the MPC showed concern due to trade protectionism, geopolitical tensions and uncertainty in oil prices, that create uncertainty around domestic inflation. The 25 bps increase is marginal, seems to pre-empt any sudden outlier event in the global macro economic scenario and at the same time keep India's growth in the right direction.
RBI: 25bps Higher Repo Rate