The government has introduced landmark reforms in the form of GST and RERA. These two will streamline the business practices in the real estate industry for the benefit of all stake holders. GST comes into force from July 1st, 2017 and Maharashtra RERA has mandated July 31st, 2017, as the date for filing for registration of projects for the real estate developers. Team Estrade is interacting with the real estate developers to know more about their expectations from RERA, GST and other government initiatives. Following are the excerpts from Team Estrade's interaction with Srinivasan Gopalan, Group CEO, Ozone Group.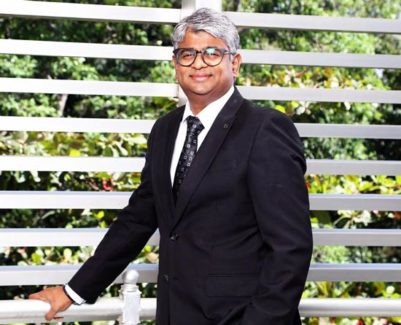 About Srinivasan Gopalan
Srinivasan Gopalan, is a rank holder (in CA-inter) Chartered Accountant and a Cost Accountant (ICWA), with over 20 years experience. He joined Ozone Group in mid 2014 and marshalled a high performance team and with his strategic guidance & leadership has propelled Ozone Group towards a 2.5X sales revenue growth.
He has worked with The Wadhwa Group, ROW2 technologies, Deloitte and Gharda Chemicals before joining the Ozone Group. He has moulded the company into a sales driven organisation, hand-in-hand with strong ethos of quality construction and delivery. His vision is to put Ozone Group among the top 3 developers in South India and among the top 10 developers in India, in the next 3 years. In keeping with this vision, he has helped Ozone Group establish a strong presence across UK, USA, Singapore, Australia, Hong Kong, Dubai and Mumbai.
About Ozone Group
Ozone Group is one of the most promising brands in Asia in the Real Estate industry, with its headquarters in Bangalore and branch offices at Chennai, Goa & Mumbai. Group's range of offerings varies from residential condominiums, row houses, villas, service apartments, hotels, resorts, business parks, SEZs and integrated townships.
Company's current projects are being implemented at Bangalore, Chennai, Goa and Mumbai. In the last 5 years, Ozone Group has delivered 5mn sq. ft. of real estate, while 15mn sq. ft. of real estate is still under development and 20mn sq. ft. of real estate development is in the pipeline for the next 8 years.
---
What are your views on RERA (Real Estate Regulatory Authority)? For developers having projects across India, will it increase the cost for permissions and RERA registrations as each state has its own RERA?
RERA is a required and necessary step towards instilling transparency, professionalism and accountability in the real estate sector. It is a big step towards protecting consumer interests and it was extremely essential in a country like India where owning a house has great emotional and sentimental value beyond the significant financial investment. For developers, there will be short term pain while the developer group aligns its internal processes and systems towards RERA compliance. The industry will witness consolidation as un-professional and fly by night developers will be forced to shut shop and only institutionalized developers will continue. For pan India developers, there will be a significant cost of compliance as they will need to form specific teams to monitor and ensure RERA compliance for projects across states.
---
Do you have presence in the Affordable Housing segment? It is being promoted in a big way, however, do you feel Affordable housing is commercially successful?
Currently we do not cater to the affordable housing segment. With the Government's initiative of Housing for All by 2022 and by giving infrastructure status to the affordable housing segment, there is a significant incentive for developers to enter this market. However, given the current risks of land acquisition, legal title, approvals and further development risks in the country, we still do not see affordable housing as commercially viable. Having said that, we are always evaluating opportunities as we understand that the real demand in India is at the affordable housing segment, and we are coming up with innovative products within our large development/s (projects) to make our products affordable.
---
Do you see property prices coming down? If no, why not? If yes, how and when?
I do not see property prices coming down. With the advent of RERA, we will see a consolidation in the industry. This will lead to reduced new project launches and future supply in the market.
The over-all cost for a developer has significantly increased due to increase in holding cost of land, inability to generate any kind of cash flows till approvals and the increasing cost of compliance due to RERA and GST.
Reduced supply of stock and increased costs that will eventually be passed on to the consumer will definitely lead to increasing property prices.
---
How will realty firms benefit from government's schemes such as 'Housing for All by 2022' and '100 Smart Cities'?
The schemes of 'Housing For All' by 2022 and 100 Smart Cities introduced by our Prime Minister are definitely welcome reforms. The biggest benefit for the property segment will be in terms of the total sq. ft. construction which will have to be generated, in order to make the idea of 'Housing for All' into a reality. The construction of Smart Cities will create the demand for a lot of infrastructure work for the private real estate sector. Hence the probable home buyers and private realty companies will be greatly benefitted.
---
What are the implications of GST on your on-going and future projects? Are there any changes you expect in the government's GST policy for your industry?
The implementation of GST will surely help in subsuming numerous indirect taxes; it will further streamline tax amenability and reduce the possibility for double taxation in both the on-going and future projects. In most of the states, the eventual cost to the consumer has gone up due to the increased rate of GST in comparison to the earlier ST & VAT rates applicable. I do not expect any changes in the policy for our industry, however I would like the Government to take cognizance of the fact that any cost increase to the consumer will further impact consumer interest at time that we have already seen demand stagnate over the last few years.
---
Tell us about Ozone Group? About your products and services?
The Ozone group is one of South India's most reputed real estate developers with a presence in Bangalore, Chennai, Mumbai and Goa. Ozone has successfully created a mark in developing large scale, integrated and self-sustainable urban centres in the south of India. Ozone is currently developing residential, commercial, retail, hotels, schools and hospitals across locations in the country.
Mentioned below is the URL for information about the ongoing projects by Ozone Group.
Link : View – https://www.ozonegroup.com/ongoing.php
---
What is your geographical range? Which cities/towns have you already successfully built projects? What is the size of the market you are currently competing in?
The Company's current projects are under development in Bangalore, Chennai, Goa and Mumbai. In the last 5 years Ozone Group has delivered 5mn sqft of real estate, while 5mn sqft of real estate is still under development and 20 mn sqft real estate developments are in the pipeline over a period of next 8 years. Our products mainly caters to the mid – income and upper mid – income groups.
---
How is changing technology impacting Real Estate? The basic components and drivers of this industry have more or less been the same over many years. You think that realty companies would find innovative ways of using new technologies such as Big Data, Complex machines and AI?
Technology is impacting real estate for developers as well as consumers. We have seen the advent of smart homes solutions in the recent past. Today, we have only developed smart home solutions for convenience. However, going forward, we will see safety, security, health and even education aspects being integrated as a part of smart home solutions. Like most industries, real estate will also move towards being more service oriented product for customers. The value proposition has to shift from pure brick and mortar to customized customer centric lifestyle solutions. I think technology will play a huge role in this and all developers have to adapt to this change.
Real estate is not yet such a mass consumer product as it is a localized play. As developers expand to more domestic and international markets, we might see the use of big data and AI to understand consumers better. However, I think these technologies are some time away for the industry.
---
What are your expectations from the Government?
We have already seen the Government bring in policy changes like RERA and GST which will benefit the industry in the long run. Our expectation is that the Government continues to focus on growth and a prospering economy will eventually help the real estate industry.
---
In the next two years, what are the two trends that will define the future of the industry? What is the biggest challenge faced currently by the Real Estate industry?
In terms of trends, co-working spaces, integrated structures and automation are some of the transitions that can be witnessed in the forthcoming years. Currently, the challenge is to adapt to the number of regulatory changes in the industry.
---
"Real estate is not yet such a mass consumer product" – Ozone Group