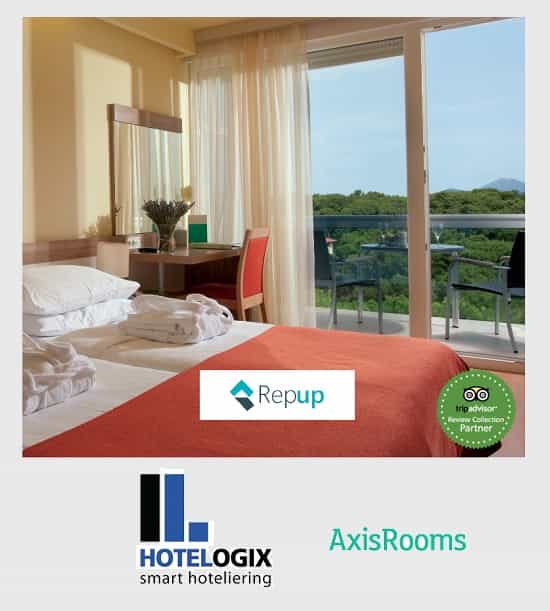 New Delhi, 4 April 2017/Team Estrade//– RepUp, India's leading Customer Experience Management start-up, today announced its partnership with Hotelogix, a global property management system provider and AxisRooms, Channel Management & Revenue Management platform. This association aims to provide a well integrated and a seamless guest experience management solution to the hospitality sector.
With this partnership, the Indian hospitality sector will be able to obtain more customer stickiness and foray into important international markets like South East Asia. Integration of Hotelogix, Property Management Software with RepUp, Customer Experience Management platform will help the hoteliers to get the Richer guest profiles with automation of in-house processes and workflows. The partnership in between AxisRooms and RepUp will help the sector to get a single stop solution for understanding competitors in terms of accommodation rates, hotel reputation on the online platform, their correlation of pricing and guest satisfaction.
"We are very happy with this alliance, and our association will have an enormous impact on the hotel industry. Even for analytics, it is important to correlate KPIs of different platforms, like online reputation with occupancy rate, the value of every happy guest, optimal pricing to obtain maximum guest satisfaction, etc. This will be made workable through this partnership" – Pranjal Prashar, Founder & CEO, RepUp.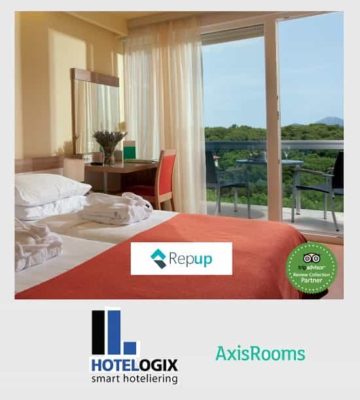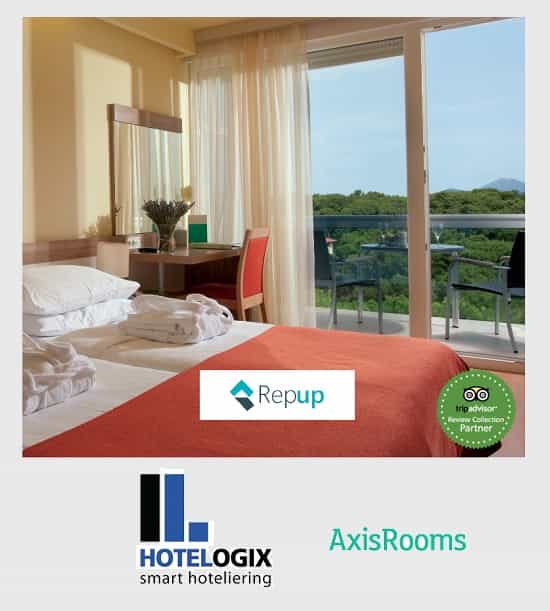 Today, guest data is scattered across multiple platforms. The booking details are sourced from distribution software, the records of past stays, in-house service, request and guest preferences are taken from the Property Management System, and guest feedbacks or online reviews which are submitted on OTAs are extracted from the guest experience management software. This association will fulfill the distinct needs of the hospitality sector and will result in increased opportunities to understand the guests better and delight them according to their preferences.
"We are excited about this partnership, the hospitality technology is a fragmented piece and with this partnership we are a step closer  in making a full suite product. This will help  our combined  portfolio and vision of single suite product." -Anil Kumar Prasanna CEO, AxisRooms
After a successful association with TripAdvisor,  the world's largest travel site, Repup's  collaboration with AxisRooms and Hotelogix , both of which are leading players in the hospitality value chain, is the next logical step.
 "Good reputation makes the hotel more sell-able, and that's a key to remain competitive and win more business. A hotel's likelihood of getting booked goes up significantly, when the prospective guest comes across a positive review for it. Negative feedback on the other hand can easily push the booking figures south. Our partnership with RepUp aims to bring forth the attention this service deserves. We are thrilled to partner with RepUp, which will help our customers (hotels) to meet the challenges of online reputation." -Prabhash Bhatnagar, Founder, Hotelogix
Currently, Repup has 25,000 rooms on its platform. With significant partnerships with travel providers in the pipeline, RepUp is going to masses and looking forward to adding partners across the globe.
About AxisRooms:
Founded by Anil Kumar Prasanna, Ravi Taneja and Leema Rosali in 2011, AxisRooms is a technology based channel management system that helps hoteliers improve their distribution, both for online and offline channels. Whether it is getting adequate exposure for the property or allocating the correct price for rooms in time, AxisRooms' s single dashboard gives hoteliers a seamless experience in inventory management. Using this, hotels have a better visibility of the demand and are able to serve guests better. Currently it has 6500+ hotels on its platform spread across 20+ countries including brands like CGH Earth, Leisure Hotels, Oyorooms, Fab Hotels, Keys Hotels, Park Regis, ITC Welcom Heritage etc,.  It is backed by  Seedfund, India's leading early-stage venture capital fund
About Hotelogix:
Hotelogix is a unique, cloud-based, end-to-end, hospitality technology solution, built to seamlessly manage hotels, resorts, serviced apartments or multi-location hotel chains, by providing a single window to manage all hotel operations and bookings (online and offline). Hotelogix also integrates with travel agent networks and external booking sites, providing a wider inventory distribution, along with real-time integration with partner sites, group booking websites, and other central reservation systems. Founded in 2008, Hotelogix is used in more than 100 countries including the USA, UK, Mexico, Spain, Australia, Thailand, Indonesia, Malaysia, Philippines, Singapore and is backed by Blume Ventures and Accel Partners.
About Repup:
RepUp is an abbreviation for reputation upliftment. The reputation of a player in the hospitality industry is dependent on how carefully it listens to its customers – both happy and unhappy. With a "book now" button next to hotel rating, online reputation has a direct impact on occupancy and hence "top line" of the hotel. Working backwards, going out of your way to understand your guests' specific needs and optimizing the workflow to serve them better is a must. Through our platform, we enable hoteliers to have better control over guest experience management and hence their reputation.
Founded by Pranjal Prashar and Vineet Chouhan in 2014, RepUp is funded by Indian Angel Network. Currently, we are working with 500+ hotels in India including brands like Radisson HITEC Hyderabad, Lemon Tree Hotels, Pride Hotels, SAMHI group, Welcom Heritage, Fortune Group and many more.
Website- www.repup.co
RepUp partners with Hotelogix and AxisRooms