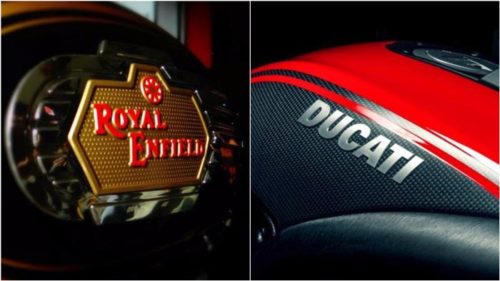 Royal Enfield might be planning to buy Ducati from the Volkswagen Group, if reports are to be believed. Times of India have reported that Volkswagen has approached Royal Enfield for a possible buyout of Italian bike maker, Ducati. Ducati is owned by Volkswagen Group through its premium car subsidiary, Audi AG. The German automotive conglomerate owns brands like Audi, Lamborghini, Porsche, Bentley, Volkswagen, Skoda, Seat and Ducati among others. The news comes after Volkswagen's plan to shift to its multi-billion electric vehicles development project after the company was plagued by the diesel-gate scandal.
In order to provide future mobility solutions, the sale of Ducati will serve as an option to fund the project. In fact, Volkswagen has also roped in investment bank Evercore to evaluate the current market value of Ducati. However, both, Royal Enfield and Ducati have not yet confirmed any news related to this report. That said, Royal Enfield has been one of the most successful motorcycle brands in the world. The company is aiming market domination in the middle-weight motorcycle category. In India, the company holds 96 percent market share in the mid-size motorcycle segment. Times of India have also revealed that Eicher Motors is already studying the possibility of an acquisition.
When asked about the development, Siddhartha Lal, Managing Director and CEO of Royal Enfield, said, "We can't talk to you on such things," he later added, "I have I have a general view on such things. We are always open to thoughts and ideas. But as you know, we are the most focused and selective company… So basically, without saying absolutely no to anything – because we never say never – we are so zeroed in on our own opportunity that we do not want anything to distract us." He further said the company is "keen to explore" the possibility of an acquisition only "if it comes at the right value and provides the best fit" for the brand.
Royal Enfield is eyeing global leadership in the middle-weight 250cc-750cc segment and the company is well on course to achieve that. The company has four engine platforms – 350, 410, 500 and 535cc – that powers bikes like Bullet, Thunderbird, Classic, Himalayan and the Continental GT. The company will soon launch the Royal Enfield 750 cc parallel twin by the end of 2017 in India as well as its global markets. Mr. Lal further added, "We are today the most profitable motorcycle company in the world… We want to become a global leader in motorcycles, we want to become the number one in middle-weight markets around the world… Anything which de-focuses us from our idea, we will not do."
Royal Enfield plans to buy Ducati