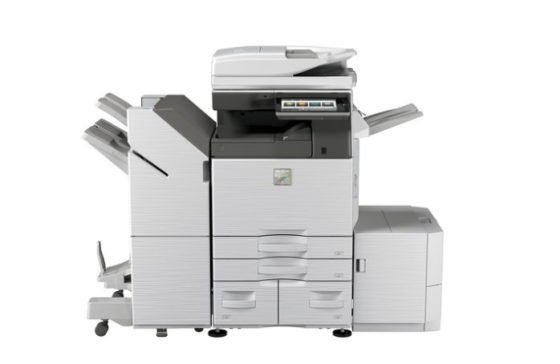 New Delhi: Sharp Business Systems (India) Pvt. Ltd. announces the launch of its next generation new series of mid-to-high-volume colour document systems. These MFPs are offered in two distinct variants, Advanced and Essentials Series. Built on a single-engine design, this new family of colour MFPs empower businesses of every size to choose the performance and features they need, while taking advantage of the learning curve of a common interface.
Designed to provide users with a seamless cutting edge technology, intuitive experience for every price point, the latest colour MFP models give businesses the confidence in knowing their jobs will come out right the first time, and EVERY time and also improve the productivity and efficiency.
Smartly designed CR4 series offers print speed varying from 30 PPM to 60 PPM and are packed with user friendly – innovative features to help businesses manage their workflow seamlessly. Built  on the platform of Sharp's latest technology, these models offer many productivity enhancements, such as high speed scanning up to 200 images per minute, a walk-up motion sensor that brings the machine to ready condition within 10 seconds. Businesses will also appreciate the common toner supplies for all ten models in this series.
CR4 series comes with in-built Sharp's multi-layered security features, which can help protecting the customers' intellectual property and personal information from the first day of operation to the time of trade-in. It offers full multifunction capability at a strong value for cost conscious customers. "This new family of colour MFPs has been designed to help businesses of all sizes streamline their office workflow by providing an intuitive user experience, flexible integration and enhanced productivity," said Manu Paliwal, President – Business Solutions Group, Sharp Business Systems (India) Pvt. Ltd.
CR4 series is designed with user requirements in mind, enabling them to easily set up and execute their workflow tasks. These models are equipped with Sharp's next-generation touchscreen display, offering businesses an intuitive graphical interface with Easy Copy and Easy Scan screens, as well as quick access to an integrated on-board operation guide. It leverages the latest version of Sharp OSA® technology for easy integration with network applications and cloud services, as well as advanced capabilities to help businesses better manage their workflow.
Sharp Multi-Functional Printers (MFPs) are designed to make device setup easier and faster. Precision engineered to help increase workflow efficiency and provide exceptional image quality, Sharp MFPs are easier to operate, control, monitor, manage and maintain, helping take your business to the next level of productivity and performance. These models are much more than the typical all-in-one copier, printing, faxing and scanning devices.
Sharp Professional Displays–More businesses trust Sharp professional LCD/LED Displays, whenever they have a message to share, project to discuss and plan to execute. Sharp's professional and commercial displays are specially engineered for business applications and are offered in a wide range of sizes and varying capabilities.  From high-impact displays for digital signage, to state-of-art ultra-narrow bezel video walls, to the next gen interactive display systems, Sharp commercial and professional display help you communicate, collaborate and disseminate information brilliantly.
SHARP Rolls out Next Generation CR4 Series of MFPs