Over 180 participants from across Nine states in India converge for tech solutions on day one Smart India Hackathon 2019, WeSchool campus, Mumbai
Mumbai, 2 March 2019: 28 student groups from across Maharashtra, Punjab, Madhya Pradesh,  Tamil Nadu, Delhi, Karnataka, Gujarat, Andhra Pradesh and Telangana design tech solutions on day one of the 36 hour non-stop Smart India Hackathon 2019 on S.P. Mandali's Prin L. N. Welingkar Institute of Management Development and Research (WeSchool), Mumbai's only nodal centre. Echoing women power in tech domain are students groups – Team ARCS from MKSS's Cummins College of Engineering for women, Pune and Team Tech Enchantresses from GSSS Institute of Engineering and Technology for women, solely represented by women students only.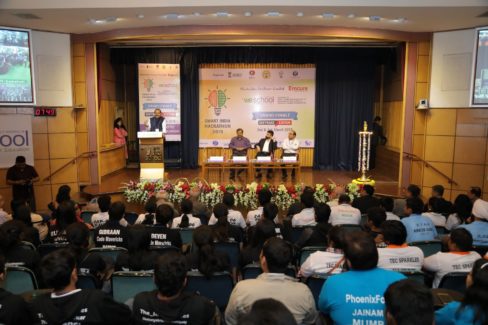 These student groups are working on designing executable software solutions for problem statements presented by leading FMCG and pharmaceutical brands. They are working meticulously on their assigned problem statements in areas such as waste management, smart communication, software – mobile app development for AR/VR experience for products, security & surveillance in Supply Chain and Life Sciences.
For Smart India Hackathon 2019, some of the themes for problem statements are Smart Communications, Healthcare & Biomedical devices, Agriculture & Rural Development, Robotics and Drones, Waste management etc. Nationally, Smart India Hackathon engages around a lakh of technical students, 3,000 technical institutions and over 200 organisations, India.
Shri. Prakash Javadekar, Hon'ble Minister, Ministry of Human Resource Development, officially announced the opening of the Smart India Hackathon 2019, in an inaugural video speech in Delhi, along with Prof. Anil Sahasrabudhe, Chairman, All India Council for Technical Education (AICTE) and Dr. Anand Deshpande,Chairman & MD, Persistent Systems and Co-Chair, Organising Committee, Smart India Hackathon 2019.
"Smart India Hackathon is an attempt at ensuring that India is a torchbearer in the field of innovation. The world's largest Hackathon is encouraging Gen Z to collaborate and solve problems. Each student present here is excited to accomplish as they work on real-time problems. Their innovation will contribute in the growth and development of India as a nation," stated Shri. Prakash Javadekar, Hon'ble Minister for Human Resource Development, Government of India.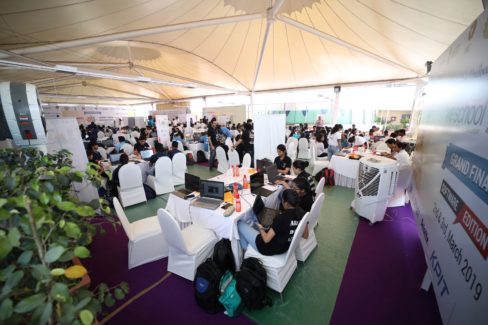 Dr. Anil Sahasrabudhe, Chairman, All India Council for Technical Education (AICTE) in his opening address stated "It is extremely heartening to see the participation for Smart India Hackathon increase steadily over the past three years. This year we have received over 55 thousand entries from over two lakh participants of which 1400 teams have been selected to be a part of the final round. Smart India Hackathon has gained credibility not only in India but the world over."
Delighted to be a part of the Smart India Hackathon 2019, Prof. Dr. Uday Salunkhe, Group Director, WeSchool said, "The Smart India Hackathon 2019brings together young minds from all parts of the country to work towards innovative solutions for challenges that our country is facing. The platform gives students an opportunity to bring forth their creativity and up the ante thereby facilitating collaboration, exchange of ideas and rapid development of software solutions all in the duration of 36 hours. Such events also pave way for students to interact with the industry to take their ideas to the next level."
WeSchool is the only B-School in Maharashtra to be associated with Smart India Hackathon 2019. The institute is hosting the Smart India Hackathon- Software Edition, Grand Finale, for the third year in a row.
Smart India Hackathon 2019 is a nationwide initiative to provide students a platform to solve some of pressing problems we face in our daily lives, and thus inculcate a culture of product innovation and a mind-set of problem solving. Smart India Hackathon 2019 is an initiative by Ministry of HRD, AICTE, Persistent Systems, i4c and Rambhau Mhalgi Prabodhini.
For more information visit: https://www.sih.gov.in/sih2019
About WeSchool
Among India's top business schools, WeSchool is a pioneering management education institution with emphasis on design-led innovative management education for shaping vision and mission of global citizen leadership. WeSchool strongly believe in integrating the philosophy of 'leadership' and 'innovation', and   nurtures students with a holistic view on the socio-economic-political matters with a coherent and strategic approach towards problem solving. Keeping design and innovation its core, WeSchool endeavors to provide newer avenues to students towards achieving excellence in all sphere of life and nurture them to become Global Citizen Leaders. WeSchool's philosophy is about using the collective wisdom of "WE" to nurture insightful thinking and inspire action based leadership