Mumbai, Maharashtra, India/Businesswire India//–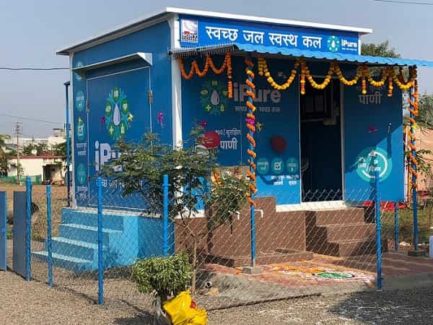 Staying true to its commitment of 'Ek India Happywala', Sony Pictures Networks India (SPN) has partnered with Naandi Foundation to address the issue of unavailability of safe drinking water. SPN's CSR programme focuses on creating a positive impact in the ecosystem it operates in and is built around three pillars; empowerment, education and environment. Falling under the 'environment' pillar of SPN's CSR programme, the first community water center was inaugurated in Tardal village of Hatkanangale Block in Kolhapur, Maharashtra.
As a part of this project, SPN will set up 30 community water centers across the state of Maharashtra. Through this partnership, the network will provide access to safe drinking water to over 1,50,000 people. The aim is to deliver efficient water purification and delivery services to the villagers. Naandi Foundation in partnership with Sony Pictures Networks will strive to ensure each community water center is built using established and proven technologies, which are best suited to local water issues in each of its geography of operations.
Through its endeavors, Sony Pictures Networks India (SPN), has always aimed at empowering communities and working towards building a better society. This initiative is one of the many steps taken by the network to support the creation of a sustainable environment. SPN is committed to co-creating India's social development agenda through its focus on various areas of social impact.
During this inauguration, Rajkumar Bidawatka, CSR Lead, Sony Pictures Networks India (SPN), said, "Sony Pictures Networks is proud to partner with Naandi Foundation for making available clean drinking water across certain parts of Maharashtra, through its corporate social responsibility programme. Our aim through this project is to help improve the lives of people who don't get access to a basic necessity like this. It is our constant endeavor to support and build a sustainable society and this association is just one more step in that direction."
Commenting on this CSR initiative, Divya Yachamaneni, CEO, Naandi Water, added, "We are extremely glad to find a credible partner in Sony Pictures Networks India, who, like us, are striving towards creating a better society and working towards providing solutions in a sustainable manner. The aim of The Naandi Foundation is to reach out to 1.5 million people by 2022 and provide safe drinking water to each individual of the country. With the support of organizations like Sony Pictures Networks India, we are surely getting closer to our goal and accelerating the progress of our program."
About Sony Pictures Networks India (SPN)
Sony Pictures Networks India (SPN), is a subsidiary of Sony Corporation which owns and operates the Sony Entertainment network of television channels.
SPN comprises 32 channels including Sony Entertainment Television (SET and SET HD), one of India's leading Hindi general entertainment television channels; MAX, India's premium Hindi movies and special events channel; MAX 2, another Hindi movie channel showcasing great India Cinema; MAX HD, a high definition Hindi movie channel airing premium quality films; WAH, the FTA channel for Hindi movies; SAB and SAB HD the family-oriented Hindi comedy entertainment channels; PAL, a genre leader in rural Hindi speaking markets (HSM) showcasing the best of Hindi general entertainment and Hindi movies from SPN's content library; PIX and PIX HD, the English movie channels; LePlex HD showing critically-acclaimed Hollywood films; AXN and AXN HD, the channels showcasing the best in Reality, Entertainment and Drama; Sony BBC Earth and Sony BBC Earth HD, the premium factual entertainment channels, Sony AATH, the Bangla entertainment channel; MIX a refreshing Hindi music channel; ROX HD, a channel for contemporary Hindi music; YAY!, the kids entertainment channel; Sports Network comprising 11 sports entertainment channels – SONY SIX, SONY SIX HD, SONY ESPN, SONY ESPN HD, SONY TEN 1, SONY TEN 1 HD, SONY TEN 2, SONY TEN 2 HD, SONY TEN 3, SONY TEN 3 HD, SONY TEN GOLF HD; Sony मराठी, the Marathi general entertainment channel; SonyLIV – the digital entertainment VOD platform, SPN Productions, the networks' film production arm and Sony Pictures Networks Distribution Pvt Ltd. (SPND) that distributes the networks television channels across different genres and languages through multiple content delivery platforms. SPN reaches out to over 700 million viewers in India and is available in 167 countries.
The network is recognized as an employer of choice within and outside the media industry. SPN is a recipient of several awards, including the 'Aon Best Employers India' Award in the 2017 edition in recognition of SPN's unique workplace culture and exceptional people practices, consistently ranking amongst India's Top 10 Companies with Best Health & Wellness Practices by SHRM & CGP Partners, listed by Working Mother & AVTAR as one of the 100 Best Companies for Women in India in 2017 and adjudged one of India's Great Mid-Size Workplaces for its distribution business by the Great Place To Work® Institute in the 2017 edition.
Sony Pictures Networks India Private Limited is in its 23rd year of operations in India. Its subsidiaries include Sony Pictures Networks Distribution India Private Limited, MSM-Worldwide Factual Media Private Limited, MSM Discovery Private Limited, Taj Television (India) Private Limited, Aqua Holding Investments [Pvt.] Ltd., and Bangla Entertainment Private Limited.
For more information, log onto www.sonypicturesnetworks.com
Sony Pictures Networks India (SPN) to Set up Community Water Centres Across Maharashtra