~SRM University AP – Amaravati announces the setting up of School of Liberal Arts and Basic Sciences(SLABS)~
B.A., B.B.A, B.Com. & B.Sc. courses will be available from 2018 in 12 departments
India, 20th December 2017/Team Estrade//– President of SRM University, Dr. P. Sathyanarayanan, announced the setting up of School of Liberal Arts and Basic Sciences (SLABS) at its University in Amaravatiin the presence of the Honorary Pro Chancellor of SRM University, AP – Amaravati, Prof. Nicholas Dirks(Chancellor Emeritus, University of California, Berkley), and Dr. D Narayana Rao, Pro Vice Chancellor of SRM University, AP – Amaravati.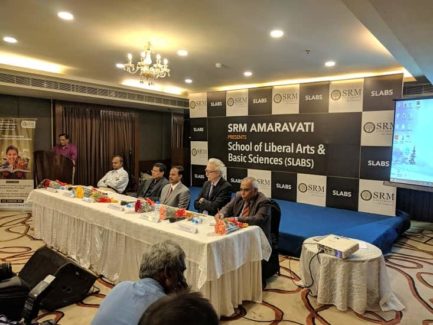 SLABS will be SRM Amaravati's home for fundamental research, where free, open, and critical inquiry is pursued across disciplines, finding answers and solutions to world's most challenging problems and daunting issues. SLABS will have its first intake of students in 2018 and will offer B.A., B.B.A., B.Com and B.Sc. programs across 12 departments –Economics, English, History, Journalism, Psychology, Business Studies, Commerce, Physics, Chemistry, Mathematics, Biology and Computer Science.
"Today, we face increasingly complex issues and challenges, and tackling these, calls for multi-dimensional thought processes and problem solving skills. Education needs to focus on this and much more. We aim to help students develop such skills through the liberal arts and basic sciences education offered at SRM SLABS. For this, we are looking at hands-on guidance from Prof. Nicholas Dirks, given his background as a renowned anthropologist, and his rich experience in Liberal Arts. SRM SLABS also has a strong faculty base of international caliber who will bring a global perspective to liberal arts education. They will assist in creating a holistic approach to education, which will become, we hope, the calling card for SRM University, AP – Amaravati's SLABS", says Dr. P Sathyanarayanan, President SRM University, AP-Amaravati.
"I am very pleased to be involved with SRM Amaravati as it establishes its School of Liberal Arts and Basic Sciences.  As we launch SLABS, weare working to ensure that our undergraduate students will be the full beneficiaries of the best set of undergraduate experiences available anywhere, in the larger context of building a leading research university with aspirations to become world-class in every possible sense. In our program, students will learn the skills of critical thinking and knowledge creation in a range of fields in the humanities, social sciences, and sciences.  They will have an innovative multi-disciplinary education, in close proximity as well to breaking new teaching and research in areas ranging from machine learning and data science to public policy and social analysis", says Prof. Nicholas Dirks, Honorary Pro Chancellor, SRM University, AP – Amaravati.
"SRM is committed to offering a distinctive form of learning empowering young students and thinkers with historical and cultural perspectives, as well as language, critical thinking, and communication skills— ideal traits to survive the modern world.. The multi-disciplinary focus of SLABS will ensure that the students would have both breadth as well depth of knowledge about a wide range of subjects", says Dr. D Narayana Rao, Pro. Vice Chancellor, SRM University, AP-Amaravati.
In-class discussions, field trips, presentations, movies and hands-on assignments are some of the ways in which students are exposed to multiple facets of an issue and encouraged to explore. This multidisciplinary approach of a liberal arts programme and the interactive manner in which classes are conducted will develop in students a spirit of inquiry, analytical capabilities as well as verbal and written communication skills, thereby making them work-place ready.
SRM University B tech 2018 online Applications opened: SRM University has announced the opening of online application for B. Tech degree program in the faculty of Engineering and Technology for all of its group universities. The admission process will be common for Kattankulathur, Ramapuram, Vadapalani and NCR-Delhi campuses of SRM University, SRM University AP Amaravati, SRM University Haryana Sonepat.
All admissions to B.Techis through  SRMJEEE – Joint Entrance Examination Engineering. SRMJEEE would be a Computer Based Test conducted across India in 130 centres and few centres in Middle East countries,from 16th to30th April ,2018. Both Resident Indians and Non-Resident Indians can apply for SRMJEEE 2018. NRI candidates who qualify in SRMJEEE 2018 and compete with the domestic candidates through the regular counselling process will get a 35% scholarship on the tuition fee applicable for international students, for all four years. They also have an option to directly apply under International admission category and get admission in any program / campus without taking SRMJEEE by paying the international tuition fee.
The online application opens on 1st November 2017 and closes on 31st March 2018.
Last year, B.Tech witnessed over 1,50,000 students applying withcomplete geographic, cultural, and socio-economic representation from all  parts of India and from countries over the world.
One of the salient features of 2018 admission is that SRM Universities are introducing, Inter Disciplinary Experiential Active Learning (IDEAL) environment. With students in India seeking more inter-disciplinary programs and flexibility in course curriculum, SRM universities address this demand by completely leaving the option of program path to the students. A student who is doing a Major in a subject shall have an option of Major specialization enabling him/her deep learning or do Minors enabling him/her to learn courses within the same discipline or across the discipline. Students can chart their IDEAL path enriched further by industry internships and technology-enabled active learning through academic collaborations with some of the top ranked universities in USA, Singapore and other parts of the world.
"With students in India seeking more inter-disciplinary programs and flexibility in learning, SRM University, AP – Amaravati has revamped the manner in which the programs are offered, and the curriculum is designed", says Dr. P Sathyanarayanan, President, SRM University.
SRM University offers several scholarships, fee waiver schemes, teaching and research assistance to meritorious and deserving students, including the Founders' Scholarship – a 100% waiver of tuition and hostel fees for toppers in SRMJEEE, JEE, CBSE/State Board final and for outstanding sports performance. Large number of students have tremendously benefited from such schemes.
About SRM University, AP-Amaravati
SRM University, AP – Amaravati, is envisaged to be a multi-disciplinary institution starting off with programs in engineering, followed by liberal arts and later on in fields of management, law, medical sciences, pure sciences. SRM envisions to emerge as a world-class university in creating and disseminating knowledge and providing students a unique learning experience in their chosen field of scholarship that would best serve the society. The focus is on developing into an inter-disciplinary institution combining academic rigour, excitement of discovery, creativity and entrepreneurship that delivers cutting-edge research based education, creating new knowledge and innovations.
Spread across a sprawling 200 acre campus, it will be globally connected whilst being regionally transformative. SRM is partnering with the world's best names for educational method and philosophy, campus design and infrastructure, learning and living spaces, and recruitment of faculty and leadership.
The School of Engineering and Applied Sciences is already functional with the first batch of Engineering students having commenced their courses in August 2017.
For more information, please visit: www.srmap.edu.in
SRM School of Liberal Arts & Basic Sciences
SRM Amaravati: School of Liberal Arts & Basic Sciences(SLABS)