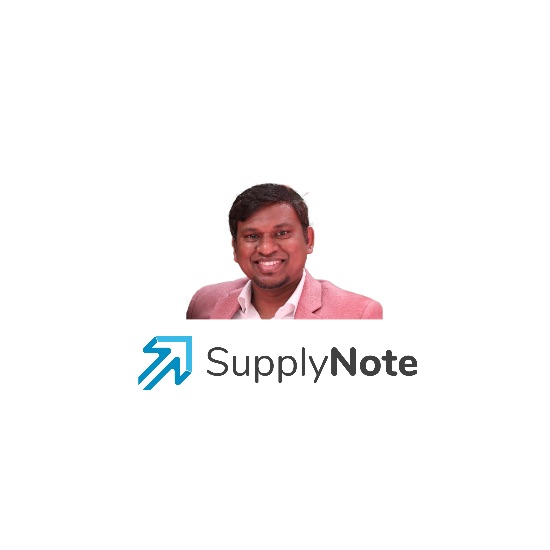 "AdCount Technologies' SupplyNote appoints IHM Alumnus, Pramod Buram, as Business Head to Accelerate SaaS Growth
"Boasting 12 years of Food and Beverages (F&B) industry experience and expertise in B2B Enterprise SaaS Business Development, Pramod Buram is primed to make a significant impact in his new role."
New Delhi, 10th May 2023: AdCount Technologies' SupplyNote proudly announces the appointment of Pramod Buram as Business Head. Pramod's 12-year track record in the Food and Beverage (F&B) industry, coupled with his specialization in B2B Enterprise SaaS Business Development, positions him as an invaluable asset to the company.
Pramod has played a crucial role in the development and success of various SaaS businesses throughout his career, contributing to the growth of well-known brands like Theobroma, Ribbons & Balloons, Future Group, Coffee by Di Bella, Cure Foods, Box8, Swiggy Kitchens, Ola Foods, Freshmenu, 99 Pancakes and more. His strategic involvement has been instrumental in improving supply chain operations and efficiency for these companies.
After obtaining his degree in Hospitality Administration/Management from the esteemed IHM Mumbai, Pramod spearheaded sales for TitBit Inc (now XPR POS) for over two years. In 2015, he joined Torqus' core team, where he took charge of business development and led the company to its acquisition by Dineout (Times Internet). Pramod is known for his exceptional business acumen, client-centric approach, and unwavering commitment to operational excellence.
Following his departure from Torqus in June 2020, Pramod worked as a consultant to help restaurants navigate the pandemic. He later joined Supplytics companies O4S and LocoNav, where he led international markets.
"Pramod's dedication to the F&B industry and his relentless pursuit of excellence make him an ideal fit for SupplyNote. His ability to understand clients and team members, and his genuine concern for their success, will undoubtedly drive our growth. We are thrilled to have him on board and are confident that he will help us achieve our key performance metrics," said Mr. Kushang, Co-founder & CEO of SupplyNote.
With his new role at SupplyNote, Pramod is poised to lead the platform to new heights of success. He is committed to enhancing the platform's operational profitability, solidifying its position as a leading player in the Indian F&B sector's supply chain, and expanding its global reach. Pramod's vision includes extending the business to the U.K and SEA, and the MENA region by forming strategic partnerships with key players. Mr. Kushang added
Pramod Buram, on his appointment, said, "Having been acquainted with SupplyNote during my time at Torqus, I've seen firsthand the remarkable progress they've made in the F&B industry. I am excited to join the team and leverage my experience to drive SupplyNote's growth and success. I am eager to collaborate with the team and help the company become the preferred choice for businesses worldwide."
About SupplyNote
Launched in 2019 by co-founders Kushang (CEO), Abhishek Verma (COO), Nitin Prakash (CPO), and Harshit Mittal (CTO), SupplyNote is India's most comprehensive SaaS platform, designed to help food businesses scale. SupplyNote offers an innovative solution that enables F&B businesses to digitize their data and optimize and automate their backend operations, ultimately reducing costs and increasing profits. The platform also provides a cloud-based web and mobile-enabled suite that connects restaurant outlets, service providers, and suppliers.
Read More Articles on Estrade Technology
"AdCount Technologies' SupplyNote appoints IHM Alumnus, Pramod Buram, as Business Head to Accelerate SaaS Growth