TaxiVaxi looks at round two funding to expand India presence; launches iOS app to increase customer base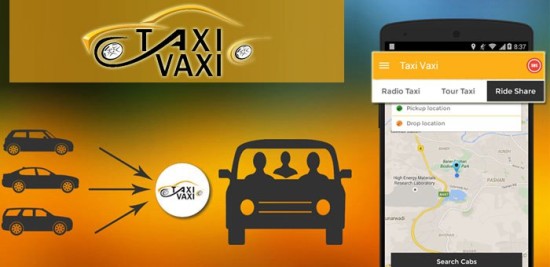 New Delhi: TaxiVaxi is looking to expand its India presence with round two funding. Established by entrepreneurs and co-founders, Neeraj Tayal, Ankit Gupta and Vinod Kumar, TaxiVaxi is the only company globally to introduce radio cabs, outstation cabs, self-drive cars/ bikes and car-pooling on one common application.
With vast range of cab operators onboard, TaxiVaxi presently operates in 300 cities across the country including Delhi, Mumbai, Pune, Gurgaon, Jaipur and Lucknow among others. The company has a current user base of 15000+ and 20 corporate clients with aggressive plans to grow upto 500 cities and achieve a target user base of 1000,000 by end of 2016. After its Android app launch, the company has also launched an iOS app recently to expand its customer base. Additional features in the new app include TaxiVaxi Wallet, first of its kind offering in taxi market in India; Loyalty Programs with users getting Rs. 1 worth of credit for every 5kms travelled with TaxiVaxi (across any services) and Referral Programs with users getting benefit for referrals. The company offers services through mobile app and bookings on its website and allows users to compare fares and book a cab of their choice.
Speaking on the expansion, Neeraj Tayal, co-founder and CEO, TaxiVaxi.com, said, "TaxiVaxi is the only concept of its kind globally with no parallel anywhere. Our USP is that we offer one place where a user can book anything from radio taxi to carpool to bus and bike of his choice in any city he wants, with a trust that service will be good and efficiently priced. We are already seeing great results since our launch in October 2015 and are committed to expanding our presence aggressively. The launch of the new iOS app and our focus on corporate segment will be key drivers for our accelerated growth in India."
Added, Ankit Gupta, Co-Founder and COO, TaxiVaxi.com, "Corporate segment in India is still unorganized and holds great potential. We have introduced special initiatives such as cashless and paperless travel for corporate employees; central dashboard for the company with MIS detailing on all bookings, categorization of employees based on scale/ type of travel, direct booking facility by employee, travel details of every employee and on-the-go monitoring among other benefits. This is the first of its kind solution customized to company needs for employee travel and our excellent back-end technology will not only help companies improve operations and revenue but also bring sustainable efficiency on a long-term basis. We've recently won an order from a large corporate firm which goes to show that our offering is addressing a critical need in the market and we are on the right track. We will continue to focus on the corporate segment strongly."
The Indian Taxi industry is a highly fragmented market and faces serious challenges especially in terms of service levels and technological adaptation. It is expected to reach US $15billion over next few years with 90 per cent of it still remaining unorganized.
TaxiVaxi launches iOS app to increase customer base