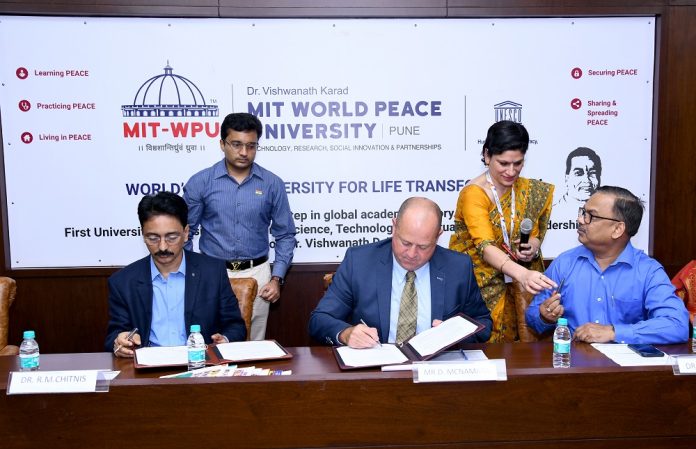 ~The partnership sets foot in furtherance of their common interests in education, research, and scholarship, and as a contribution to increased international cooperation between them~
 In light of India becoming the center stage for ongoing educational developments and cross-border collaborations, Technological University of the Shannon, backed by Education in Ireland, entered into a pact with MIT World Peace University, Pune to form an institutional partnership recently in Pune, Maharashtra. The collaboration aims at establishing cooperation between the universities within the context of applicable policies and subject to the availability of resources.
 The Memorandum of Understanding (MoU) was signed by Mr. Donnacha McNamara– Vice President International Dean, Business and Humanities (TUS), Mr. Tapan Panda– Pro-Vice-Chancellor (MIT), and Mr. Rahul Karad – Executive President (MIT) at Dr. Vishwanath Karad MIT World Peace University, Pune and will be in effect for five years.
 Commenting on the primary objective of the MOU, Mr. Donnacha McNamara, Vice President, TUS said, "Intra-institute partnerships are a key element of TUS's internationalization objectives, this signing with MIT WPU Pune is an exciting launchpad for further collaboration in a variety of arenas including mobility of staff, students and researchers. We look forward to this journey and development with the team at MIT Pune to further enhance and amplify the running objectives for both universities".
The MoU signed linking both the universities intend to work in coordination on program mapping to explore the transfer of undergraduate students, graduate students, and research scholars.
Furthermore, participating in seminars and academic meetings along with research cooperation between the two will be a part of the tie-up. This alliance will help the universities to exchange publications, academic materials, and other information. Also, working towards Joint quality assurance and benchmarking will be taken well into the account.
Further adding to Mr. Donnacha McNamara's comment, Dr. Ravikumar M. Chitnis, Vice Chancellor, MITWPU said, "It is a great pleasure to have inked the first MoU between MIT World Peace University, India, and the Technological University of Shannon, Ireland. This step resonates with larger endeavors of collaboration for academic as well as co-curricular activities between the partnering universities."
It will surely open new avenues in the days to come. With more than 14,000 students spread across six campuses, TUS carries a distinctive identity as the newest and the most unique technological university. Similarly, MIT World Peace University is well reputed as a pioneering university imparting value-based holistic education to its students to bring about life transformation. The coordination between these two unique institutions will certainly prove to be mutually beneficial, not only for the institutions but for the students and faculty as well. We look forward to a great association ahead." MIT Pune is a leading university in India, offering courses in Engineering, Management, Governance, Law, Economics, Liberal Arts, Science, and Journalism.
Adding to his comment Mr. Barry O' Driscoll, Regional Manager – India & South Asia, Education in Ireland said, "The signing of this MOU symbolizes a partnership between two nations that will lead to numerous joint initiatives, eventually producing new synergies in areas of academic research, seminars, knowledge exchange, and exploring new programs, especially in the field of Business & Hospitality in the years to come ahead. Education in Ireland supports and looks forward to more such partnerships of Irish Institutes with Indian Higher Education Institutes offering opportunities for students to attain their study abroad dream and excel in their careers. We are quite delighted with the response we're receiving year on year from Indian Students and these further interests us to look forward to more such opportunities."
 As reciprocal recognition of degrees and cross-border collaborations play a vital role and are increasing each day with the help of reformation in National Education Policy, it is necessary for institutes across the globe to join hands with each other and help each other in providing holistic education and upskilling students who are the future of tomorrow. This partnership is one such benchmark for the ever-growing and demanding education sector.