Tel Aviv University and Amrita Vishwa Vidyapeetham launch project on sustainable water governance through women's empowerment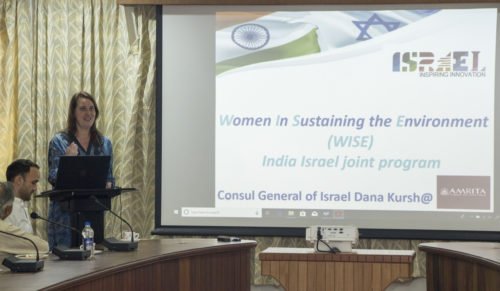 The Tel Aviv University and Amrita Vishwa Vidyapeetham launched the 'Women in Sustaining the Environment' (WISE) project empowering women as Sustainable Development Officers
The project is funded by the Consulate of Israel to South India (Bengaluru)
It is the latest innovation in the goal of women's empowerment of the Centre for Women's Empowerment and Gender Equality (CWEGE) at Amrita
KOCHI / February 13, 2019. Consul General of Israel to South India (Bengaluru), Her Excellency, Dana Kursh inaugurated a new collaborative, research project 'Women in Sustaining the Environment' (WISE) at the Amrita Vishwa Vidyapeetham. The project, which will be funded by the Consulate of Israel to South India (Bengaluru), will be spearheaded by the Tel Aviv University and Amrita Vishwa Vidyapeetham. It aims at promoting women's empowerment and sustainable water governance by supporting women's participation in the choice, maintenance and management of natural resources along with other sustainable development practices.
The WISE Project is the latest innovation in the goal of women's empowerment of the Centre for Women's Empowerment and Gender Equality (CWEGE) at Amrita. Addressing the Amrita community at the inaugural event, Her Excellency Dana Kursh said "It is such an honour to be speaking at the Amrita Vishwa Vidyapeetham and addressing so many wise women who are acquiring and sharing knowledge constantly endeavouring to make this world a better place. It is a real privilege to brainstorm together and to be a part of this wonderful forum where intellectuals have gathered to add to the profundity of this world specifically with regards to women's empowerment."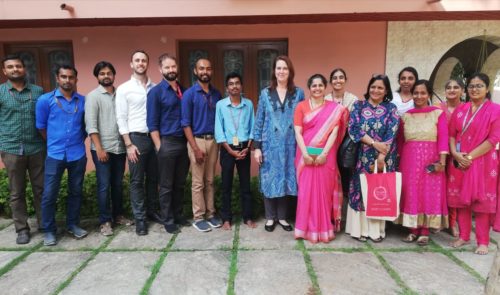 In her speech she also spoke about women leaders who have inspired the world talking about Amritanandmayi Mata as one such leader. "Amma has inspired a global network of charities in 40 countries which is known as 'Embracing the World'. The three main pillars that Amma always inspires here at Amrita are education, global impact and compassion. Through her example, Amma shows us what we can do with compassion, driving from the spiritual realm to create something impactful in the world."
The WISE Project seeks to provide avenues for recovery and sustainable development to communities affected by such disasters as the kind of flooding that afflicted Kerala last year. Taking guidance from the UN's Sustainable Development Goals, the project introduces an innovative way to promote community resilience and natural resource management through women's empowerment and skill training. Women leaders will be trained and certified as Sustainable Development Officers (SDOs), lead their communities in identifying key vulnerabilities, and develop an action plan to solve them.
Amrita will be working with the UNESCO Chair on Technology, Internationalization, and Education at Tel Aviv University to pilot this program over the next few months in flood affected regions of Kerala. Bhavani Rao, UNESCO Chair in Gender Equality and Women's Empowerment, Amrita Vishwa Vidyapeetham said, "The pilot phase will identify communities and select potential women Sustainable Development Officers and train them to maintain, monitor and replenish any one natural resource, using latest technologies. For example, if we talk about water, women will monitor water levels in their community, water usage as well as its quality. They will work with the government to build water harvesting systems; reduce water pollution at its source and at their homes and build awareness on water management within the community. These women would learn to perform water audits for their community and would be trained in using Geoprocessing (GIS) tools and other auditing methods as well as gain a comprehensive understanding of the water needs and sources for their communities. The research co-designed through this partnership will further the United Nations Sustainable Development Goals (SDG's) as well."
Experts on the selected resource from Israel will work with resource experts from Amrita to create a curriculum and framework for training and to assist with deployment. The training modules will be developed in consultation with the National Skills Development Corporation (NSDC) and the Ministry of Skills Development and Entrepreneurship (MSDE).
This is the second Indo-Israel research project between Amrita Vishwa Vidyapeetham and Tel Aviv University. In January this year, both teams had launched a water purification project using Israeli technology under Amrita's ongoing Jivamritam: Clean Drinking Water Project.
About the Amrita UNESCO Chair in Women Empowerment & Gender Equality
In the fall of 2016, Amrita Vishwa Vidyapeetham and UNESCO inaugurated India's first ever Chair in Gender Equality & Women's Empowerment. The UNESCO Chair aims to further the goals for the Amrita Center for Women's Empowerment and Gender Equality, Amrita Vishwa Vidyapeetham, and promote international, inter-university cooperation and networking to enhance institutional capacities and collaborative work. In the coming years, the UNESCO Chair seeks to impact the individual, community and greater society through research, implementation and education. For more information: www.amrita.edu/UNESCO
About AMRITA VISHWA VIDYAPEETHAM (AMRITA UNIVERSITY)
Amrita Vishwa Vidyapeetham is a multi-campus, multi-disciplinary research institution that has been ranked amongst the best Universities in India by NIRF, Times Higher Education, QS, etc. The 2018 NIRF Ranking has judged it the eighth best university in India. Amrita Vishwa Vidyapeetham is spread across six campuses in Kerala, Tamil Nadu, Karnataka, and Haryana (coming soon) with headquarters at Coimbatore. It has more than 18,000 students, more than 1,800 faculty, more than 200 academic programmes, 5200+ Scopus-indexed publications, 33,000 citations and Rs 250 crores in research funding.
World-renowned humanitarian and spiritual leader, Sri Mata Amritanandamayi Devi, is the founder and Chancellor who has encouraged the university's R&D departments to focus on developing technologies for uplifting the poor and the needy. In the past few years, Amrita Vishwa Vidyapeetham has become known for its work in gender equality, disaster management and sanitation outreach.