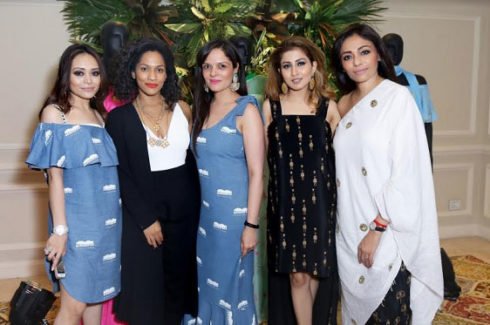 5 salon-style sessions over two days – that was the first ever edition of the Cosmopolitan Fashion Weekend
The first-ever Cosmopolitan Fashion Weekend­ saw some of the country's most important fashion brands and key style influencers come together for an exclusive, by-invite-only two day event at the Hyatt Regency and Taj Palace in New Delhi. With over 200 people in attendance (a curated mix of the city's biggest fashion bloggers, designers and influencers) the Cosmopolitan Fashion Weekend was teeming with style.
Day one of the Fashion Weekend started with the Cosmo X Bluestone session, a sit-down sushi lunch. The brand's new collection was beautifully displayed on the lunch table (draped over vases, plates, and the like) as well as at the brand's pop-up, set up with a dresser and mirror, to give the guests a proper touch-and-feel experience with Bluestone's stunning jewellery collection. The guests closed the afternoon with a gorgeous jewellery box each (goodies included) to take home, as well as a Fashion fortune cookie (our staple at every session this Fashion weekend) with a fun, fashion prediction nestled inside.
The second event of the day was the Cosmo X Polaroid blogger mixer. In honour of the brand's 80th birthday, fun Polaroid facts were handed out to guests to give them a little insider intel about the brand. DIY flatlay composites had been created around three different themes (botanical-themed, food-themed, and beach-themed) and guests created their own unique framesusing the latest Polaroid sunglasses and fun props.
The final session of the evening was the Cosmo X Masaba sit-down dinner at the Nizwan Suite, Taj Palace. The guests, each dressed by Masaba herself in pieces from her runway collection, sat down to a three-course champagne dinner at a table decked out and with Pokemon phones, selfie-mirror cellphones, and personalised notes for every guest (courtesy DSSC). Selections from the new House of Masaba collection as a fashion installation were on display for the guests at the session to check out.
Day Two kicked off with an exclusive, Cosmo X Vogue Eyewear sit-down lunch for the fashion-blogger community. Each guest sat down to personalised place-setting that had been tailor-made for their 'V side' (Vogue Eyewear's cool campaign about exploring the unseen sides of your personality) — so if someone was a travel lover and cat lover, their table included a composite with props like a cat toy and a world-map paper plane. The guests not only got a chance to preview the brand's latest collection, but also went home with a pair of sunnies from Vogue Eyewear to suit their personality.
The last session of the stylish weekend was the Cosmo X Kukoon sit-down dinner, with a curated guest list of some of city's well-known faces and industry influencers. Each guest arrived in a customised Kukoon outfit that had been created for them, and sat down to personalised Tippy-Tippy-Taps created by DSSC for the event. Kukoon's Autumn/Winter line was also on display for the guests to peruse and the evening ended with each guest picking a fashion fortune cookie to guess their fate.
The Cosmo Fashion Weekend is a Cosmopolitan India property that is "A salon-style event, VIP event with influencers," says Cosmo Editor Nandini Bhalla, "Where brands get to engage with potential buyers and influencers."
The Cosmopolitan Fashion Weekend