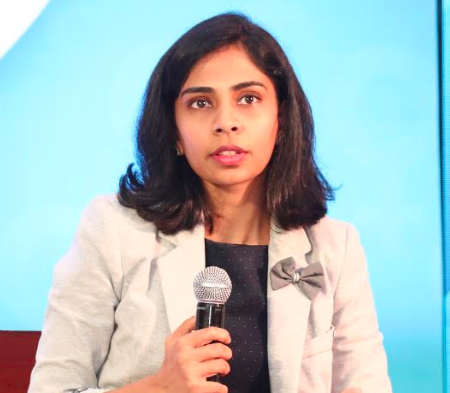 Saumya Singh Rathore, Co-Founder, WinZO Games talks about work-from-home life balance
List something you miss the most about working from the office?
In a startup like WinZO, the teams are very close knit. Your colleagues are certainly more than just colleagues who have seen highs and lows. Our conviction is energy for each other. In the office, everyone is just a shoulder away across the table, you always have team discussions going-on here and there, I definitely miss that noise. That is how the environment at an aggressive startup should be. WinZO office is a place from where we are releasing products for the mobile first 300MM vernacular Bharat. We truly are walking a road less travelled. We are solving some of the most challenging tech problems- running a multiplayer game at low end devices with weak internet connection- this is uniquely Bharat. Not solved before.
When you are a lean team solving complex problems it is critical for you to communicate on the go, irrespective of the technologies available, there is no replacement for a face to face communication. It is extremely demanding on leaders now to over communicate to keep the show going.
Besides work, weekly office parties, board game evenings and other celebrations are other things we truly miss. Sitting with the laptop on the grass while working and occasionally gazing over the Delhi skylines with a cup of coffee is something that I am sure most people look forward to. Cake bashing on birthdays was another source of fun and joy at work. You do miss the camaraderie.
What are the management lessons from COVID19?
We had great learnings from our last venture, Zo Rooms & Zostel. Zo Rooms & Zostel were operationally very heavy therefore we decided to build WinZO as a lean and agile company. We invested heavily in building the next line of managers in the company and democratized decision making to ensure the pace of the engine is not compromised. In a tech product company, one of the critical interactions are the coordinated efforts between the Product and tech team. The cross-functional communication has been well structured with robust and reliable communication systems in place since day one. Hence, we are not facing big challenges on this end – but there is no denying that there is an additional pressure on teams in absence of physical presence to communicate effectively.
Being Proactive and responding fast is another major takeaway for all from this crisis. Before the lockdown was formally announced in India, WinZO had conducted a demo work from home for half the team to analyze, identify and address any potential bottlenecks in the work processes that might be faced in case of compulsory work from home during the lockdown. We acted proactively and put proper processes in place and thanks to that decision, we are currently operating with a much better efficiency and rolling out new features every week to meet the demands of our users.
Another business practice, not necessarily a lesson, is that hiring right is much more beneficial than hiring fast. It is always a great support to have a team which is self-motivated, target driven, accountable and committed to the vision. On working remotely, there is a limit to how much one can push the people to deliver and hence in such cases relying on a great bunch of people who rise up to the occasion, take ownership of work and deliver them sets your speed of execution on a whole new level. We at WinZO, since the inception have focused on making a close knit team of such reliable individuals and it has paid us in this unprecedented circumstance.
This crisis, although has been devastative for human lives and economies, has proved to be a great teacher and will shape the future of how businesses would be run.
What does your Home office space look like?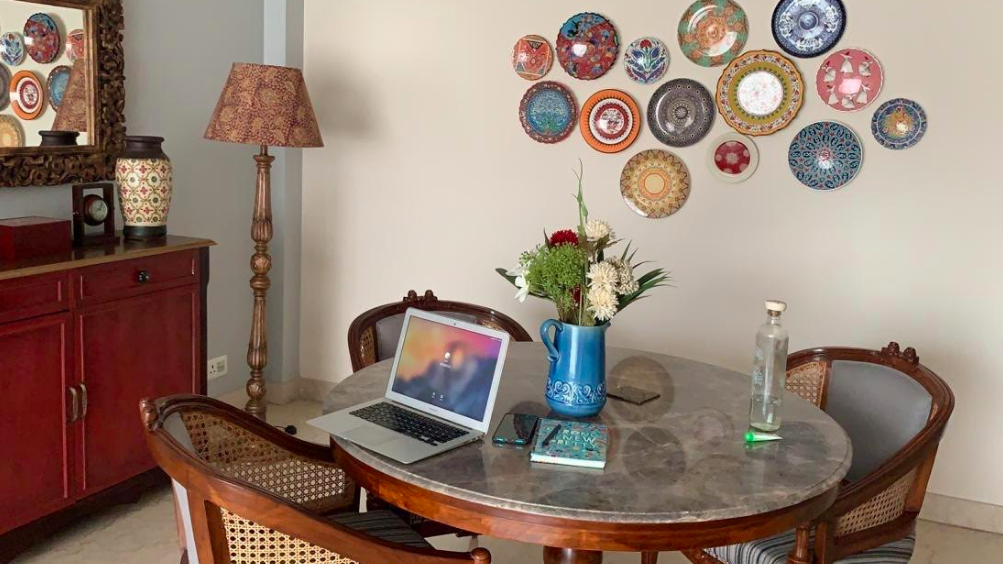 Are you reading, drawing, writing, learning or anything or just lying around?
As a leader of multiple teams, I have everyone looking up to me to make the right decisions to get through this crisis with the least amount of damages to what we all have built together.
You have to spend a lot of time just over analyzing your decisions because you definitely need to take most objective decisions- each of them increases your probability of winning.
I am focusing a lot of empowering my next line of managers on democratizing decision making so that we don't compromise on pace. My big focus is on the mental and emotional health of those who are living alone, away from the families from my team. All of these are taking a large chunk of my time. I am an avid reader; I am finally able to once in a while convince myself to take some 'me time' and read some books. These days I am reading "Trillion Dollar Coach" a book gifted to me by my co-founder, Paavan Nanda.
WFH, tell us what are your break time activities?
It can get really difficult in a situation like work from home where you are leading multiple teams. At times, you feel like you are spending most of your work time on call and have no bandwidth for your own tasks. Hence, although one finds paucity of time for work, proper breaks are a must to keep yourself energized and refreshed for work.
For everyone in the team we have divided work in three parts in a day. Early in the morning, we start with team huddles to get an idea about the progress, issues/blockers, and agenda of work for various teams. Later in the second half, you focus on your own deliverables. We end our day with collecting updates on critical items from the teams.
What is most important here is to acknowledge that during this time, work from home is not the usual work from home! The world around us is changing every second- you are an important part of your colleagues' lives. Some of them are locked in away from family. We focus on trying to keep conversations going not just for sake of work but also to ensure that team members are feeling fine. Well, we also have a Chai Call in the evening with my team, where no one is allowed to talk work – to replicate our Chai time gossips in the evening- we just talk about our fears and feelings here. It is important to realize that this is critical.
A very unfortunate event was an eye-opener for me. Few weeks into the lockdown I lost my next door neighbours to cardiac arrest. He was 46 and the CEO for BMW. I realized this additional pressure on the leaders is pushing them off a healthy routine. You are waking up to a call and speaking endlessly to compensate for lack of physical presence. At times little time to calm your mind down. Very little time to stop and have those meals in time. To all those leaders trying to make the impossible happen, I just want to leave a message- take 5-10 min breaks every few hours- listen to some music at that time, keep yourself hydrated. Your immunity and brain support a body that is following a boring routine. Routine with 30 mins to just yourself is critical.
How are you taking care of your mental wellbeing?
Man is a social being who thrives and excels in the company of other human beings. Among many global health, economic and societal disruptions, the COVID-19 coronavirus outbreak has forced millions to isolate. Combining that with media coverage on the pandemic and high degree of uncertainty in all aspects of life, is leaving people in a state of panic.
Its very difficult for us, Indians, to solve for mental wellbeing. We were mostly solving for basics most of our lives. Ability to solve for mental wellbeing was always seen as a luxury. But this pandemic has impacted all of us immensely emotionally. So let's take a minute to recognise and establish that. Luckily for me I am a psychology student and these things strike me upfront.
As a measure, to cope with stress and take care of one's well being during this time of hardship one should try to get a healthy routine in place with time to exercise for atleast 45 mins, take optimum sleep, respect your mind and let it calm down. Hydration is also important. Filter out obsession of trying to know everything about Covid and over-consumption content. I understand this is a time of distress, so reach out to friends and family and give yourself the emotional space to express. Most importantly, I want to highlight compassion is the most under-estimated soother. So many people need help in so many ways, reach out for an act of compassion- i promise you will be left feeling better. Observe nature- it's at its beautiful best.
One activity you will like to recommend everyone.
An act of compassion, exercise, and a routine.
First thing you will do once you are set free.
Meet my team and say thank you, for doing so much and more to just keep the show going. The passion I saw during this time, I realise is the biggest strength to this institution called WinZO. I think work from home requires a proper process setup in the organization so that business and deliveries does not take a hit. We had some interesting observations around the learnings. You suddenly realize the power of everyday team discussions, that may not happen in office since you assume that your team will walk up to you – when we resume, we will make this our religion, the morning team huddles! It is very helpful.
What are you planning to do in December 2020?
Live a Covid free life 🙂
For more information kindly log on to winzogames.com