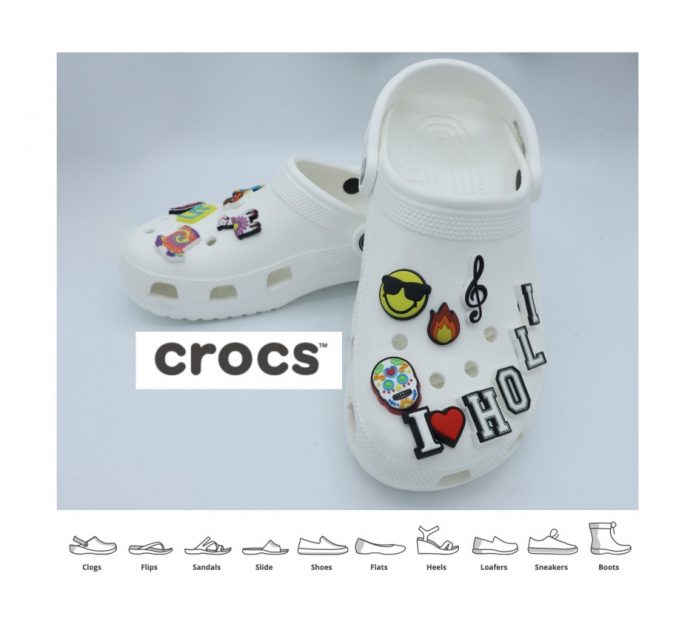 Kolkata, March 2021: Known as the joyous and colourful festival of India, Holi is celebrated with family and loved ones. Make your celebrations more colourful, comfortable and stylish with the Crocs Classic collection, and don't forget to add some quirk to your footwear with their Jibbitz charms.
 Easy to clean, lightweight & comfortable, the Classic collection from crocs is the perfect footwear for the occasion. The iconic Croslite technology provides extra foam cushioning allowing you to stay comfortable for long hours without stopping the fun. The comfortable and super stylish Classic collection can be personalised to go with your mood and creativity, providing that extra pop of colour to your Holi outfit. The Jibbitz charms are fun little images, letters, sayings, characters, and bits of pop culture mounted on a post to pop into the holes of your Crocs Classics. With a tight fit, your Jibbitz charms will stay put, allowing you to show off your hobbies, sense of humor, or latest obsession on your feet as long as you're kickin' in your Classics.
The Classic collection offers various designs and styles allowing everyone to be comfortable in their own shoes. The iconic Classic clogs are available in neutral shades like white, black and navy blue; and poppy shades like digital aqua, lime zest, orchid to add that splash of colour to your outfits. If you're someone who follows the latest fashion trends and like to stay up-to-the-minute with all the trends, then the Tie Dye or Marble Classic collection is perfect for you. The newly launched Classic Sandal is the perfect way to welcome the festive season. They are available in neutral shades like white and black, and trendy shades like lime zest.
 So this Holi, flaunt your love for fashion and comfort with the Crocs Classics range! You can choose to showcase your personality by going all out with a fully loaded pair or take a minimalistic approach as Jibbitz open up doors for endless possibilities with each step.You can shop for the Classic collection and Jibbitz charms at a store near you or online at www.shopcrocs.in
About Crocs, Inc.
Crocs, Inc. (Nasdaq: CROX) is a world leader in innovative casual footwear for women, men, and children, combining comfort and style with a value that consumers know and love. The vast majority of Crocs™ shoes feature Croslite™ material, a proprietary, molded footwear technology, delivering extraordinary comfort with each step.
In 2020, Crocs will reinforce its mission of "everyone comfortable in their own shoes" with the fourth year of its global Come As You Are™ campaign. To learn more about Crocs or our global Come As You Are™ campaign, please visit www.shopcrocs.in or follow @CrocsIndia on Facebook, Instagram and Twitter.
This Holi take every step in comfort and fashion with Crocs