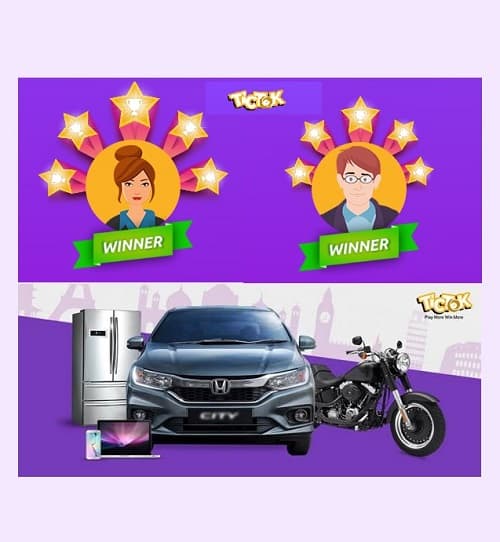 ~1500+ gamers have already won unbelievably exciting prizes like DVD Home Theatre Systems, LED Televisions, Fitbit fitness trackers, gold coins, laptops, mobile phones, tablets, hard drives, power banks, cameras, Kindle e-readers, cash backs, shopping vouchers and a lot more!~
New Delhi, April 8, 2017/Team Estrade//– TicTok, India's first prize-based trivia mobile gaming app, has received a tremendous response in the first four weeks of its launch with more than 15,000 app installs from Delhi/NCR alone. More than 1500+ gamers have won unbelievably exciting prizes such as Philips wireless handset; Asus Zenfone 3 Max; Samsung Z2; Samsung Galaxy J7; Apple iPad mini; Nikon COOLPIX A100; Philips Speaker System; Sony Full HD LED Television; Sony Wireless Sound Bar; Intex 12500 power bank; Seagate Portable External Hard Drive; and gift vouchers including prepaid cash card worth Rs. 15,000; Flipkart, Nykaa, Amazon gift vouchers worth Rs. 3000 each; and many more. TicTok has registered as many as 5,00,000 gaming sessions of brainstorming quizzes and puzzles on Android and iOS mobile platforms already so far.
In addition to the earlier subscription model of Rs.500 per month, TicTok gaming app is also going to introduce a new plan which allows users to play quizzes at a reduced monthly fee of Rs.250/ Rs.300 for the first month of subscription in which they can win and redeem prizes for games that they play but won't be able to participate in special challenges. The TicTok app and website have also been upgraded with a dedicated chat support feature to clarify any doubts and resolve any issues promptly so the users can have an awesome gaming experience.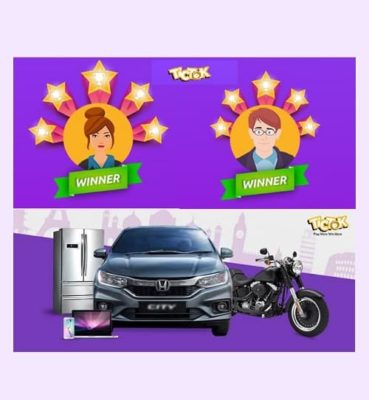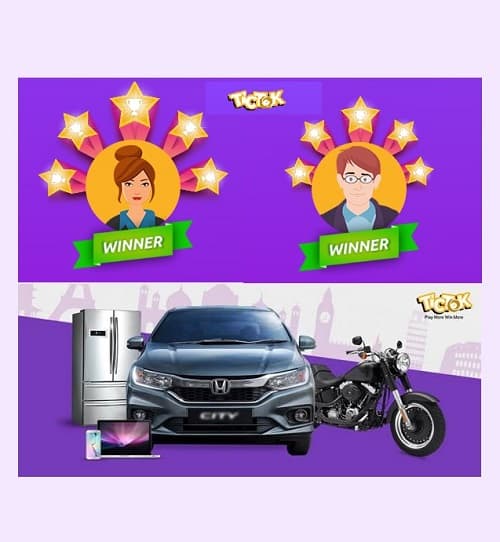 Paavan Nanda, Founding Partner of TicTok games said, "When we had launched TicTok Games, people found it hard to believe that they can really win such amazing prizes just for attempting knowledge based questions. All that is needed is a skill of working on a mobile phone, and knowledge of your interest areas such as Bollywood, automobiles and gadgets, business, education, politics, sports, travel, TV shows, etc." He further added "India ranks in the top 5 mobile gaming markets of the world and the recent increase in smartphone penetration alongwith access to high-speed data has made a strong business case to tap on to the next wave of mobile users. Our product offers an extra-large scope of entertainment alongwith a real value that can be measured in monetary terms."
 Users living anywhere in India (except Assam and Orissa[1] ) can download the TicTok App on Android or iOS platform and register using their Facebook account by paying a nominal subscription fee of Rs.500 (about $7) per month. The app also allows a three-day trial period. Each quiz lasts 15 minutes, includes five-six trivia questions and offers a deal or a prize that is displayed on the screen. Right after the quiz period expires, the user giving all correct answers in the minimum possible time is declared as the winner. Users get to reach higher levels and play for bigger rewards such as Harley Davidson bike, Honda City Car, iPhone 7 by continuing to give correct answers for various quizzes at each level.
TicTok app can be downloaded on Android or iOS platform and register using their Facebook account.
About TicTok Games
Tictok is a trivia gaming platform which helps gamers win goodies and deals every few minutes of the day. Users need to answer simple interest based questions to win exciting prizes with the help of their knowledge. In each challenge, the fastest to finish wins, but even if certain users are not the fastest, they can earn levels and redeem their levels for exciting prizes.
[1] Unlike other states, Assam and Orissa prohibit even games of skill where money stakes are involved.
TicTok games 15k app downloads in first 4 weeks