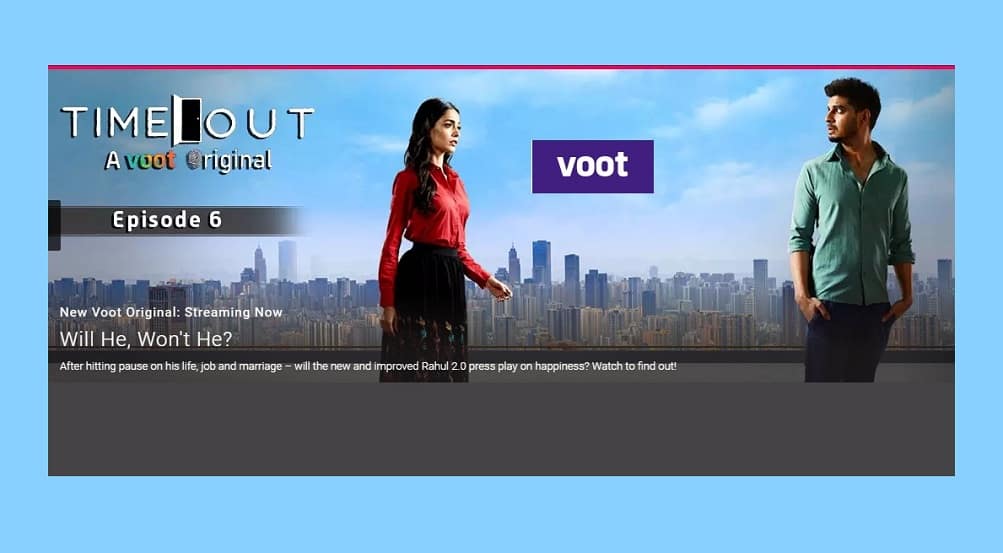 Time Out will stream exclusively on VOOT, starting 28th November, 2017
Mumbai, 27thNovember 2017/Team Estrade//– Burdened by EMIs, an unsatisfactory job and disgruntled with his seemingly perfect life – Rahul is headed for a meltdown at the ripe age of 30; the last straw – his wife Radha is hit with the 'Lets-have-a-baby' fever! In the battle against expectation vs aspiration, what happens when he decides to hit pause on life? VOOT Original TIME OUT answers all this and more in this quirky yet thought provoking series directed by Danish Aslam, starring Tahir Raj Bhasin and Sarah Jane Dias.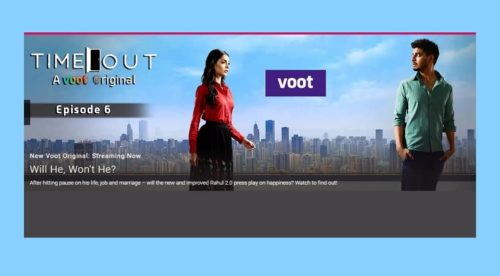 Time Out is the story of Rahul and Radha's perfect romance, perfect relationship and perfect life until he realizes that he's been living the life he's supposed to and not necessarily the one he wants to. The 6-part series will stream exclusively on VOOT starting 28th November, 2017.
Elaborating on the same, Monika Shergill, Head of Content, VOOT said, "Adulting in India has never been easy! And the cocktail of expectations & pressures from family & society make it even more challenging. With `Time Out', we take the audience on a dramatic, fun and totally vicarious journey to explore this highly relevant & relatable modern day theme. Originals at VOOT are maturing with every offering and in the coming year with a robust lineup of big series,  we are aiming to become the preferred destination for the new discerning digital viewer.'
Director Danish Aslam further added saying "VOOT as a platform encourages innovation in content that is both engaging and experimental. Thematically, the story is reflective of the cultural and social milieu I'm part of – married couples who are coming to terms with the idea of parenthood. Thus, directing Time Out was an opportunity to explore the insights that seemed the most relevant and immediate to my life and experiences.  "
Essaying Rahul, Tahir Raj Bhasin said, "It was the complexity of the role that drew me to play Rahul. It was challenging to portray a character's descent from order to chaos that leads to a journey filled with interesting yet gut wrenching choices."
Talking about playing Radha, Sarah Jane Dias said, "Radha is that girlfriend of yours who has her whole life figured out before she's even lived it. For once however, she's forced into a situation where she has no choice but to give up the driver's seat. I said yes to playing her because it's always challenging for us as humans to 'free flow' through life and trust that things will always work out, eventually."
Will Rahul's marriage survive this 'PAUSE'? OR will the marriage be the collateral damage to his early mid-life crisis? 
Catch the 6-part series 'Time Out'- exclusively on VOOT 28th November, 2017 onwards.
This latest VOOT Original comes on the back of several successful hits from VOOT including – 'It's Not That Simple', 'Shaadi Boys', 'Untag', 'Yo Ke Hua Bro' and the recently released 'Stupid Man Smart Phone'.
ABOUT VOOT
VOOT is a digital video-on-demand streaming service from the house of Viacom18.  With a content library of more than 45,000 hours across Viacom18's network content, content around content, VOOT Kids and VOOT Originals, the platform caters to varying needs of discerning audiences across segments. Operating currently as an ad-supported service in India, VOOT has amassed over 50 million app downloads with over 32million monthly active users. VOOT was awarded the coveted 'Best app of 2016' title by Google Play and VOOT's Progressive Web App (PWA) product has won the IBC global innovation awards in 2017. VOOT continues to take the leadership mantel on innovation, across content, technology and marketing initiatives, aimed at providing an immersive experience to its users.
ABOUT VIACOM18
Viacom18 Media Pvt. Ltd. is one of India's fastest growing entertainment networks and a house of iconic brands that offers multi-platform, multi-generational and multicultural brand experiences. A joint venture of Viacom Inc. and the Network18 Group, Viacom18 defines entertainment in India by touching the lives of people through its properties on air, online, on ground, in shop and through cinema.
"TIME OUT" the latest VOOT Original