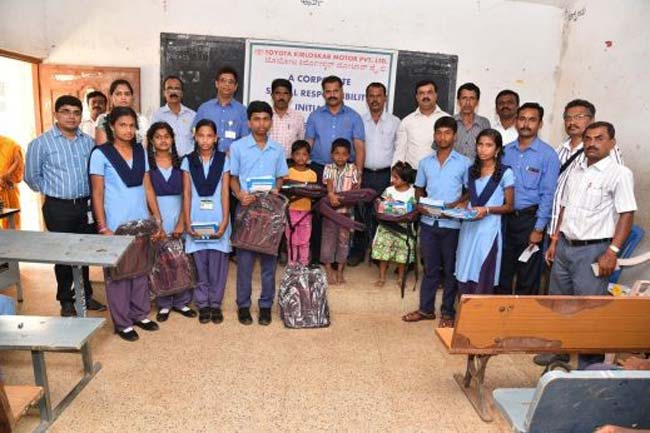 Toyota Kirloskar Motor takes CSR initiative to promote education, reduce school dropouts
Supply of educational materials to government school children
This initiative is aimed at promoting education in the local community
The program benefits 10,000 school children from 180 schools in Ramanagara
Visible decrease in the school dropout rates, in Ramanagara, from 65% in 2007 to 15% in 2014.
60,000 notebooks and 1500 bags, drawing books, crayons and 1700 geometry boxes are being distributed as a part of this CSR initiative 
Toyota Kirloskar Motor extended its support to the local community in Bidadi by distributing books and bags to 11,000 school children across 180 schools. This occasion marked the 13th year of Toyota's ongoing efforts to support the local community and promote education at all grass root level.
Mr. Naveen Soni, Vice President, Toyota Kirloskar Motor, handed over the books and bags to the local school children in the presence of Mr. Shivram Gowda, DDPI, Education Department, Ramnagara, Mr. Kumaraswamy, BEO, Ramnagara, P Deepak, DGM and Mr. Krishnakumar MA, DGM. According to a recent study conducted by the Sarva Shiksha Abhiyan among the schools in Karnataka, it was found that over 9,012 children (between the age group of 7-13 yrs.) are out of school as of 2016. Of these, over 60% are girl children. This initiative is undertaken by TKM to reduce the pressure of academic expenses on the parents, from economically weaker sections of the society.
Commenting on the occasion Mr. Naveen Soni, Vice President, Toyota Kirloskar Motor said" With this initiative we at Toyota Kirloskar Motor wish to continue and refurbish our ongoing efforts in contributing to the local community of Bidadi. We started this initiative back in 2003 to contribute in a meaningful manner and today we have managed to reach out to 10,000 school children in 180 schools in Ramanagara Taluk."
"It's been 13 years since we set out to create a positive impact for education in the local community. We firmly believe in working towards improving the overall quality of education and this should begin at the grassroots level," added Mr. Soni.
Details of the Coverage (2016-2017)
Coverage
Units
No. of schools
180
No. of school children
11,000
No of Books
60,000
No of Bags
1,500
No of Crayons
1,500
No of Drawing Books
1,500
No of Geometry Boxes
1,700
Toyota Kirloskar Motor commenced this programme in 2003. From then on, ten schools have been brought into under the fold every year, taking  the count to 103 schools from TKM and another 31 schools through supplier industries especially Toyota Kirloskar Auto Parts, Toyota Techno Park and other Onsite suppliers for the year 2015.(Need clarification) The institutions to which the contributions are made are Government schools that have been identified by the Block Education Officer, wherein majority of the students are from economically underprivileged families. This year 60,000 note books, 1500 bags, drawing books, crayons and 1700 geometry boxes were distributed.
As a responsible corporate citizen, Toyota Kirloskar Motor has initiated many local community development activities with its focus on education. It has reconstructed Ashrama School at Byramangala, LPS school at Medanahalli and one more school is under construction at Hosadoddi. Last academic year, 45000 notebooks and 1000 bags were distributed to more than 9500 school children of identified 134 schools in Ramanagara Taluk. In addition, TKM also distributed school shoes & socks to 1000 school children.
This continued contribution from Toyota Kirloskar Motor has led to a visible decrease in the school dropout rates, in Ramanagara, from 65% in 2007 to 15% in 2014. The program which covered around 3000 school children in 2007 has reached 9000 during the last academic year.
Key highlights indicating TKM's efforts to reduce school dropouts in Bidadi
Under the Government's National Campaign to provide clean sanitation facilities for girl child in India, TKM has pledged its support to 'Swacch Bharat – Swacch Vidyalaya' – by constructing sanitation units at identified schools by the Government in 3 locations across India to help reduce school dropouts. The company constructed 500 units of sanitation facilities of which 125 units are located in Varanasi, 250 units in Ramanagara district in Karnataka and 125 units in Vaishali in Bihar. With this drive, the company aims enhance sanitation facilities across schools in critical locations where the girl children are most affected.
Overview of TKM:
| | |
| --- | --- |
| Company name | Toyota Kirloskar Motor Private Limited |
| Equity participation | TMC: 89%, Kirloskar Group: 11% |
| Number of employees | Approx 7000+ |
| Land area | Aprox. 432 acres (approx.1,700,000 m2) |
| Building area | 74,000 m2 |
| Total Installed Production capacity | Upto 3,10,000 units |
Overview of TKM 1st Plant:
Established
October 1997 (start of production: December 1999)
Location
Suburb of Bangalore, Karnataka State
Products
Innova, Fortuner manufactured in India.
Prado, Land Cruiser and Prius imported as CBUs.
Installed Production capacity
Upto 1,00,000 units
Overview of TKM 2nd Plant:
| | |
| --- | --- |
| Location | On the site of Toyota Kirloskar Motor Private Limited (on the outskirts of Bangalore, Karnataka State) |
| Products | Corolla Altis, Etios, Etios Liva,Etios Cross, Camry & Camry Hybrid |
| Start of production | December 2010 |
| Installed Production capacity | Upto 2,10,000 |