Reaches a GMV of 200 Cr; Aims to reach 100M$ by March 2017
TravelTriangle, India's first online holiday marketplace becomes Contribution Margin Net Marketing (CMNM) Positive in 6 Key geographies including an International market, along with reaching 200 Cr GMV. With an enviable growth of 6X since last year, the company is now aiming to reach 100M$ by March 2017. The 6 key markets include Sri Lanka, Himachal Pradesh, Sikkim, Gangtok, Darjeeling and Kashmir which have already started delivering phenomenal results to the business. Unlike the StartUp world where only cash burn makes the news, being completely profitable in 6 key geographies brings in a new wave of business showcasing the strength of Business model and the Team. The TravelTriangle services are rated 95.09% Positive by the travellers which is among the highest benchmark in the market.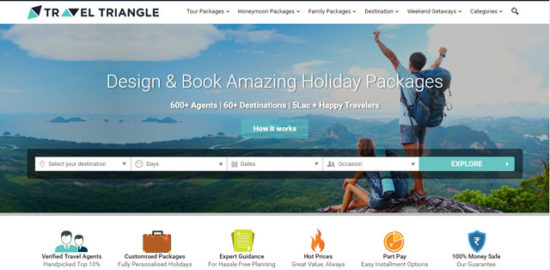 TravelTriangle with its unique business model is looking at the metrics which really matters for a business being CMNM Positive. The company takes pride in its lean and efficient model of operations from day one. The company's initial years were spent in building a strong foundation in terms of creating a fantastic product for Travel agents and then based on customer reviews and effectiveness of the business model, it got scaled to travellers' side. With its humongous network of 600+ travel partners, innovative tech-focused product and an attitude geared towards revolutionizing the way holidays are planned, the company's efforts are now showing results.
Speaking on the achievement, Sankalp Agarwal, CEO & Co-Founder, TravelTriangle said, "TravelTriangle has a DNA of innovation and it is visible from its innovative business model. We have always believed that liquidity is the currency on which marketplace business will be defined and on the same lines, for the fiscal year ending March'16, we have accomplished 3 decisive objectives. First and foremost, we ensured that we achieve enough liquidity in marketplace. Secondly, along with achieving liquidity, we increased take rates by 25%. And thirdly, with sufficient increase in our take rates, we were able to break even in our key geographies. Now that the market is more sensible, we are positioned rightly at the end of the bull cycle of venture investment. In the next year, we will ensure that TravelTriangle contribution margin becomes positive for 80% of our destinations – a feat which looks clearly possible in our roadmap to future".
Sanchit Garg, Co-Founder and Director, TravelTriangle, who looks after the business said, "The very foundation of our model is based on the belief that we want to solve the problem which creates havoc for our travel partners. Our core belief is that our success depends on delivering growth and value to our 600+ Travel Agents active on our platform. It's a great sense of achievement when we hear stories from travellers that the Travel Agents from our platform delighted them and we were able to clearly offer higher ROI to both traveller and the agents."
Prabhat Gupta, Co-Founder and CTO, TravelTriangle said, "We solve the problem through technological innovation. We never focused ourselves on building a product that just delivers growth but a product which delivers value. Imagine a Travel Agent sitting in a tier 2 town, who has just 2 employees. He daily receives a 100 of queries, and he has no clue out of those 100's, which ones will convert the fastest. He has no idea which ones to call first and considering his bandwidth, he is able to touch base with a paltry 30. Next day, the same story continues, reaching first 30 and forgetting the rest 70. Now imagine what happens at the end of the month. He has a pile of meaty prospects, but there is no way to reach them. We at TravelTriangle have solved this problem first, by providing deep analytical insights on which are the most appropriate prospects they must reach out to, thus TravelTriangle delivers higher conversion rates with the least amount of effort. We sincerely believe that Technology is here to improve the user's life and at TravelTriangle, we are focused on both sides of the spectrum – Travel Agents and Travellers."
TravelTriangle is focused on building India's largest holiday marketplace. Its endeavor is to make holiday planning a delight for its customers. It believes the planning process should be simple and intuitive and is constantly adding newer and exciting destinations to its offerings. The company understands that the new age traveller has his/her own requirements, thus, customization is the key. It will continue to execute its growth strategy and focus on long-term value creation."
TravelTriangle operates as an innovative online marketplace and does 3 unique things
1. Multiple Quotes from Verified & Reviewed Travel Agents: It brings both the travellers, and the trusted local & expert travel specialists on a common platform. The smart algorithm matches travellers with multiple leading travel specialists who are best qualified to design the dream itinerary.
2. Make it Customers Way: Our travel specialist work along with the Traveller and plan the itinerary by understanding the travellers need and then customize it.
3. Assured Last Mile Delivery: TravelTriangle manages the entire fulfilment process, maintains quality checks and ensures that the traveller gets the best deal in return. Since each travel specialist partner is personally and meticulously verified, TravelTriangle offers the money Safe Guarantee: A service unique to the whole Travel Category.
TravelTriangle raised Series A fund of $1.7 million from SAIF Partners in 2014. In April 2015, Silicon Valley venture fund Bessemer Venture Partners led a $8 million second financing round in TravelTriangle. And, since then, TravelTriangle has been growing at a rapid pace.
TravelTriangle becomes Contribution Margin Net Marketing positive