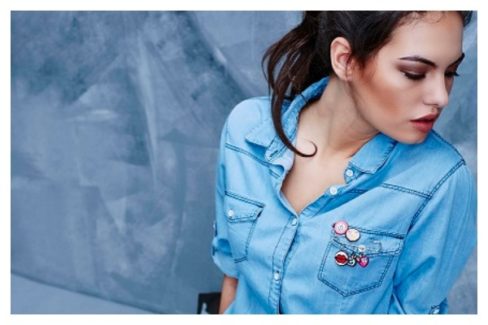 With temperatures soaring outside, and vacation probably not an option, Max's cool and flirty summer collection will definitely transport you to a holiday state of mind. Embark on an Urban Safari with Max as you decide on the level of adventure you want in your fashion – rugged or flirty.
Inspired from the heritage and culture across India and the globe, the collection has hand crafted textiles and techniques in soft cheese cloth, rayon, embroidered laces and crochet knits in shades of pink and garden inspired tones to soft neutral Aruba blue, corals and lime. Trends covered in the collection include cold shoulders and loose knit kaftans, kedio tops, over-layers, dresses, long line shirts and boxy fit graphic tees.
Highlights from the Summer Range:
Women's Wear
Lots of colour, bold tropical prints, beautiful floral designs, fringes, beaded embroidery and tribal tassels, reminiscent of beach holidays on sun soaked islands or exotic African safaris
Styles include scarf print kimono sleeve tops, peasant tops, cold shoulders and loose knit kaftans
Colour trends – soft blues, garden tones, pastel shades of pink-rose water, khaki and olive
Indian Wear
Traditional Indian block prints inspired by Jaipur's famous blue pottery, with a colour palette of blue & white with a dash of lime to one of India's oldest patterns the Ajrakh print
Jamdaani weaves and Chikankari embroidery find contemporary expression in kedio tops, over-layers, dresses and tunics
Styles include placement prints, cross stitch embroidery, mirror embroidery and tie-dye
Colours range from soft neutral Aruba blue to coral and lime with hints of fuchsia
Men's Wear
An urban collection inspired from various walks of life
Styles range from double flap pocket safari shirts in linen blends, resort collar linens, pleated chinos, and long line shirts to boxy fit graphic tees, tattoo inspired graphic tees and over dyed vintage polo necks
Fabric sees denim playing a key role along with washed out jerseys and jacquard patterns
The colour palette is trendy monochrome, with shades of ecru & beige, extending to khaki, camel and tobacco with ink blue forming the accent
Kid's Wear
With the recurring theme of summer fun running through the collection, there are florals & denims for girls and animal inspired geometrical tropical motifs for the boys
For girls, styles range from cold shoulder tops and Aztec printed skirts over sequined tops
Prints vary from cute tropical beach prints to flamingos, cactus, toucans and birds of paradise inspired graphics on printed lace and mixed florals along with mosaic pattern inspired prints on denim
Boys collection features ombre dyed tees, printed polos, structured knits and glow in the dark tees
Print styles include monkeys, hippos, lions and tiger graphics with geometrically inspired tropical motifs like tonal palm leaf all over prints
Colour trends – pool blue and yellow with vibrant stripes and placement prints inspired by sea animals
A promise of an adventure inspired range from Max this summer!
Urban Safari Max Summer 2017 Collection