Lucknow: Go trekking is the new credo for Uttarakhand Tourism, as it aims to garner more footfalls to the hill state.
Faced with falling numbers and shaken confidence of its annual Chaar Dhaam Yatra to Gangotri, Yamunotri, Kedarnath and Badrinath after the devastating floods three years ago, the tourism department here has fixed its eyes on vast trekking areas which are drawing foreigners and Indians alike.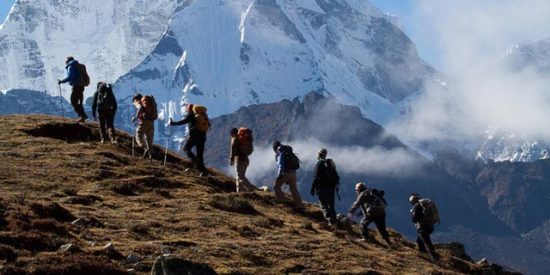 Officials privately admit that despite much improvement in infrastructure following flash floods in 2013 and subsequent weather turbulence, people from outside the state were vary of the annual pilgrimage owing to fear, forcing the mandarins in the government to think of "alternate plans".
With vast stretches of land and a challenging terrain to match up, the trekking route was considered a "safe and tempting bet."
The Khalia Munsyari route, which has been selected by the state government as the 'trek of the year' is all set to find favour with the trekkers "looking for some peace and lots of adventure. There is an unlimited potential to develop these trekking spots as tourism products," Secretary (Tourism) Shailesh Bagauli, told IANS.
And the gamble seems to be paying off. A large contingent of trekkers – 780 – who have enrolled themselves with the trek will be arriving in Munsyari on May 4. The Youth Hostel of India and Kumayun Mandal Vikas Nigam have been assigned the task of hosting the trekkers. To pep up the mood of trekkers, a photo competition has also been organized, officials told IANS.
Munsyari in Pithoragarh is located at a height of 7,200 feet and one can trek for another 4,000 feet, till 11,500 feet, giving it an edge over other areas in terms of altitude, adventure and thrills.
Uttarakhand Tourism Deputy Director Poonam Chand said that in winter, the entire area is snow-capped but during summer is covered with a pictureseque trail of flowers. The trek runs for seven days and the package comes at Rs.5,250 apiece.
"From the top of the trekking point, trekkers would be able to view the Nanda Devi, Raj Rambha, Nandakhat, Panchahuli, Suitala mountains in the Himalayas and Nampa and Mapi peaks of Nepal," Chand told IANS.
Uttarakhand turns to trekking to boost tourist footfalls