Massive digital push includes takeover of home pages of TOI, MSN, Rediff, Dailyhunt and Youtube masthead
All Viacom18 channels to break the ad films during primetime on 18th May
Extensive mass media push across Outdoors, Radio & Outside network TV
Launches VOOT Originals – Chinese Bhasad and Sinskari ; Badman and Soadies to follow soon
Viacom18, one of India's fastest growing media and entertainment companies, announced the launch of its marketing blitzkrieg for its digital VOD service VOOT.
In a massive push, VOOT will unleash a national  marketing campaign with a special focus on the top six markets ofDelhi, Mumbai, Bangalore, Kolkata, Hyderabad and Ahmedabad. The campaign has been launched with the objective of making VOOT a preferred destination for quality entertainment content consumption through over the top services. With over 17,000 hours of programming (across languages and genres) including the Biggest TV shows, Blockbuster movies, Favourite toons & VOOT Originals, VOOT assures its viewers of great content that is addictive in nature. The campaign thus leans on the insight that when one is addicted, they need to get their fix as soon as possible and as often as they can. Any interruptions tend to make them restless.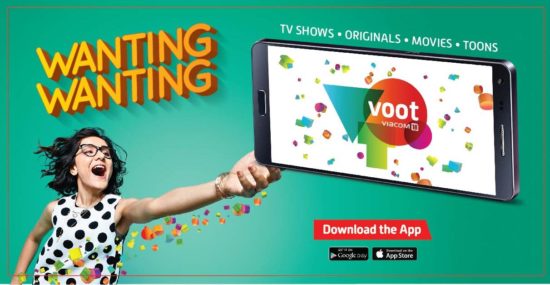 Commenting on the launch of the brand campaign, Gaurav Gandhi, COO, Viacom18 Digital Ventures, said, "Content is at the heart of this business and therefore our marketing campaign also needed to revolve around the addictive nature of the content available on VOOT. All our efforts have been to create the VOOT experience – both in terms of content & the product offering – that will leave our viewers addicted and therefore keep coming back for more anytime & anywhere. And that is the singular message that  you will see in all  our communication  – You are most happy when you VOOT , but being away from VOOT will leave you restless and wanting wanting for more!"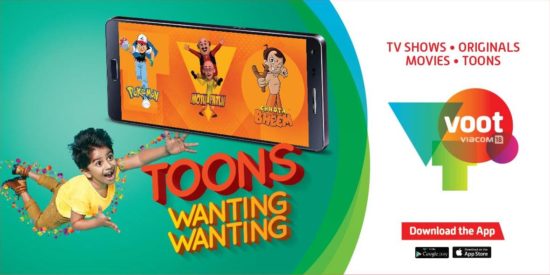 Adding to his views, Ayyappan Raj, Executive Vice President, Mullen Lintas said, "With the kind of content VOOT plans to offer and the anytime, anywhere access to it, we wanted the brand to take the high ground on entertainment. The greatest attribute of great quality content that is available on your terms is that it can be quite addictive. Hence through this campaign, the brand promises that 'The VOOT content is so good that you will never want to be away from it'. We are excited with the way the entire campaign has shaped up."
The campaign comprises three TVCs with different protagonists in each of the films- a woman, a kid & a young boy – thereby highlighting the appeal of content available on VOOT catering to multiple TGs. The TVCs highlight VOOT's key proposition of having content so addictive that once you start watching, you just can't stop (Ek bar watching toh non-stop wanting).
The films start with showing the protagonist watching one's favourite content on VOOT completely engrossed and the viewing gets interrupted because of a situation that is not in their control. And they are forced to move away from their phone. While the interruption continues our protagonist is shown to be helplessly looking back at his/her phone screen with VOOT playing on it. With every passing second that keeps them away from the phone, the agony increases and the craving to getting back to VOOT becomes unbearable. There comes an inflection point when they can't wait anymore and the burst of restlessness leads to a dive towards their phone and start VOOTing again.
Leaving no stone unturned, Viacom18 has a planned an extremely aggressive media campaign, for VOOT, that includes all Viacom 18 network channels as well as several other 3rd party channels in the Hind Movies, English movie, News, kids, Infotainment, lifestyle and music channels across languages.
With the marketing blitz, VOOT will also launch the first 2 VOOT Originals – Sinskari and Chinese Bhasad. While'Chinese Bhassad' is a web-series written by Raahil Qaazi (Co-writer of Do Dooni Chaar) and directed & produced by Saurabh Tewari; 'Sinskari', produced by Monozygotic, is a 'sinful' chat show with the 'Sanskari' Babuji Alok Nath!
VOOT will shortly be launching 2 more originals – BADMAN –a Web Original mocumentary film starring Bollywood's biggest bad man Gulshan Grover; and Soadies – a sitcom tribute to the iconic reality show Roadies – starring Baba Sehgal.
VOOT is available for free on iOS, Android and web and delivered over mobile and WiFi networks. With content available across multi-genres and languages, VOOT will keep you wanting wanting for more!
Viacom18 launches marketing blitz for VOOT