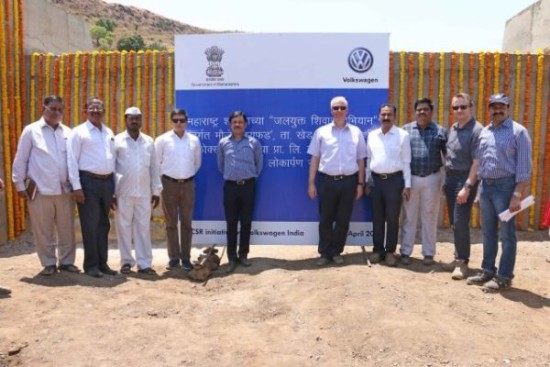 Pune: Last year, Volkswagen India started an activity to improve water storage capacity in the drought-affected Naiphad village as a part of this Corporate Social Responsibility project. After Gulani, Khed, Naiphad happens to be the second village where the automaker has undertaken a project to overcome the scarcity of water. Naiphad village is located about 60 km from the Volkswagen Pune Plant, Chakan and was chosen as a part of Government of Maharashtra's 'Jalyukt Shivar Abhiyan'. The company invested INR 51 Lakh towards the construction of two new bandharas, repairing of an existing bandhara and desilting of an existing nala in Naiphad and completed the project this year in April.
On completion of the entire project, Volkswagen India handed it over to the Gram Panchayat at a function presided over by Saurabh Rao, District Collector, Pune on 16 April 2016. The hand over took place well before the monsoon arrives and will, in turn, reap maximum benefit from the upcoming rainfall. The function was attended by district administration officials including the Sub Divisional Officer, Himmatrao Kharade and Regional Officer, MIDC, Ajit Deshmukh, and Gram Panchayat members led by the Sarpanch, Kishor Atmaram Kawale.
Recently, Volkswagen India recently also gave scholarships to 10 girls pursuing Engineering degrees through Lila Poonawalla Foundation and extended support to NFBM's Jagriti School for Blind Girls. The company has also undertaken other CSR activities in the past such as H1N1 vaccination to over 1500 school children, supporting Inter-Mission Industrial Development Community College in Chakan with sponsorship, donating an ambulance to the Red Cross, building an additional block at Zilla Parishad School in Nighoje and a donating a bus to the Inter-Mission Care and Rehabilitation Society in Paud. They are operating a Mobile Health Clinic which visits three villages as well; it works five days a week and provides basic medical assistance to the villagers at no cost.
Speaking at the function, Andreas Lauermann, President and Managing Director, Volkswagen India Private Limited, expressed that the Government of Maharashtra's initiative to make Maharashtra drought-free by 2019 is an extremely important and ambitious initiative. He further added that the water scarcity faced by villages in Maharashtra is not only affecting the daily life of the villagers but more importantly the agricultural activities which are the backbone of their economy. Through these efforts, Volkswagen India is increasing the water reserves in Naiphad and expects this to be of help for irrigation of the fields.
Volkswagen India builds water bandharas