The sixth edition of Max Fashion Icon India 2016, the nationwide hunt for the most glamorous, talented and fashionable stars concluded its Grand Finale as the National Winners were announced recently at a Press Meet at Olive, Bandra, Mumbai.
Max fashion facilitates and enables the dreams of today's youth, be it aspiring models/actors or fashion designers. Max does this via a variety of platforms like its association with 'Elite Model Look' in India and self-owned fashion properties like 'Max Design Awards' and 'Max Fashion Icon'.
Max Fashion Icon is a unique beauty pageant which is a gateway to Bollywood and the entertainment industry. It is viewed by the youth of tier 2 cities as an opportunity to realize their dreams of stardom and fame.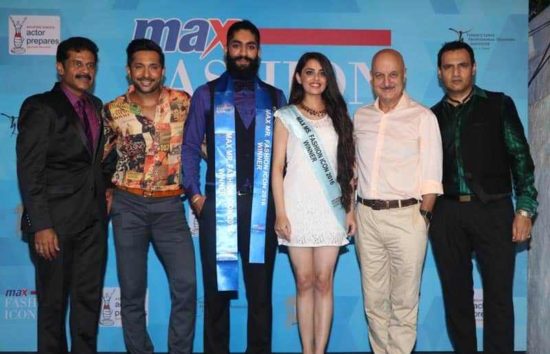 This year, the competition took place in five tier-2 cities i.e. Indore, Ahmedabad, Pune, Bhubaneswar and Visakhapatnam. The response was phenomenal with more than 3000 entries. The contestants were judged based on looks, attitude, style, body language and talent.
Contestants from tier 2 cities surprised the judges as they walked the ramp confidently, even as it was the first time for many. Girls took on to the ramp and cat walked their way in heels, some accepting they have never walked in heels before. These were the ones who took that one chance offered to them and made it to the final cut in Mumbai!
Each of these cities had a City Finale in which 2 winners (one female and one male) were announced. All these City Winners reached Mumbai and were judged by the acting legend, Anupam Kher at his Actor Prepares school.
The winners were announced in the presence of esteemed guests including acting legend Anupam Kher, India's  favourite dance guru Terence Lewis, Fashion / Beauty Pageant Director & Grooming expert  Marc Robinson and Executive Director, Max Fashion Vasanth Kumar.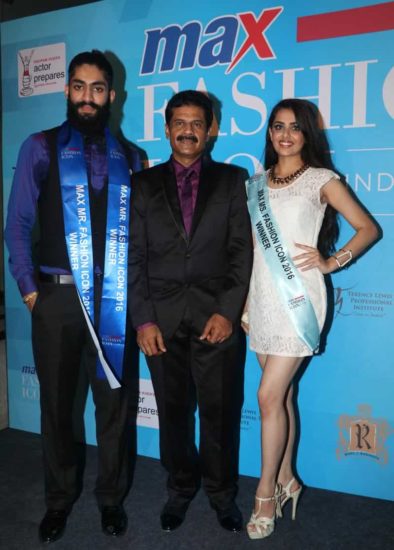 Winners are –
Max Fashion Icon India 2016 (Female) – Laveena Keswani (Pune)
Max Fashion Icon India 2016 (Male) – Chirag Saluja (Indore)
Both the winners were awarded with a 3 month diploma acting program at Anupam Kher's Actor Prepares – The school for the actors and 10 dance training sessions at Terence Lewis professional training institute.
Congratulating the winners, Mr. Vasanth Kumar, Executive Director – Max Fashion, said "Max is a leading brand with the mission of democratizing fashion for the contemporary customer in India and Max Fashion Icon is a hunt for talent with beauty, which caters to the biggest dream of today's youth in Tier 2 cities – An entry into Bollywood/ Entertainment industry. I would like to congratulate the winners of this season. They showcased the perfect combination of talent, determination, poise and the confidence to make it big in the fashion as well as film industry. Our search for the perfect faces ended today. And I wish good luck to these bright aspirants for a great future."
Max Fashion has recently launched its new "Summer'16 Collection" to beat the heat. Inspired by the tropical theme, this trend intermixes rich foliage and cascading ruffles to create an electrifying mix of colour and print. From leafy prints, flowy silhouettes to soft cool fabric you get it all with our new summer range. Whitened pastel tones of pink, yellow, mint and blue brings a sugary youthful vibe to our Soft Pop story. Feminine dresses, strappy tops and crop tops are the key highlights of this story. So this summer, mix a little foliage and print with soft sugary colours to bring in a breath of cool fresh air.
Winners of Max Fashion Icon India 2016