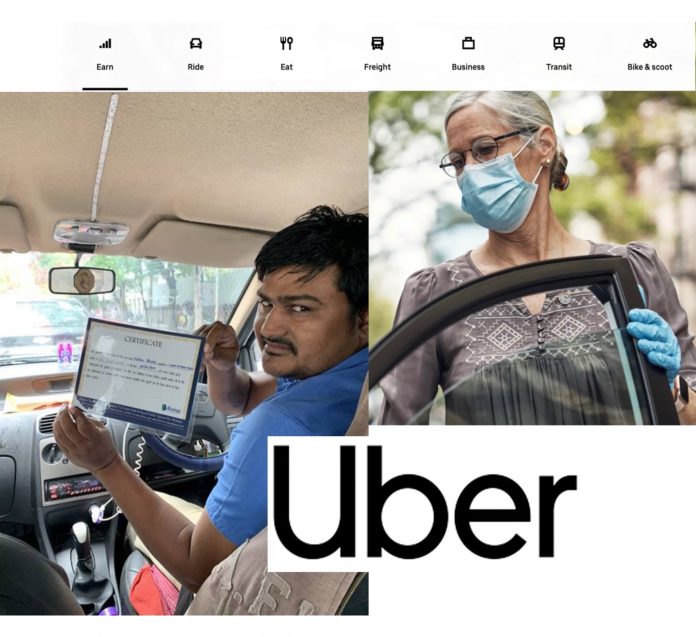 On International Women's Day, Uber announces gender sensitisation of 100,000 drivers by end 2021
Expands partnership with Manas Foundation from 7 cities to 34 cities in India
63,000 drivers sensitised pre-pandemic through in-person sessions
Part of Driving Change initiative, Uber has pledged $5 million to women's safety organizations through 2022
Gurugram, 8th March, 2021: To mark International Women's Day, Uber today announced it will gender sensitize 100,000 drivers in an expanded partnership with the Manas Foundation, a Delhi-based NGO working in the field of mental health, gender equity, and justice, by end-2021.
Uber first partnered with the Manas Foundation in 2018 with the aim to sensitise select drivers and ensure they're more courteous and attentive to the needs of women riders. Through in-person sessions conducted across 7 Indian cities before the pandemic, the partnership sensitized 63,000 drivers.
After a brief halt in sessions due to COVID-19, Uber India and the Manas Foundation will now be delivering them virtually over Zoom in 34 cities.
To set the highest safety standards in the industry, the partnership will conduct one virtual gender sensitisation session every day, five days a week across Delhi, Mumbai, Bangalore, Chennai, Kolkata, Hyderabad; and alternate Saturdays in smaller cities across North, East, West, South India. Please check the Newsroom Post here for city details.
These gender sensitisation sessions educate drivers on how men and women use public transport systems, the extent of harassment women face in public spaces and highlight the role of drivers in addressing the issue. They also learn how to modify their professional behaviour to make women feel safer and commit to being a part of the solution.
Speaking on the partnership, Pavan Vaish, Head of Driver, Supply & City Operations (Mobility), India & South Asia, Uber said, "Safety is at the core of everything Uber does. Our goal is to enable safe transportation for women, which in turn has a huge impact on the choices they make and the opportunities they can access. Our partnership with Manas Foundation has been very positively received by drivers who display their certificates with great pride inside their cars. We are delighted to expand the program to more cities this year and will continue to work towards scaling this program further."
Adding to the conversation, Monica Kumar, Co-Founder, Manas Foundation said,  "We take drivers as important stakeholders in making public transport safe and equal for women. They play a crucial role to promote women's mobility and these gender sensitization sessions are designed to make them socially responsible and activate behavioral change.  We are pleased to expand the gender sensitisation program with Uber and are confident that these new virtual sessions will be received well and we will be able to contribute towards enhancing women's safety."
Sharing her support for the partnership, Rekha Sharma, Chairperson, National Commission of Women (NCW), said, "It's heartening to see Uber India working with sincerity and purpose to implement gender sensitisation of driver partners on its platform through a partnership with the Manas Foundation. Today, they are beginning their initiative to sensitise drivers through online sessions, an innovation brought about by the pandemic. I congratulate them for successfully sensitizing 63,000 drivers through in-person sessions and wish them the very best for the next phase of the program to sensitize 100,000 drivers. Such behaviour-change interventions will go a long way into setting the best possible safety standards for the transportation industry and in creating safer public places  for women."
To enhance safety on its platform, Uber has pledged $5 million to thought-leading women's safety organizations through 2022 as part of its global Driving Change initiative.
Uber has continued to harness technology to enhance rider safety on its platform through a host of safety features such as two-way feedback and ratings, telematics, and GPS, among others. Riders feel safe knowing that they can share their trip with their loved ones, their personal details are anonymized and the drivers have been screened. During an emergency, the in-app emergency button, within the safety toolkit lets riders connect with law enforcement officials at the tap of a button. Also, Uber's dedicated 24X7 Safety Helpline number allows riders to speak directly to a representative of Uber's safety team should they have an urgent, non-emergency issue, during a trip or up to 30 minutes after the trip has ended.
| | |
| --- | --- |
| State | Cities |
| Delhi | Delhi |
| Maharashtra | Mumbai, Nagpur, Nasik |
| Karnataka | Bengaluru |
| Tamil Nadu | Chennai, Coimbatore |
| West Bengal | Kolkata |
| Telangana | Hyderabad |
| Uttar Pradesh | Kanpur, Agra, Lucknow, Varanasi, Prayagraj, Gorakhpur |
| Andhra Pradesh | Visakhapatnam |
| Rajasthan | Kota, Jodhpur, Jaipur, Udaipur, Ajmer |
| Gujarat | Vadodara, Surat, Ahmedabad |
| Punjab | Amritsar, Ludhiana, Chandigarh |
| Bihar | Patna |
| Jharkhand | Jamshedpur, Ranchi |
| Madhya Pradesh | Bhopal, Indore, Jabalpur |
| Orissa | Bhubaneshwar |
About Uber:
Uber's mission is to create opportunity through movement. We started in 2010 to solve a simple problem: how do you get access to a ride at the touch of a button? More than 10 billion trips later, we're building products to get people closer to where they want to be. By changing how people, food, and things move through cities, Uber is a platform that opens up the world to new possibilities.
About Manas:
Manas Foundation was established to change the nature of mental health care in India and to make it accessible to every section of the society. The organisation was founded in 2000 and the team set up a general clinic to de-hospitalise mental health care and reduce the attached stigma. They envision to make mental health services available to all sections of the society through awareness campaigns to reach out to a larger population, and sensitises professionals and para professionals to augment the supply of mental health services.