After 4 successful seasons, Wrangler True Wanderer 5.0 is better and bigger than ever before. Wrangler True Wanderer is an annual event that provides a platform for riders to showcase their love for the open road and the passions that fuel their wanderlust.
Wrangler has concluded its nationwide search for the top 10 True Wanderers and is sending them for the ride of a lifetime. Kitted out in the best of Wrangler's Ride Ready range of apparel and flagged off from an exclusive Wrangler store in their city, the True Wanderer finalists will go on a 7-day road-trip. Each rider will create his/her blog on wrangler-ap.com/in and post daily updates with photos, videos about his/ her experiences on the road.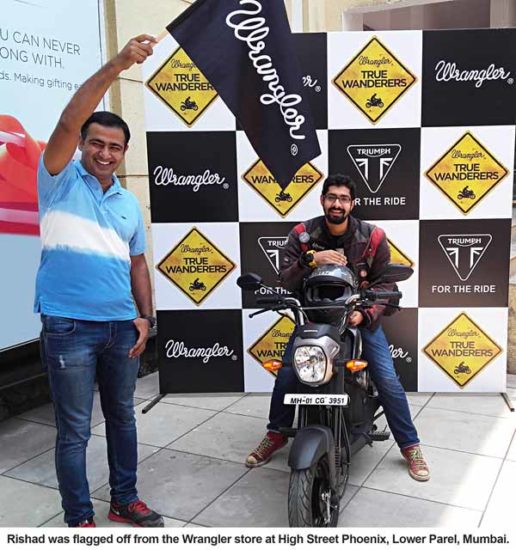 Rishad was flagged off from the Wrangler store at High Street Phoenix, Lower Parel, Mumbai. 28 year-old Rishad is an avid biker from Mumbai. He rides a 1985 2-stroke Yezdi. He is styled in Wrangler's range of Sun Shield apparel and Silver Shield Denims. Follow his journey at www.wrangler-ap.com/in/ and fuel his journey with your votes.
The winner of True Wanderer 5.0 will be declared after the votes have been tallied and a panel of biking experts has judged the quality and adventure-quotient of their entries. The winner will win the title of Wrangler True Wanderer 5.0 and ride away on a Triumph Street Twin Motorcycle. He will also be featured in a Wrangler advertorial.
Wrangler Flags off True Wanderer 5.0