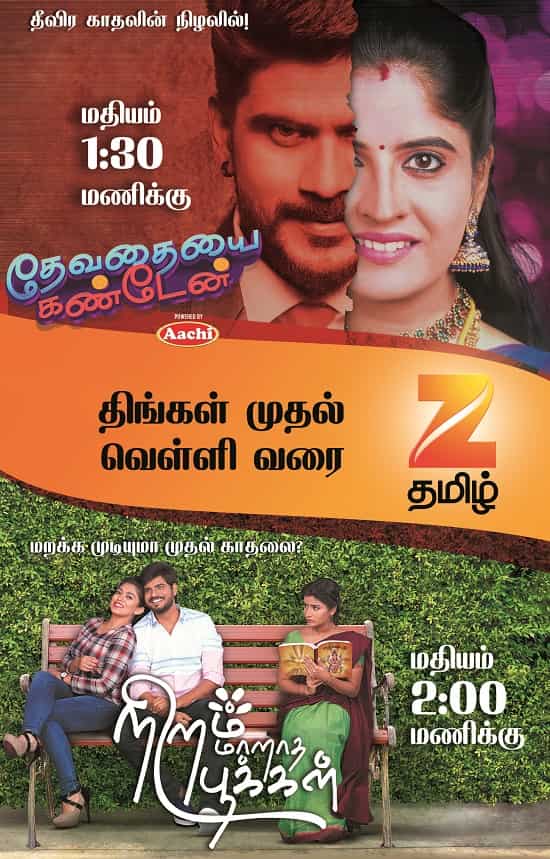 'Devathaiyai Kandean' is a struggle between an obsessive husband and a fiercely independent wife
'Niram Maratha Pookal' is a love triangle with a twist
Chennai, 9th October, 2017: Zee Tamizh, leading Tamizh General Entertainment Channel (GEC) in Tamil Nadu, is all set to launch its afternoon primetime slot with the introduction of two fiction shows. The two series – Devathaiyai Kandean and Niram Maaratha Pookal, will go on air today at 1:30 p.m. and 2:00 p.m. respectively, every Monday to Friday.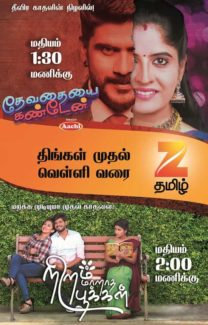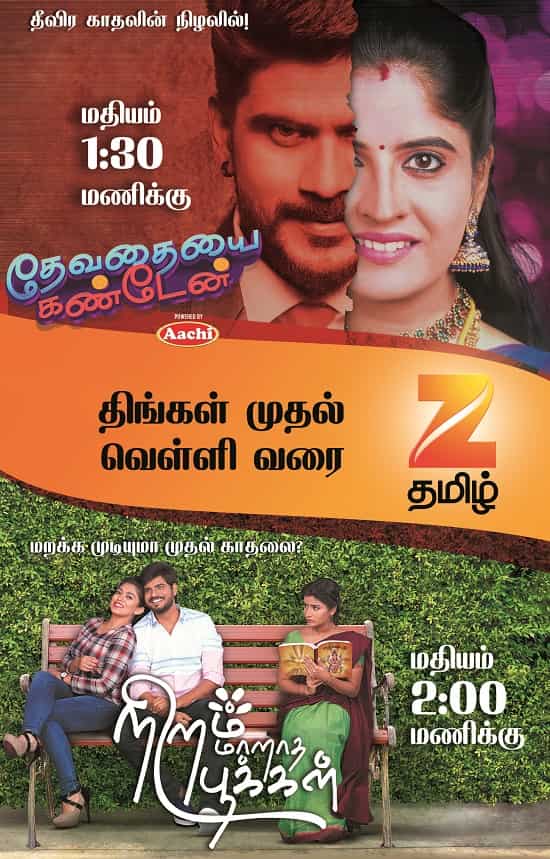 A story about embracing each other's individualities in a marriage, Devathaiyai Kandean stars Sree and Shamili Nair as Vasudhev and Meenakshi who are struggling in their relationship. Produced by Aayshmaan Productions, the show portrays its characters in a modern light, where Meenakshi, an independent woman, wishes that her husband Vasudhev, bound by his family at every step, would love her the most. Their relationship faces many complications when Vasudhev becomes obsessive-compulsive.
Murli, Nishma and Ashmitha starrer Niram Maaratha Pookal, is a deep-seated love triangle unlike anything seen on television before. The story traces the life of a simple village girl named Venmathi, who is in love with her childhood friend Ramakrishnan. But unknown to her, he is in love with another girl in the city, Keerthi. As the story unfolds, both women will be seen trying to pursue their love for the boy, while he must choose between the two of them. Niram Maaratha Pookal has been produced by Isai Pictures.
The narratives of both shows will highlight a multitude of emotions, dilemmas, and conflicts, unlike what viewers have witnessed in other love stories seen on television. The twists and turns in the plotlines promise to create edge-of-the-seat entertainment opportunities for Zee Tamizh's viewers.
Speaking on the new launches, a channel spokesperson said, "Through the launch of Devathaiyai Kandean and Niram Maaratha Pookal, Zee Tamizh strives to expand its viewer base by engaging them with varied content options in the afternoon primetime slot. Both shows present storylines with strong plots that suit the diverse entertainment needs of the Tamizh audience. We hope that the offerings appeal to the viewer's sensibilities creating an unparalleled viewing experience."
 Watch Devathaiyai Kandean and Niram Maaratha Pookal every Monday to Friday starting 9th October 2017 at 1:30 p.m. and 2:00 p.m. only on Zee Tamizh!
About Zee Tamizh
Zee Tamizh is the Tamizh General Entertainment Channel of Zee Entertainment Enterprises Ltd (ZEEL). Launched in October 2008, Zee Tamizh offers a variety of shows that cater to the entertainment preferences of Tamizh audiences across the world. From fiction shows to reality shows and talk shows, the channel with its multi-genre offerings is widely accepted as the one-stop family entertainment destination. Zee Tamizh has created multiple blockbuster shows like Mr & Mrs. Khiladis, Junior Super Stars, Dance Jodi Dance, Sa Re Ga Ma Pa whose unique and never-seen-before formats have appealed to viewers across age groups. The holistic mix of content and programming options make Zee Tamizh one of the fastest growing Tamizh GECs in Tamil Nadu.
 Zee Tamizh is well connected across all cable and digital platforms. The channel is also available on ZEEL's digital and mobile entertainment platform, OZEE. 
Zee Tamizh introduces afternoon primetime segment