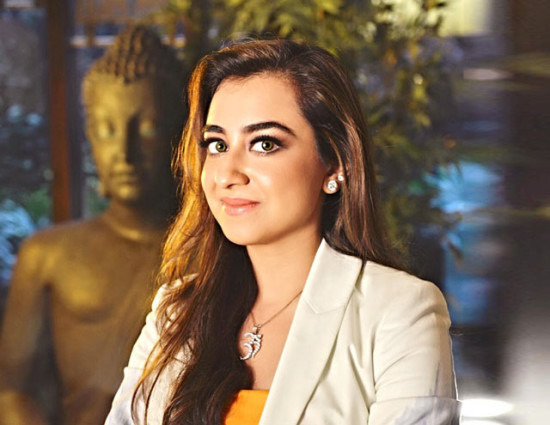 Secret Dresser is new online startup venture that offers barely one or two times used designer goods at a much lower price. Portal has everything right from the Premium Indian designer wear like Sabhyasachi, AnjaleeArjunkapoor to watches, bags, shoes, jackets by International designers like Louis Vuitton, Dior, Karen Millen, Ted baker etc. With an agenda of Ms. Dimple Mirchandani to encourage people to have an experience of Indian & International designer brands at minimum price. Secret Dresser creates good market place for designers who can easilymarket their product and reach aspirational group of people who are interested in buying designer second hand products.
---
Team Estrade: You are an internationally certified Nutrition & Health Consultant, what drove you to Secret Dresser?
Dimple Mirchandani: Health and fitness is my passion, by living a well-balanced, disease free life one can live upto their true potential each day. Therefore,I believe that being a part of Nutrition and yoga field – helps me stay focused, gives me the right frame of mind and unbeatable energy to work best as an entrepreneur. However, Secret dresser started with a sole objective of utilizing resources of our planet in a better way.The idea came to me from my own closet,beautiful and exquisite- mostly unused or once worn designer clothes and accessories lay hanging since forever – you got to do something about it.  What better than sharing!!! Now you may ask why only expensive designer stuff…..people are always hesitant to discard clothes and accessories of higher value, whereas they would easily give away the regular ones. Through Secret Dresser we can increase the rotation of such items which will ultimately benefit the society in some way.
---
Team Estrade: What impact do you think luxury resale sites will have on the fashion industry at large?
Dimple Mirchandani: The luxury resale sites will sure help our society in a good way.Such portals are believed to create an advantageous situation for all – as for designers the clothes and accessories are being marketed under their original names. Also as the circulation increases, the shoppers will be at ease to shop knowing there is a resale value. For the aspirational set of people, they can now buy original luxury at affordable prices.  It may act as the means to bridge the gap between the aspirational group & the purchasing power. However, the regular shoppers will continue to shop the same way or even more.
---
Team Estrade: What are the constraints in becoming an e-commerce business? How do you mitigate them?
Dimple Mirchandani: There are many advantages of an Ecommerce set up as it provides buyers a much wider range of products at the comfort of their own space in simple clicks. However, when it comes to the fashion industry the constraint of an E-commerce set-up is the lack of touch and feel of your purchase. Some people sure want to touch, feel and try before buying. To mitigate this problem we have added a special feature of Private Viewing, where in people can book an exclusive time slot and visit our warehouse to have the typical shopping experience while retaining 100% buyer identity protection. However this feature is available only in Delhi as of now – we do plan to make it available in more places in future.
"The term 2nd hand is merely an expression; it's truly all about sharing"
---
Team Estrade: What benefit do buyers have for buying 2nd hand apparel?
Dimple Mirchandani: The term 2nd hand is merely an expression; it's truly all about sharing. Even at a regular store, we are sure not the first to try a basic top or a luxury outfit,we all try many clothes at each store and end up buying just a few. Just the fact that today every store all over the world has a fitting room – conveys that many people have worn what we may end up buying. However, at the luxury end what we have on our portal are the exclusive outfits by top designer that sometimes took months to be made – mostly surplus (unused) or worn once with utmost care.At secret Dresser we make sure to list only the products that are in more than good condition. For the aspirational group – they can buy authentic goods in good condition at half or even less than original price &  for the rest Just because they are not being picked up direct from the store, buyers get them at great discounted prices( sometimes upto 70%) …so why not.
---
Team Estrade: What is the guaranty or warranty of any product?
Dimple Mirchandani: At Secret Dresser products are thoroughly checked and verified through our multi-layered authentication process. First the quality, condition and originality is checked by our in-house fashion consultants, only after that they are officially authenticated by an International authentication company that we have partnered with ( details of which are all available on the web-site) – we also  provide a Pdf certificate of authenticity at a minimal charge upon request . In regard to Indian outfits, we have a few designers on board who verify their own make – we are trying to get others on board as well. However, since the products are sold at a much discounted (sale) price – we have a no return and no exchange policy.
---
Team Estrade: As a seller how can I sell the designer clothes I own?
Dimple Mirchandani: First, As a seller you have to send us few clicks of each product that you wish to sell, If they seem fit and in very good condition, we get them collected and take in only those that are in good condition. Once received we take about 4-5 days until the condition and authenticity is verified. After authentication we seek approval from you on the price bracket we expect to sell it at and then list them on our website.  The money is then transferred to your account once the product is sold.
---
Team Estrade: Any plans of multiplying the verticals on the portal?
Dimple Mirchandani: Sure, everyday something new is happening around; there is immense potential in anything you do. With time we sure will.
---
Team Estrade: How do you set pricing of the clothes?
Dimple Mirchandani: We get an estimate of the current MRP of similar products, and put them at 50-70 % off.
---
Team Estrade: Who do you regard to be your biggest competition?
Dimple Mirchandani: Secret dresser is a global platform. I believe there is enough room for many such ventures to co-operate.
---
Team Estrade: How do you keep up-to-date with the latest ecommerce trends and new technologies?
Dimple Mirchandani: I love to read,I guess that really keeps me at it – magazines,news  blogs, newspapers, internet.
---
Team Estrade: Where do you see The Secret Dresser in five years' time?
Dimple Mirchandani: Secret Dresser is a very fresh venture; it's too soon to comment, let's wait and watch.
A unique fashion destination: Secret Dresser