Prime Minister Narendra Modi's vision to recast India's urban landscape is gaining impetus all over the country – resulting in sustainable and citizen friendly cities. The Smart Cities initiative focuses on growth, innovation, skills and sustainability with the goal of making India a better place to invest, work and live. A growing population is migrating to cities, giving rise to new megacities estimated to generate 80% of the country's economic growth. To accommodate this massive urbanization, India needs to find smarter ways to manage complexities, increase efficiency and improve the quality of life.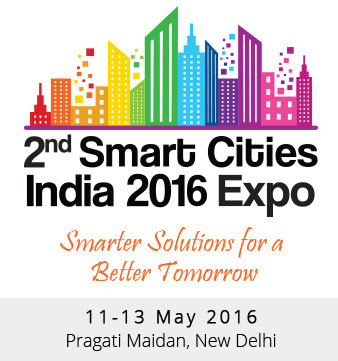 To recognize pioneering projects that aim to make cities more livable, and economically viable, the 2016 Smart Cities India Awards, organised on the sidelines of the Smart Cities India expo, will be held at Pragati Maidan, New Delhi, from 11-13 May 2016.
The Smart Cities India Awards 2016 have been launched to honour the best practices and models in the smart cities concept. The objective is to identify, inspire and launch innovators and entrepreneurs to ensure that they succeed faster and smarter, thus enhancing the quality of urban life.
Smart Cities India Awards will be an annual event designed to felicitate, recognize and encourage individuals, policy makers, companies, government bodies and associations working behind the successful execution of the dream of developing 100 smart cities and rejuvenating 500 cities in India.
The award nominations will consist of 9 categories, including the Smart City Project, Safe City, Green Building, Architectural Design Award, Smart Urban Mobility Award, Smart Energy Award, Smart Water Project, Solid Waste Management Project, and Smart Village.
Smart Cities India 2016 Awards have been supported by some of the most prominent associations and organizations from around the country.
Commenting on the Smart Cities India Awards 2016, Chetan Vaidya, Director, School of Planning and Architecture (SPA), said, "SCI 2016 will bring in competition among participating cities/organizations in the spirit of the Smart City challenge. Cities will be encouraged to perform better and also provide good practices to other cities/organizations."
Supporting the Smart Cities India Awards to promote projects initiated to make smart cities a reality in India, Ganesh Natarajan, Vice Chairman & CEO, Zensar Technologies and Chairman Nasscom Foundation, said, "The Smart City Mission is one that can transform the landscape and growth potential of our country. The SCI 2016 Awards will spot and recognise solutions that can accelerate the process of change. I am delighted to be part of the initiative."
The Smart Cities India 2016 Awards have received astounding response from the industry, with around 130 nominations for 9 categories. The awards will act as a facilitator for new talent to showcase their expertise in building smart cities in the presence of government officials, eminent industry leaders, associations, companies, and delegates from India and abroad.
Prem Behl, Chairman, Exhibitions India Group, said: "After the huge success of the inaugural edition in May 2015 at New Delhi, we are taking this initiative to the next level by launching the Smart Cities India Awards to provide encouragement to new talent, product and services. These awards will recognize the innovative solutions and projects designed to improve the quality of urban life. The rationale behind these awards is to combine business and knowledge to drive forward new projects, fostering smarter cities for smarter citizens."
Apart from the Smart Cities India Awards, the 2nd Smart Cities India 2016 expo includes the 1st Smart Transport 2016 expo, Mayor's Conclave, and Smart Villages initiative.
2016 Smart Cities India Awards to Honour Best Practices & Models in the Smart Cities Concept