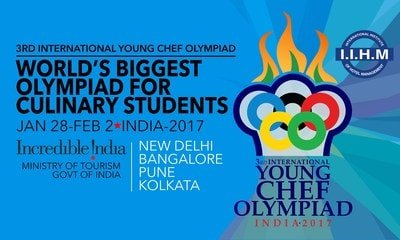 NEW DELHI, January 3, 2017 /PRNewswire/ —
World's Biggest Olympiad for Culinary Students in India
India will witness the world's biggest culinary competition – the 3rd International Young Chef Olympiad 2017 organized for college students from across the world and is supported by the Ministry of Tourism, Government of India.
'Young Chef Olympiad 2017′ is scheduled from 28th January 2017 to 2nd February 2017 across the cities of Delhi, Bangalore, Pune and Kolkata with participation of best student chefs from over 60+ countries who will assemble in India with the opening ceremony scheduled on 28th Jan 2017 at Talkatora Indoor Stadium, New Delhi. The event is spread across 6 days, 4 cities, one title and a cash prize of $10,000.
This year some of the hot favorites will be the defending champions – Team Canada, and the others in the list are Team UK, France, Spain, China, Australia, UAE, Russia, Mexico, Mauritius and many more who can be seen at http://www.ycolympiad.com/teams/
The 1st Round will happen on 29th and 30th January in the city of Delhi, followed by Round 2 in Bangalore and Pune and the Round 3 is scheduled in Kolkata.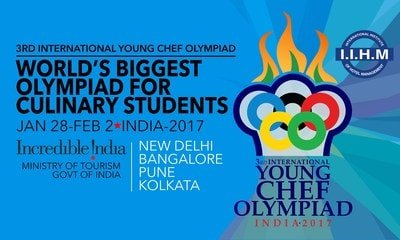 The competition will be divided into four phases: Competitors will undertake 3 rounds with differing culinary challenges and at the end of which the 10 contestants with the highest aggregate score from all 3 rounds will go through to the final round.
Each round will be in a different city as follows:
Round 1 – New Delhi
Round 2 – Bangalore (Team A) and Pune (Team B)
Round 3 – Kolkata
Grand Final – Kolkata
All rounds will be marked on culinary skills and techniques, adherence to good health and safety and hygiene practice, working methods, minimal waste and best use of ingredients, professional appearance, attitude, dish presentation, taste and flavor.
There will be 2 sets of judges for each round and for the final round. One set will be marking on the technical and production element and the other set of judges will be marking on the presentation, taste, flavor and culinary knowledge.
Round 1
Time Allowed: 90 minutes
Theme: Following recipe and displaying basic skills
Dishes to prepare:
A) 4 portions of a classical chicken dish according to a recipe provided that should be appropriate for fine dining service and
B) 2 Omelets appropriate for a fine dining a la carte breakfast
Round 2
Time allowed: 90 minutes
Theme: Creativity and innovation
Dish to prepare: 4 Main Course portions of a vegetarian dish produced from a basket of ingredients. Not all the ingredients have to be used except for the mystery ingredient that will be announced to the contestants 24 hours before the start of Round 2. There will be a different mystery ingredient for each competing group. The chosen recipe can reflect the contestant's cuisine and culture and it must be appropriate for service in a brasserie or bistro restaurant.
Round 3
Time allowed: 90 minutes
Theme: Following a traditional recipe and displaying creativity and innovation
Dishes to prepare:
A) 4 individual portions of a classical Pudding dish based on a given recipe
B) 4 individual portions of a dessert prepared from a basket of specified ingredients that is appropriate for service in a fine dining restaurant
The 10 highest aggregated scores from Rounds 1, 2 and 3 will go through to the Final Round of the Olympiad.
Final Round
Time allowed: 2 hours
Theme: A test in Creativity, Innovation, Skills and Professional Good Practice
Dishes to prepare:
A) 4 portions of 4 individual Tapas dishes as a selection of Appetizers
B) 4 portions of a Fish dish as a Main Course
This year, the Chairman of the Jury is none other than the legendary Prof. David Foskett, (OBE) (Author of bestselling book Practical Cookery & Theory of Catering) and the Chief Judge for 2015 and 2016 was Chef Andreas Muller of the World Skills fame. For Young Chef Olympiad 2017 we have Chef Boris Leung from Hong Kong as our Chief Judge. The Principal Judge and Mentor is our very own beloved Chef Sanjeev Kapoor and the panel comprises of celebrity chefs like, Chef Andreas Muller from Hong Kong, Chef Udo Leick from Dubai, Chef Kunal Kapur, Chef Ranveer Brar, Chef Abhijit Saha, Chef Vicky Ratnani, Chef Andy Varma from UK, Chef Parvinder Bali, Chef Karen Anand, Chef Ajay Chopra, and Chef Shaun Kenworthy among others.
The event shall be relayed live from: https://www.facebook.com/ycolympiad/?fref=ts
Watch the Teaser for – YOUNG CHEF OLYMPIAD 2016 <https://www.youtube.com/watch?v=6Rx0PfBk2jw>
See what Chef Sanjeev Kapoor, Principal Guest Judge and YCO Mentor has to say about this event <https://www.youtube.com/watch?v=8m7z2DSdJgA>
Few Quotes :-
Professor David Foskett, Head of the London School of Hospitality and Tourism, University of West London remarked:
"Fantastic event, IIHM is a world class leader in Hospitality"
Professor David Foskett, Head London School of Hospitality Tourism, University of West London, UK
"Humbled to see the world assemble for the occasion. This platform is for bringing all young chefs from the culinary institutes under common mandate to learn, teach and network and to grow together," said Suborno Bose, the Chief Mentor and CEO of IIHM and the IndiSmart Group.
This event is hosted by IIHM, India's largest Hotel School Chain which is the front runner in innovation and development of human resource in the Indian hospitality industry through various management and culinary degrees in the segment. It innovates initiatives that no institute in the country has done.
One hopes to live, grow and gain expertise in the field of choice in today's day and times with opportunities knocking in so many fields, and with such leaders leading and shaping the industry, our hospitality future is in safe hands for sure.
3rd International Young Chef Olympiad 2017