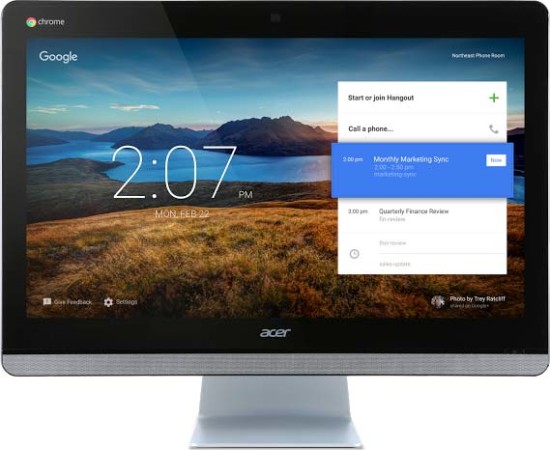 Google and Acer have announced the release of the new $799 Chromebase, which is specifically designed for conference meetings. The Acer Chromebase, comes with a 24-inch, 1080p full HD display. Acer claims that this is also the world's first touchscreen Chromebase.
The device runs on an Intel Celeron dual-core processor with Google video acceleration. It also includes 4GB of memory and features 802.11ac WiFi, Bluetooth 4.0, and Gigabit LAN Ethernet connectivity options.
In addition, guest account support makes it possible to join a meeting even without a Google account. Users can click a meeting link invitation and can get connected.
Google also announced additional features to their remote fleet management tools, which means administrators can now receive alert notifications and track health of their fleet of Chrome devices for meetings.
Moreover, enterprise IT administrators can deploy and manage multiple Chrome devices via Chrome Device Management. It reduces the workload of technical support and eventually the cost, claims the company. The Chromebase for meetings also integrates with other videoconferencing systems and existing phone systems.
Automatic updates will be released every six weeks to ensure security, says Acer. All the data stored will be encrypted and protected by its TPM (Trusted Platform Module) 1.2 chip. On each boot up, Verified Boot will check the integrity and validity of system files.
It is available for users in Canada, UK, Ireland, and Australia.
Acer along with Google unveils Chromebase for meetings