After Freedom 251, it is Namotel's turn to promise the "world's cheapest smartphone" priced at Rs 99.
Namotel Acche Din, billed as the world's most affordable and cheapest handset yet, is available for pre-booking from May 17 till May 25, 2016, on the company's website namotel.com.
The 3-G enabled smartphone is "not a fake", Madhava Reddy, the company's promoter, told ANI. "Namotel is a company which will fulfill its promises. We plan to make it a popular brand," he added.
According to PhoneRadar, the 3G-enabled device with 1,325 mAh battery supposedly runs on Android 5.1 Lollipop and is powered by a 1.3GHz quadcore processor. It sports a four-inch display along with 1 GB of RAM and four GB of Internal Storage.
The device also packs a snapper. According to the report, the phone comes with a two Megapixel rear camera and a 0.3 Megapixel front camera.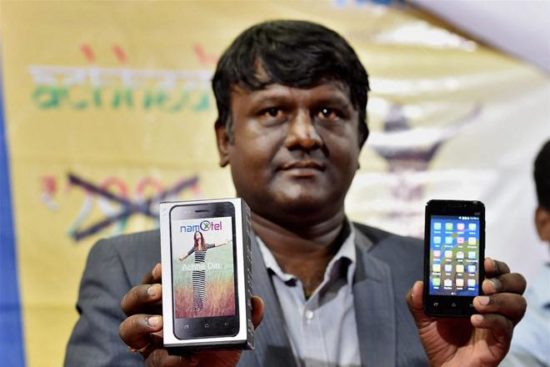 The 'nominal' delivery fee for the phone is Rs 199, the report adds, making the delivery charges more than twice the cost of the device itself.
Additionally, Namotel and its promoter, according to the report, insist that the device is 'Made in India'. Also, the company says it will be sold only to those who possess a valid Aadhaar card.
PhoneRadar also dug into the promoter's past and found that Reddy was earlier working as a relationship manager for home loans department for Axis Bank.
The company's domain name itself was registered on March 1, 2016, the report said.
Namotel follows in the footsteps of Ringing Bells, a Noida-based firm. Ringing Bells, which claimed to be maker of the world's cheapest smartphone, had found itself in the centre of controversy in February this year as the government swung into action following allegations of wrongdoing.
The company's flagship product, 'Freedom 251', which was then touted as the world's cheapest smartphone, was promised to be made available at a retail price of only Rs 251.
While Telecom Minister Ravi Shankar Prasad has asked Secretary of Department of Electronics and IT (Deity), Aruna Sharma, to look into the scheme of Ringing Bells offering a smartphone for Rs 251, the income tax and the excise departments are looking into the financial structure of the company and have obtained documents, including those from the Registrar of Companies, in this regard.
As of April, fresh bookings had been closed by the company.
Additionally, the management was forced to refund its customers the entire booking money of Rs 63 crore raised during the initial registration.
After Freedom 251, it is Namotel's to promise Smart Phone for Rs 99