The DB11 becomes the first series production Aston Martin to use a twin-turbo engine; the new in-house developed 5.2-litre twin-turbo V12 pumps out 600bhp.
India: Aston Martin has lifted the veils off of its newest series production DB series model, the DB11. The successor to the DB9, the DB11 becomes the first series production Aston to use a twin-turbocharged engine.
The biggest talking point about the new Aston is the engine. The all-new 5.2-litre twin-turbo V12 was developed in-house by the company and pumps out 600bhp and 71.34kgm of torque making it the most powerful unit to be fitted to a DB road car. Power is channelled to the rear wheels via an eight-speed automatic gearbox with steering mounted paddles. The car also comes equipped with a mechanical limited slip differential with active torque vectoring – a first for an Aston Martin.
The new DB11 is longer, wider and lower than the DB9, at 4,739mm long, 2,060mm wide and 1,279mm tall. Additionally, the wheelbase is 65mm longer, with Aston emphasising the car's capabilities as a true 2+2 grand tourer. The increased wheelbase has allowed Aston to position the engine further behind the front axle to provide 51:49 front and rear weight distribution.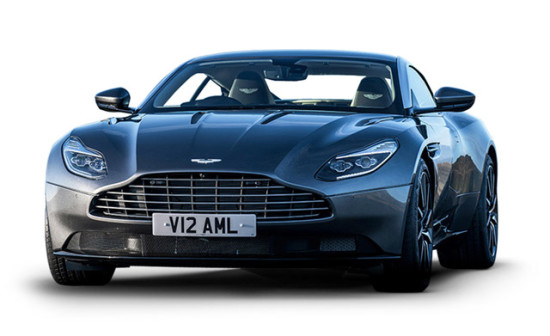 The DB11 features the company's new design language that was introduced in the DB10 used in the James Bond movie Spectre. Highlights of the new design include a bigger, bolder interpretation of Aston's iconic grille and the pressed aluminium, forward-hinging clamshell bonnet, shrink-wrapped to the engine bay. The car also gets all-LED headlamps and tail-lights.
The DB11 also borrows aerodynamic elements from the Vulcan race car. The car features vents in the front wheel arches called 'Curlicue' that vent high-pressure air to decrease lift. Another borrowed element is 'AeroBlade'. The system uses high speed ducted air to increase downforce over the rear end. Additionally, the car gets a deployable rear spoiler that deploys at high speeds to increase downforce.
Inside, the cabin is more spacious than its predecessor thanks to the car's increased length, width and wheelbase. The car retains certain Aston Martin design cues such as the flowing centre console but gets a host of new technology. The instrument cluster is an all-digital affair with a 12.0-inch TFT display in place of analogue dials. The centre console also houses an 8.0-inch infotainment display with the option of a touch pad controller with character recognition, multi-touch and gesture support.
The DB11 is hailed by its maker as "the most powerful, efficient and dynamically gifted DB model" in the firm's 103-year history. The car is the first product from the company's 'second century' expansion plan which will see all of Aston's current models be replaced in the future along with the development of new models.
Aston Martin DB11 revealed at Geneva Motor Show 2016