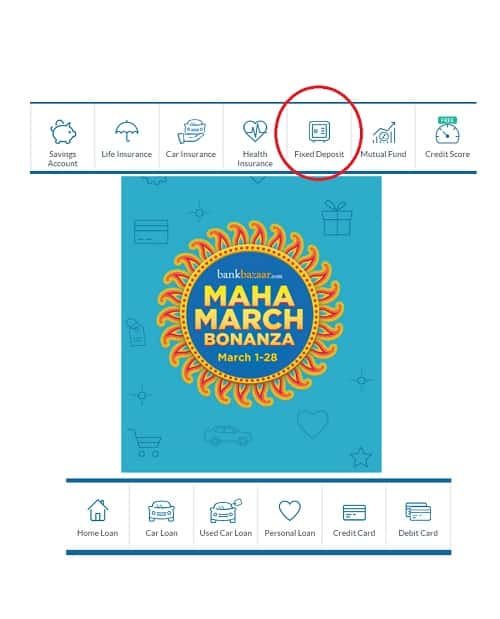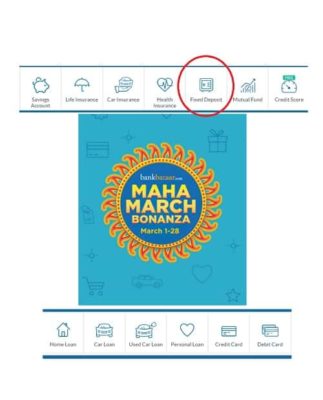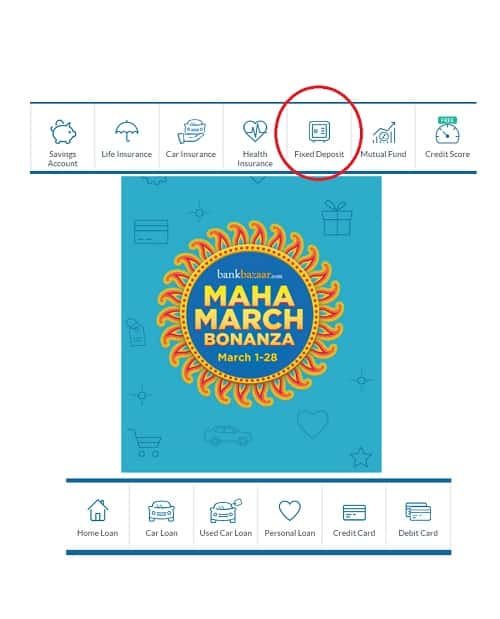 ~The completely online paperless process reduces the Fixed Deposit transaction timeframe to 10 minutes~
India, March 22, 2017/Team Estrade//– BankBazaar.com, India's leading financial marketplace, today announced the expansion of its paperless investment portfolio with the launch of its paperless and presence-less Fixed Deposits (FD) products on its platform. BankBazaar's platform leverages the OTP-based eKYC process for facilitating instant, paperless, and presence-less purchase of FDs, which will enable investors to evaluate, select and purchase FDs from Financial Institutions within minutes. The launch of the paperless FD follows the launch of paperless mutual funds earlier this year as well as a slew of paperless credit products including personal loans and credit cards.
FDs are now available completely online and paperless. Details such as the credit rating of the fixed deposit and the interest rates for various tenors are displayed for every product. Investors can select the preferred product and then choose the amount and tenor of investment. The platform then completes the authentication process. This can be either Aadhaar-based through the OTP eKYC process or by uploading relevant documents such as the PAN card, cancelled cheque, etc. Once the authentication is complete, the payment is processed and the FD is created. The entire process takes less than 10 minutes from start to finish and is very convenient.
The launch of FDs follows the launch of Mutual Funds on the BankBazaar platform. Elaborating on expanding into fixed deposits, Navin Chandani, Chief Business Development Officer, BankBazaar said,"Fixed deposits are probably the most loved savings product in India. For BankBazaar, as a leading financial marketplace that aims to cater to all the financial needs of the customer, FDs were the next logical offering in the savings and investment category. In line with our mission of helping people access the right financial products, we have simplified what used to be a manual process involving a fair amount of paperwork, and now it is online for a faster, paperless, friction-less experience."
Thanks to the minimal documentation and instant processes for one of the most highly-favoured savings instrument, BankBazaar and the partner financial institutions are expecting a fair amount of traction. Speaking about the tie-up, Umesh Revankar, MD Shriram Transport Finance Co. Ltd, Indias largest asset financing NBFC said: "The future of banking is paperless, and BankBazaar has been a first mover in building technology seamlessly to provide customers with a frictionless online purchase experience. With a customer base of 23M, BankBazaar is the right online platform to tie up with for taking our Fixed Deposits paperless. We are really happy and keen to see the transformation from physical to paperless Fixed Deposit on BankBazaar, which is extremely seamless, convenient, fast and cost effective."
With the new fixed deposit product BankBazaar moves another step ahead in being the single destination for all the financial needs of its customers, be it credit or investments. BankBazaar has the widest range of financial products under its umbrella from over 85+ of the biggest public and private sector banks, NBFCs and other financial institutions in India. It gets an average of 10 million visitors per month. The company raised USD 80M through its funding from investors like Amazon, Fidelity Growth Partners, Mousse Partners, Sequoia India and Walden International.
About BankBazaar
BankBazaar, ranked as the best financial website in India by the Internet And Mobile Association of India (IAMAI) and the best emerging brand in Asia by CMO Asia, is India's first neutral online marketplace that gives you instant customized rate quotes on loans, credit cards or any other personal finance products. It simplifies the loan application process. Anyone can instantly search for tailor-made offers, compare, customize it as per his or her need or profile and apply for their finance products. It is designed with smart technology capabilities and over 75+ of India's leading financial institutions and insurance firms have chosen to integrate themselves with the platform. For the online consumer today, banking is as easy as shopping for anything online. What's more, BankBazaar's services are completely free! BankBazaar services are available through the web-portal, made-for-mobile web service, or the BankBazaar app available on the Android play store and iOS app store. It helps consumers compare best offers across various banks and NBFCs. Apart from these, it gives the consumer the latest news/trends and insights into managing finances better. The consumers can track their application and troubleshoot issues in the process through a host of channels like the BankBazaar app, WhatsApp, Email, Voice-support etc.
BankBazaar: first financial marketplace to digitize Fixed Deposits