Panaji: With its crowded beaches crunching under pressure of growing footfalls, Goa now wants to tap its rivers for their ability to attract tourists as well as share and shoulder the burden of transportation and commuting within the state.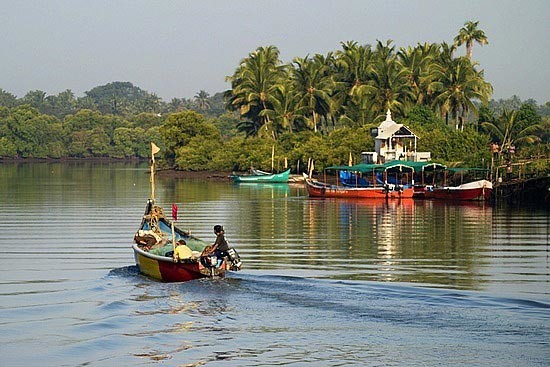 With the Bharatiya Janata Party-led coalition government looking to start water parks tourism and river-based transport systems, the onus, according to Chief Minister Laxmikant Parsekar, is not to bank too much on funding from the state or central governments, but instead scout for the right investors who can bring in the money and the technical knowhow to execute such projects.
"Government will give priority to waterways and we have scope to develop waterfronts like the Chapora river. From Chapora to Colvale (villages located along the course of the river), we could develop some points (of tourist interest)," Parsekar told IANS.
Known for its beaches, the tiny state of Goa is also rich as far as flowing water-bodies are concerned. Apart from the main rivers, the Mandovi, Zuari, Chapora, Sal and the Kushwati, several smaller rivers criss-cross the state, especially in the hinterland areas, which do not possess a healthy tourism profile.
Currently, government records suggest that the state has waterways which are around 650 km in length. According to Parsekar, an additional 250 km can be also utilised, through adequate dredging and deepening of the navigation channels of the rivers.
"The rest can be extended by dredging. Waterways and tourist attractions are two important points to remember. A tourist who lands at Dabolim (international airport) should be able to head for Panaji or Calangute by a boat instead of by road alone. This will be an added attraction for a tourist coming to Goa," Parsekar said.
Parsekar returned earlier this week from the three-day Maritime Summit organized by the union shipping ministry in Mumbai that was aimed at increasing the connect between shipping industry stakeholders in the private sector and government representatives.
Goa, with its unique advantage of being already a popular beach tourism destination, without fully tapping its rivers and backwaters, appears to be in a good position to encash on this opportunity.
"We should use our rivers as waterways and further reduce the pressure on our roads. And Goa being a touristic destination it could be a major attraction. We could also build river jetties in coastal villages and the hinterland so that the pressure created by tourism can be spread across Goa and not just along the beaches," Parsekar said.
The chief minister also said that instead of moaning about whether the state or the central government would be footing the bill for development of water fronts and waterways, efforts should be taken to find the right investors for the project.
We want investors to invest and once we have investment, we could have job creation and diversify tourism in the hinterland from the coast," Parsekar said.
Goa attracts nearly four million tourists every year, about half a million of whom are foreigners.
After Beaches, Goa To Develop Rivers To Boost Tourism