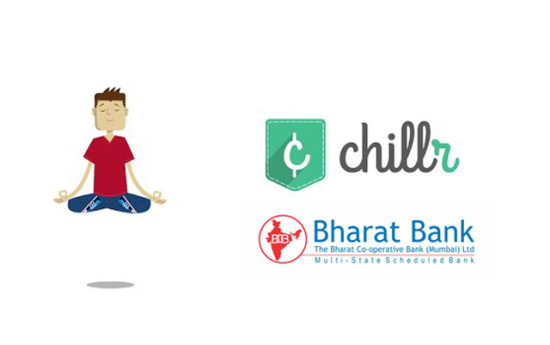 Bharat Bank, a Mumbai based co-operative Bank, announced its tie-up with mobile payment app Chillr .
Chillr is directly linked to the customer's bank account wherein the user can transfer money to any person with an account in the same bank in India, once he/she downloads the app and registers. Chillr is currently tied up with SBI, HDFC BankBSE 0.92 % and is in the process of integrating with Federal Bank.
"In view of the sweeping changes in the banking industry and customer preferences, we continue to pay special attention to offer easy and secure tech-enabled banking solutions. We are glad to partner with Chillr in achieving this goal," said CR Mulky, CEO, Bharat Bank.
Apart from sending and receiving money, Bharat Bank's customers would be able to use a host of other features like special discounts with specific merchants, recharging prepaid mobiles, DTH and data cards, splitting of bills between friends/colleagues as well as a quick means of checking one's account balance.
"India's internet usage is growing exponentially, with almost 22% of adults having access to World Wide Web. The need for digital banking thus has not been more pronounce and we expect this user base to grow," said Sony Joy, CEO, Chillr.
Bharat Bank announces association with Chillr